Nicole, Reese, Jessica and Susan: Is This The Greatest Emmy Race of All Time?
Nicole Kidman, Reese Witherspoon, Jessica Lange, Susan Sarandon, Felicity Huffman and Carrie Coon make for the Emmys' most intriguing categories.
---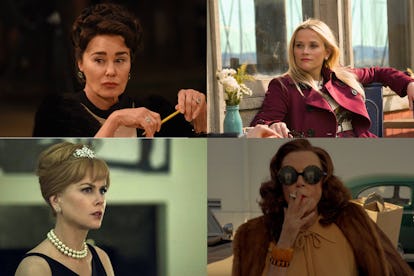 Make no mistake, the Primetime Emmy Award for Outstanding Lead Actress in a Limited Series or Movie has never been a slouch of a category. The first trophy, awarded back in 1955 at the 7th edition of the Emmys, went to Judith Anderson, one of the greatest stage actresses of her time, for playing a role no less demanding than Lady Macbeth.
Legends like Bette Davis, Katharine Hepburn, Cicely Tyson, Ingrid Bergman, Jane Fonda and Vanessa Redgrave have all picked up the trophy at one point or another. Perhaps the best illustration of the low key prestige of the category is the fact that Glenn Close, Meryl Streep and Helen Mirren have been nominated against each other in the same year not once but twice (Meryl won in 2004, but they all lost in 1997 to Alfre Woodard, no slouch in the awards department herself). The male version of the race has included some names over the years, but never quite to the degree that the female competition does—for instance, Robert De Niro received his first nod this year.
If you're the kind of person who enjoys the idea of legendary actresses of stage and screen facing off against each other for trophies, then there may be no better awards category in all of show business than this. Ingénues and unknowns are very seldom recognized here and even less often win. That may be the result of Hollywood dynamics and politics, but, boy, does it always make for an interesting race.
This year is no different, in fact it may be one of the most star-studded and intriguing races in the category in some time, possibly ever. It includes four winners of the Academy Award for Best Actress representing two of the most buzzed about and binge-able limited series of the year, another who was nominated for the award, and an outlier who is quietly doing some of the best work on television.
Just consider the nominees.
There's Nicole Kidman for Big Little Lies and in the midst of something of a reintroduction to the public at large thanks to the show. After a career high in the early '00s (the Oscar win, the reign as Hollywood's highest paid actress, the Chanel No. 5 contract, and, less desirably, a tabloid cover regular) it wasn't exactly like she went away. She's just been playing in the art house and indie circuit for the past 15 years (her biggest box office hit this decade: Paddington, she played a taxidermist trying to stuff the titular animated bear, and was supposedly amazing in it).
Don't take it as a read. She's very much aware of the fact herself. "I'm usually either in very avant-garde art films, or unusual films, or things that are very, very divisive," she recently told Vogue. "To be in something that is so accessible and still topical is very interesting to me." She's done fine work, even if those films were "unusual" or "very, very divisive" but though there's been awards attention, the stars haven't aligned for her for a major awards show win since The Hours. A win here seems as much as a "welcome back" as it does a "sorry, for taking you for granted," and would be much deserved. Plus, it's hard to argue than any role in the category was as emotionally or physically demanding as her gut wrenching portrayal as a victim of domestic violence. She went home with bruises after all!
Then there's Reese Witherspoon. The biggest knock against her chances here is that she's Reese Witherspoon at her most Reese Witherspoon. That may be true, but no one does it quite like she does, and it's hard to imagine Big Little Lies working quite as well without her. She's the heart of the show, and deserves behind-the-scenes points for bringing everything together in the first place (Kidman is also an executive producer). Any other year and she might be a shoe-in, but she's up against stacked competition. If she goes home empty handed, here's hoping she gets redemption with Big Little Lies 2.
(Jessica Lange)[http://www.wmagazine.com/topic/jessica-lange] has won this particular trophy before (for Grey Gardens and American Horror Story: Coven) and might as well be the category's current standard bearer and the role model for Best Actress Oscar winners heading to TV in droves. Agreeing to play an alcoholic, creepy neighbor on some weirdly sexual horror cable show from the guy who created Glee probably seemed like a huge risk all those years ago, but Lange has reinvented her career and reintroduced herself to a new generation in the process. With this role in particularly, she's also reinvented the popular perception of the career and reintroduced Joan Crawford to a new generation as well, and that's no small feat. To hear the early prognosticators tell it, this may very well come down to a Lange vs. Kidman race. If Lange doesn't win, well, just wait a year or two and Ryan Murphy will probably provide her with some other juicy role that will surely get her at least nominated.
Casting Susan Sarandon as Bette Davis seemed so perfect and so risky at the same time. If she went too far with the role it might just come off as a bad over-the-top Davis impression one can see in any drag bar in the country. Not far enough and, well, it's just Susan Sarandon, an iconic personality in her own right. The actress managed to thread the needle perfectly. A win would mean she'd be the first person to win the category playing someone who has also won the category.
Sure it seems that one of the ladies of either Feud or Big Little Lies will walk away victorious, but viewers of Feud know all to well that sometimes awards show upsets happen, and leads from the same production can also split the vote. Remember when squeaky voice comedienne Judy Holliday beat out both Davis for All About Eve and Gloria Swanson for Sunset Boulevard for the Oscar back in 1951? These things happen, and the other two women in the race make their own convincing cases.
Winning Hollywood awards is as much about talent as it is catching the right breaks, winning the right roles, and, perhaps most of all, timing. Felicity Huffman is one of those actresses who has had quite a respectable career but you could easily argue might deserve one a few notches more. She was, after all, nominated for the Oscar in 2006 for Transamerica and lost out to—guess who—Reese Witherspoon (and you won't be pressed to find people who think Huffman should have won instead. We can only imagine where her career might have went if she did). This is Huffman's third time nominated for American Crime (the show has never quite caught on and this season will be its last), but what an upset and career triumph it would be if she managed to claim the trophy?
Then there's Carrie Coon. If Elisabeth Moss is the queen of peak TV, Coon is making her case as its new princess. A former stage actress, she's come to wider attention as a standout on The Leftovers for the past three years, and cemented her status as one of TV's best new shining stars by pulling double duty with Fargo this year. She's already been called TV's "Most Valuable Player" of 2017. History may not dictate that the relative newcomer succeeds in this category, but all aficionados of good television appreciate a twist and they certainly appreciate Carrie Coon.
In fact, as television matures, it may continue to attract formerly big screen-only talents, but certainly has the capability more and more to create its own stars. Indeed, a Coon win might be the Television Academy's declaration of "Thanks for joining the party movie stars, but we're more than capable of minting our own respectable talent nowadays."
Related: Nicole Kidman Opens Up About Big Little Lies in Her Most Revealing Interview Yet
W Goes In Depth With This Year's Emmy Nominees:
Jessica Lange's Style Evolution, From Shoulder-Pads to Custom Marc Jacobs
Jessica Lange started out strong both on screen and off. She won her first Oscar for Best Supporting Actress, for her role in Tootsie in 1983, wearing a pale green dress with sequins and diamonds by Valentino.

Getty
Nothing says '80's like the sweetheart neckline and full volume skirt of Lange's little black dress at the 1986 premiere of Crimes of the Heart.

Getty
Still loving a short dress on the red carpet, Lange keeps warm in a brilliant fur coat at the NYC premiere of Cape Fear in 1991.

Getty
In 1995, Jessica Lange won her second Academy Award for her role in Blue Sky. The Best Actress opted for a covered up black and lace gown by Calvin Klein. This was a sure departure from her previous fondness of short dresses, but a trend that she has continued through her career.

Getty
The following year at the 1996 Academy Awards, Lange stunned in a low cut, slinky black gown.

Getty
Lange was all glitz and glamour, looking every inch a movie star, at the AFI Lifetime Achievement Awards, which honored fellow actor Dustin Hoffman, in 1999.

Getty
Dressed all in black, Lange makes a return to wearing a short dress on the red carpet for Glamour's 14th Annual Women of the Year Awards in 2003. The look is elevated with a velvet embellished jacket falling just below the knee.

Getty
Rocking orange paisley like few can, Lange amazed at the 2004 Golden Globe Awards. Previously preferring to wear more subtle colors on the red carpet, this daring look was a welcome shift.

Getty
The CFDA Awards is the place to show off the best of fashion. Lange attended the awards, alongside designer Diane von Furstenberg in 2006, wearing a body hugging sheer, black gown.

Getty
Nominated in 2010 for her role in the TV mini-series, Grey Gardens, Lange makes another step away from her favored black in a silver ball gown at the 67th Annual Golden Globe Awards.

Getty
Jessica Lange kept her cool at the 2012 Emmy Awards–where she took home the award for Outstanding Supporting Actress in a miniseries or movie–as she walked the red carpet in gold sunglasses. It was a bold move, and the perfect accessory to her red column gown by J. Mendel.

Getty
The American Horror Story star attends the 40th International Emmy Awards in 2012 alongside Ryan Murphy. Lange arrived in a stunning blue Escada gown.

Getty
Less than a year later, Lange stuns in blue again, wearing another ultra-flattering J. Mendel gown.

Getty
Lange dressed in glitz at the 2013 Primetime Emmy Awards wearing an embellished black gown by Escada.

Getty
Lange wore a long sophisticated black gown, by favorite J. Mendel, in 2014. The look became even more glamourous with her elegant bracelets by Le Vain.

Getty
Lange accompanied designer Marc Jacobs, to the 2014 Charles James: Beyond Fashion Costume exhibit gala, where she wowed in his all black gown.

Getty
Lange gave us a refreshing pop of red at the 72nd Annual Golden Globe Awards, wearing a perfectly tailored dress by J. Mendel.

Getty
Lange's black dress at the 5th Annual Critics' Choice Television Awards may be covered up, but it was no doubt one of the actresses best.

Getty
Once again, working sunglasses on the red carpet, the actress dazzeled in an off-the-shoulder navy, embroidered dress by J. Mendel in 2015.

Getty
In her signature blue, Lange took home an award for Best Performance by an Actress in a play at the 70th Annual Tony Awards. Her dress was designed by J. Mendel and elevated with jewelry by Lorraine Schwartz.

Getty