Giddyup
And they're off and running—fashion's ties to the equestrian world, that is.
---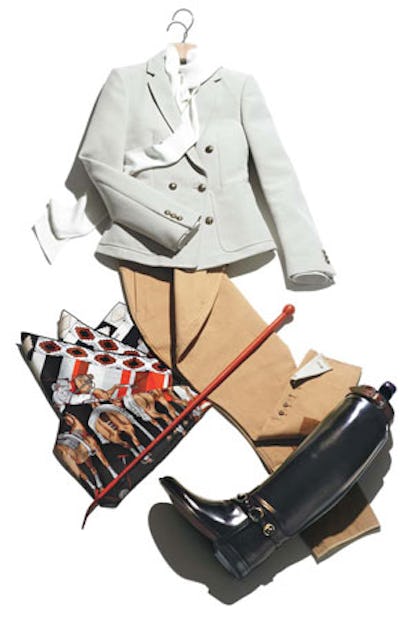 At the Zingaro equestrian theater outside Paris this past January, the horses circled close enough for the audience to feel the ground tremor, hear the animals snorting—and even catch a whiff of their, ahem, droppings. An unlikely setting for a fragrance launch? Not for Hermès, whose equestrian heritage, which dates to 1837, is now running at full gallop again. Besides the new perfume, Voyage d'Hermès, due on counters this spring, the French luxury firm is set to bring the sound of thundering hooves to the Grand Palais on April 3 and 4 for Saut Hermès, a new international show-jumping competition and equine extravaganza.
And Hermès isn't alone. It may be the Year of the Tiger in Chinese astrology, but in the fashion world there's no shortage of horseplay. Brands with such pedigrees are trumpeting their background, while a diverse range of designers continues to be inspired by a look steeped in history and rich with aristocratic associations.
Most recently John Galliano gave the theme haute attitude at Christian Dior. The sound of thundering hooves reverberating through the house's gray salons foreshadowed the equestrian streak that would race through his spring couture collection, shown in January, its strong tailoring based on riding jackets and skirts, with the former ending in Edwardian peplums, and the latter sprouting volume on one side via pleats or swags of fabric caught at the hip.
Last December Gucci kicked its bamboo heels into its flanks, reviving a legacy that stretches back to 1921. The Florentine house sponsored the swanky European Equestrian Masters competition in Paris, complete with a temporary shop offering limited-edition riding boots and scarves. It was the first such event in two decades. "We are privileged in a way because there aren't so many fashion houses with this connection to the equestrian world," says Gucci's creative director, Frida Giannini, who started riding horses at age six and competed in show jumping in Italy through her teens. "It's not something you can invent."
These days Giannini has little time for riding, but she channels the passion she still feels for it into her designs, refreshing iconic Gucci styles like horse-bit loafers from 1953 and the Jackie bag, circa 1961, with the same stripe originally conceived as a girth strap to anchor saddles. While recent Gucci collections have been inspired by rock music and extreme sports, Giannini says there's often an equestrian element, such as a giant horse-bit closure on a thick high-tech belt that hugs the waist of one of her suits for spring. "There is a sort of elegance to equestrian clothing. To be a good rider, you need to be skinny, of course, or the horse suffers a lot," she says with a good-natured laugh.
Even Jean Paul Gaultier, though not a rider himself, gets his kicks playing with the genre's style codes—including the kinky associations attached to harnesses and riding crops—both in his own collection and as women's ready-to-wear designer at Hermès. "I find the riding equipment and details such as leather harnesses, saddle stitching [and] saddle nails really inspiring. That's a very vivifying experience, I'd say, like a crack of a whip!" says the ebullient designer. "For me, the Hermès woman is an elegant amazon. She's a free woman who holds the reins."
Hermès is as focused on the horse as a racing animal wearing blinders is intent on the track. Ménéhould de Bazelaire, director of culture heritage at the house, says the know-how that founder Thierry Hermès and his descendants accrued in making harnesses and saddles for the French carriage trade of yore is invaluable and survives to this day. "A horse is a very demanding customer," she explains. "We owe everything we have to the horse."
You might say the same about Polo Ralph Lauren, a label that immediately evokes images of posh riding clubs and aristocratic leisure. "After we were married, Ricky and I were shopping in one of those authentic riding stores, and I bought her a boy's tweed hacking jacket. Whenever she'd wear it, other women would say, 'Oh, I love that jacket,'" recalls Ralph Lauren. "That's when I decided to do women's clothes. I started with tweed hacking jackets, then shirts and riding pants. I've always thought they had real style."
From his first women's jodhpurs in 1976 to those legendary polo shirts, touches of equestrian style are a permanent part of Lauren's vernacular. His Ricky bag was inspired by a vintage saddle carrier, and his new timepiece collection includes watches shaped like stirrups. "There is an attitude and allure that goes beyond fashion," the designer muses about the equestrian aesthetic, exalting the freedom of riding in the wide-open spaces of his Colorado ranch. "Its history and elegance are very much in keeping with the things that I've always loved. There is the style of the cowboy, and there is the style of the English rider. The cowboy is a hardworking horseman, whereas English riding has an aristocratic sensibility, yet they are both part of my world."
Two examples of 19th-century riding habits will be on display when the exhibition "American Woman: Fashioning a National Identity" opens in May at the Metropolitan Museum of Art's Costume Institute. "It looks like Ralph Lauren when you see it," curator Andrew Bolton marvels of one ensemble, which consists of a jacket, waistcoat, skirt and britches—the last a potent symbol of female emancipation.
"You have a great pairing of the masculine and the feminine, which I think is very sexy," notes Janie Bryant, costume designer of Mad Men, who put January Jones's character, Betty Draper, in fetching jackets and jodhpurs for memorable stable scenes that hinted at the "facade of perfection" of her privileged life.
And an equine motif can be found in the work of a host of designers. Phoebe Philo, a riding enthusiast who put a bronze horse on the glass doors of Chloé boutiques during her tenure there, is now mining the horsey roots of Celine, primarily by exploiting the "mastery of leather" its Florence factory possesses.
Still, for Philo the ultimate expression of equestrian chic is the iconic Helmut Newton photo of a woman with a saddle on her back. "It captures everything that is great about a woman in riding clothes," Philo says, hastening to add, "I do think that Princess Anne has a certain je ne sais quoi when out hacking!"
Stella McCartney also has a soft spot for "horsey stuff: You can't help it when you're always with horses, like me," says the designer, who rides Flo Jo, an American quarter horse (a wedding present from McCartney's husband), every weekend and whose signature collection for next autumn includes jodhpurs and T-shirts bearing photos by her late mother, Linda, of her own Appaloosa. "There's something very sensual about riding and something very feminine as well." McCartney praises the fact that riding attire "sucks you in in all the right places" and argues that the appeal of horses is universal and eternal. "I know a lot of people who want to go into the police force just so they can ride horses," she says.
An equestrian pulse, minus any bourgeois connotations, also thrums through the collections of Belgian designer Ann Demeulemeester. "It's part of my culture," she says over the phone from her Le Corbusier house on the edge of Antwerp, explaining that she grew up in a small town called Waregem, where the main attraction was a hippodrome.
At 12 she received a horse from her grandfather—which she describes as her best present ever—only to have her mother sell the animal because of her fears about the dangers of riding. No matter: Demeulemeester has been riding out her fantasies by incorporating equestrian elements into her collections over the past two decades, from graphic prints evoking jockey uniforms and expertly tailored redingotes to her own take on riding boots, a perennial best-seller.
As for getting a horse, "it's on my wish list," she says. "I already have a stall. I have a piece of land. One day I'll find a solution."