Variis, Equinox and SoulCycle's New Fitness App, Arrives Just in Time
Variis, an app for at-home Equinox and SoulCycle workouts, came just in time.
---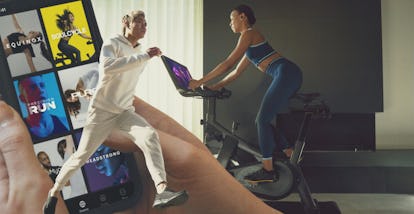 Although it obviously wasn't on purpose, the launch of Equinox's new fitness app couldn't possibly have been timed any better. With New York City now under the growing shadow of the coronavirus pandemic, these are anxious, uncertain, and isolating times. Earlier this week, the entire W staff was instructed to work from home through the end of the month because of a confirmed COVID-19 case in the building where our offices are located. Now we're all holed up in our apartments, sending each other morbid memes and messages of encouragement on Slack, trying to maintain some sense of normalcy.
As a former freelancer, I'm used to the loose, solitary rhythms of working from home. I find it easier to focus on the words in front of me in the silence of my living room, sprawled on the couch with a nice candle burning. But now that social distancing is the name of the game, my usual stress-relief methods—a sweaty gym workout or a run around Central Park's often-crowded reservoir path—seem downright irresponsible.
Enter Variis, an at-home fitness app from Equinox Media, the lifestyle brand affiliated with the upscale gym chain. It's available starting today for members as part of their membership, as well as to those who have purchased a SoulCycle at-home bike, which also launched this week. The bike is the cult-favorite spin studio's answer to Peloton, with a comparable $2,500 price tag (which covers shipping as well as five in-studio classes) and $40 monthly membership. (You can also do SoulCycle classes on Variis while seated on a regular spin bike, just by positioning your phone on the handlebars.)
Since I don't have $2.5k burning a hole in my pocket or enough space for a fully loaded spin bike, I gave the classes on Variis a try. The platform offers a library of options, which are basically highly produced video versions of what they offer at their gyms: strength training, yoga, HIIT, stretching, and guided running, with options ranging from a couple of minutes to just under an hour. There are also guided meditations tailored to pre- or post-workout, sleep, or focus.
Does having a tight ass matter if there's nobody around to see it? Not sure! But while I was waiting for a writer to address some notes this morning, I unfurled my yoga mat and loaded up a 15-minute "Best Butt Ever." It required a resistance band (check) and a set of weights, which I don't own but substituted with two cans of chickpeas I panic bought at the grocery store.
The next quarter hour flew by as I squat jumped, lunged, did "fire hydrants," and planked while a ripped instructor gave peppy, encouraging advice to a group of equally ripped on-screen participants, adjusting their form and counting down the last few seconds of each rep. It wasn't all that different from doing a class in a studio: Each move is captured from a few different angles, making it easy to grasp exactly how you should be positioning your body, and an unobtrusive techno soundtrack thrums in the background, giving you a beat to grab on to without getting in the way.
While a guided fitness app is nothing new, what feels particularly exciting about Variis is the production quality—and the on-camera talent. They've managed to harness the star power of their instructors and translate it into something that actually comes through on a tiny screen, making the usually dreary act of working out in your living room feel almost a little bit exciting. And, like toilet paper and dry pasta, excitement seems to be in short supply these days.
A couple of hours later, after a New York Times alert announced the declaration of a national state of emergency, I sat cross-legged on a throw pillow and pulled up a five-minute guided meditation. Just closing my eyes and breathing calmed my frayed nerves, taking me outside my own brain for a moment. I just hope they put enough content in this thing to last the next few weeks.