Attention Flower Lovers: Eric Buterbaugh Is a Must Follow
The poncho lover, foodie and professional florist reveals his social media secrets.
---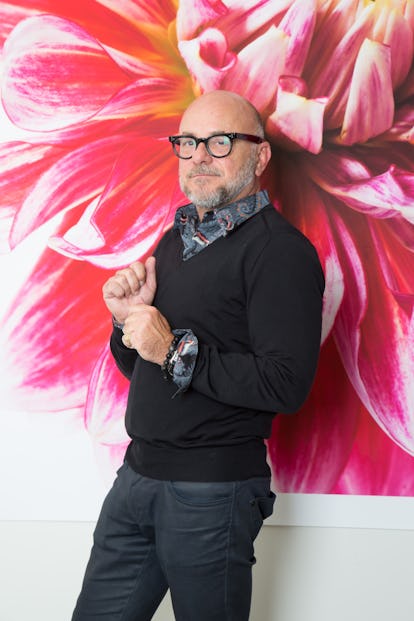 Eric Buterbaugh isn't just a florist to the stars. He also has a fragrance collection, launching now at Bergdorf Goodman and Saks, and is an Instagram star. Here, the social butterfly reveals his dos and don'ts of Instagram.
Occupation: Florist/Perfumer/Friend. After years of working in fashion and living in London, I relocated to Los Angeles and flowers happened by accident, but what a blessing and wonderful career it has been. Being a perfumer is a new career path for me and dream come true. I always have been to be the most wonderful friend I could be, and it's given me such a great network and family and relationships to work with. All three of these areas carry equal passion for me.
Hometown: I grew up in Purcell, Oklahoma. The billboard when you enter the town says, "Pursell, the heart of Oklahoma." It's pretty much a town of oil, horses, cows, and I couldn't wait to get out of there. I ran, fast and hard. I currently am based in Los Angeles (Hollywood), California but am fiercely considering a second place in New York.
Define your Instagram style in three hashtags:
doubleexactly #naughty #flowerpower
Your first Instagram: A picture of me with my godson and my famous poncho. It was the beginning of my poncho obsession, and I currently have 22 ponchos I rotate. My favorite of the moment is a black cashmere one from Baja East. It's actually a cross between a poncho and a capelet.
Big break: I guess I had my "big break" at a very young age when I had the opportunity to run Versace in London. That job gave me access to a very big world in a lot of areas including fashion, film, and social and royal circles.
Maximum number of daily posts: I try to keep it to the three, but when a lot is going on, I inch to five.
What is your favorite thing to post? It's a tie for me. I love posting beautiful flowers. I also love posting an array of naughty or irreverent things. I love to laugh and if nothing else, my Instagram conveys my sense of humor. I just don't think you should take life too seriously.
What would you never post? For me, I never want to post something that's actually hurtful to someone. Funny and sense of humor are different than being mean spirited. I think it's bad karma. I also never post food. To me they're the most boring posts of them all, which is odd because I am a total foodie. But I would rather eat it than look at it. I'm not particularly keen on the pet photos either.
#Nofilter or filter?
nofilter, baby.
Favorite editing app: I don't have one. Any and all edits are done via Instagram.
Social media pet peeve: I always want Instagram to show laughter, humor, and beautiful things. But I don't like when someone's Instagram is like, "Look at my fine life. Look at my beautiful alligator shoes that I own and you don't, look at my Dom Perignon that I drink with every meal." It just seems crass and I hate it when people are pretentious like that. It's just not fun.
Most geo-tagged location: Eric Buterbaugh Florals #ebflorals. This is my office space, boutique, gallery, and so much more. It's a little oasis in L.A. that I've created so I spend a lot of time here. It's also a place where something is always going on, whether it's a party or a trunk show, or a dinner. It's sort of a hub of my world so there's always something beautiful to post.
Greatest hits:
5 favorite accounts to follow: @brian_atwood, @thefatjewish, @Gucci, @jenmeyerjewelry, @oldbitchesofinstagram.
Your secret to social media success? I think the secret to it is balance. I've always tried to balance one-third funny/naughty posts, one-third flower posts, and one-third posts about my private life. If you keep that balance, it attracts different types of people and it's more interesting. You see layers that make up someone's personality and life.
How do you unplug? My favorite way to unplug is holiday on a boat. To me, it's the only real kind of holiday, with the sea and the sun. If that's not an option, it's being in bed catching up on my shows. I'm very sad that Downton Abbey is over. I love Ray Donovan and also Heartbeat. I rarely have time to do this so it's a treat when I can.
What would you be doing if Instagram didn't exist? I'd probably be getting a lot more work done since I'm on it all day every day. But I'm so happy that it does exist. One of my favorite things about Instagram is that, you know, when your life gets big and you have so many things going on, it's hard to keep up with all of the people in your life that you care about. But with Instagram, you know what's going on in their lives. So when you run into friends you haven't seen in a while, you really haven't missed out. I love that you can keep up with people you care about but don't see all the time.
Watch W's most popular videos here: