Exclusive: Robert De Niro and Benjamin Millepied Star In Ermenegildo Zegna's Fall Campaign
The French dance star poses alongside the storied actor in the new images.
---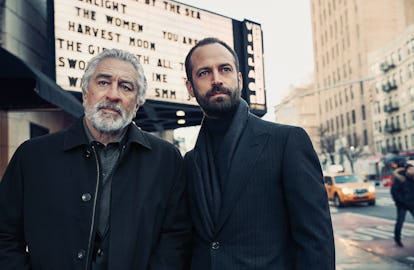 While many Fall 2017 campaigns feature Gigi, Bella, Kendall, or some combination of the three, Ermenegildo Zegna opted for a cast with a bit more Hollywood prestige. Today, the menswear brand debuted their fall advertising campaign, featuring Robert De Niro and choreographer Benjamin Millepied. The campaign is the brand's second in their "Defining Moments"series, which debuted for spring and also featured De Niro, previously alongside up-and-coming actor McCaul Lombardi.
For the second go-around Millepied, who is the founder of the LA Dance Project and former Director of Dance at the Paris Opera Ballet, and De Niro explore New York City. The choreographer, who previously was seen on-screen in Black Swan opposite now-wife Natalie Portman, was brought on to the project by longtime friend and Zegna artistic director Alessandro Sartori, with whom he has previously collaborated on to design costumes for a number of his ballets. In addition to the campaign images, which can be seen exclusively here, along with a behind-the-scenes look, filmmaker Francesco Carrozzini captured an intimate dialogue between De Niro and Millepied.
Here, Millepied talks his friendship with Sartori, working with De Niro, and his career defining moments.
How did you first meet [Sartori]?
We met in Paris through mutual friends, and I was very quickly impressed with his work. We starting talking and collaborating, and it has just been project after project really.
Do you recall your first memory of Ermenegildo Zegna?
I travel a lot and have seen a lot of the publicity for years, and was struck with the very elegant, Italian approach. There's a classic elegance to Italian suits and I have always appreciated what they make. I think what Alessandro is going to bring to the brand is a modernist approach to both tailored suits, as well as ready-to-wear that is very comfortable and a very interesting approach to what I think is the future of clothing.
What was your first collaboration together, and how did it come about?
We collaborated for a ballet for the Paris Opera that I choreographed. That was the first thing we did, and from there we've done four ballets. For a collaboration, I start to send music and ideas and thoughts about what I envision, and he does a lot of research and thinking and comes back to me with some drawings and images of possible directions, and it goes from there. It is always interesting because when you work with fashion designers because at first they may go too elaborate for dance, especially the kind of dance that I make which is so quite formal, but after four ballets, he really gets it and has done such a fantastic job.I'm excited about having a collaborator that I can rely on regularly. And he dresses the women in my piece like women, not in dance clothing that looks like little girls' clothes. And actually, he doesn't even do women at Zegna, but it turns out he can do it really well.
How did he approach you about starring in the campaign?
I think this is one more element of our collaboration, and that he was interested in the connection to the artistic community through me.
Had you met Robert De Niro prior to shooting the campaign?
No, I had never met him before, so this was a treat. He is someone I admire, and it was interesting to get to know him a bit. I got to talk to him about some of things that I am interested in, like some of the work that he has done and the collaborations he's had. He had worked with Elia Kazan, so I was very curious about that. We talked about the performing arts, we talked about film, we talked about acting—I am actually directing my first film next year.
You shot the campaign in New York, so how was the shoot itself?
It was very simple, actually. It is a city that we know and love.
You are based in Los Angeles now, so when you are in New York, what are the places that you always visit?
When I am in New York, what I am interested in doing is soaking up the arts; going to the theatre, going to see museums and shows. Moreso even than when I lived there; I think I take more advantage of it now.
The theme of the campaign is 'Defining Moments.' When you personally think of that, what comes to mind?
A defining moment was seeing [Mikhail] Baryshnikov dance in "White Nights," discovering American musical, and meeting Joan Robins. Those were very much defining moments.
Related: Anna Baryshnikov Is Ready to Be a Leading Lady
Dakota Fanning's 10th Birthday Featured Robert De Niro in a Party Hat
Exclusive: Inside the Chrome Hearts "Family Dinner" with Bella Hadid, Benjamin Millepied, and the Starks
Jesse Jo Stark and Bella Hadid attend the Chrome Hearts "family dinner" on Monday, June 13 2017 at the brand's store in New York City.

David X Prutting/BFA.com
Richard Stark and Laurie Lynn Stark attend the Chrome Hearts "family dinner" on Monday, June 13 2017 at the brand's store in New York City.

David X Prutting/BFA.com
Benjamin Millepied watches the LA Dance Project perform at the Chrome Hearts "family dinner" on Monday, June 13 2017 at the brand's store in New York City.

David X Prutting/BFA.com
Members of the LA Dance Project perform at the Chrome Hearts "family dinner" on Monday, June 13 2017 at the brand's store in New York City.

David X Prutting/BFA.com
Laurie Lynn Stark, Gilles Bensimon, and Jean Georges attend the Chrome Hearts "family dinner" on Monday, June 13 2017 at the brand's store in New York City.

David X Prutting/BFA.com
Jordan Barrett and Alana Oherlihy attend the Chrome Hearts "family dinner" on Monday, June 13 2017 at the brand's store in New York City.

David X Prutting/BFA.com
Bella Hadid attends the Chrome Hearts "family dinner" on Monday, June 13 2017 at the brand's store in New York City.

David X Prutting/BFA.com
Jacquelyn Jablonski attends the Chrome Hearts "family dinner" on Monday, June 13 2017 at the brand's store in New York City.

David X Prutting/BFA.com
Members of the LA Dance Project perform at the Chrome Hearts "family dinner" on Monday, June 13 2017 at the brand's store in New York City.

David X Prutting/BFA.com
The scene inside the Chrome Hearts "family dinner" on Monday, June 13 2017 at the brand's store in New York City.

David X Prutting/BFA.com
Benjamin Millepied and Laurie Lynn Stark attend the Chrome Hearts "family dinner" on Monday, June 13 2017 in New York City.

David X Prutting/BFA.com
Members of the LA Dance Project perform at the Chrome Hearts "family dinner" on Monday, June 13 2017 at the brand's store in New York City.

David X Prutting/BFA.com
Members of the LA Dance Project perform at the Chrome Hearts "family dinner" on Monday, June 13 2017 at the brand's store in New York City.

David X Prutting/BFA.com
Bella Hadid and Richard Stark attend the Chrome Hearts "family dinner" on Monday, June 13 2017 at the brand's store in New York City.

David X Prutting/BFA.com
Laurie Lynn Stark and Vera Wang attend the Chrome Hearts "family dinner" on Monday, June 13 2017 at the brand's store in New York City.

David X Prutting/BFA.com
Jesse Jo Stark attends the Chrome Hearts "family dinner" on Monday, June 13 2017 at the brand's store in New York City.

David X Prutting/BFA.com
Gareth Pugh and Lynn Yaeger attend the Chrome Hearts "family dinner" on Monday, June 13 2017 at the brand's store in New York City.

David X Prutting/BFA.com
Members of the LA Dance Project perform at the Chrome Hearts "family dinner" on Monday, June 13 2017 at the brand's store in New York City.

David X Prutting/BFA.com
Bella Hadid attends the Chrome Hearts "family dinner" on Monday, June 13 2017 at the brand's store in New York City.

David X Prutting/BFA.com
Gareth Pugh attends the Chrome Hearts "family dinner" on Monday, June 13 2017 at the brand's store in New York City.

David X Prutting/BFA.com
Benjamin Millepied gives a speech at the Chrome Hearts "family dinner" on Monday, June 13 2017 at the brand's store in New York City.

David X Prutting/BFA.com
Mary Anne Huntsman plays at the Chrome Hearts "family dinner" on Monday, June 13 2017 at the brand's store in New York City.

David X Prutting/BFA.com
Laurie Lynn Stark and Danny Glover attend the Chrome Hearts "family dinner" on Monday, June 13 2017 at the brand's store in New York City.

David X Prutting/BFA.com
Chelsea Leyland DJs the Chrome Hearts "family dinner" on Monday, June 13 2017 at the brand's store in New York City.

David X Prutting/BFA.com
Sante D'Orazio and John McEnroe attend the Chrome Hearts "family dinner" on Monday, June 13 2017 at the brand's store in New York City.

David X Prutting/BFA.com
The scene inside the Chrome Hearts "family dinner" on Monday, June 13 2017 at the brand's store in New York City.

David X Prutting/BFA.com
The scene inside the Chrome Hearts "family dinner" on Monday, June 13 2017 at the brand's store in New York City.

David X Prutting/BFA.com