Erykah Badu Will Be Teyana Taylor's Doula
From musical collaborators to childbirth collaborators.
---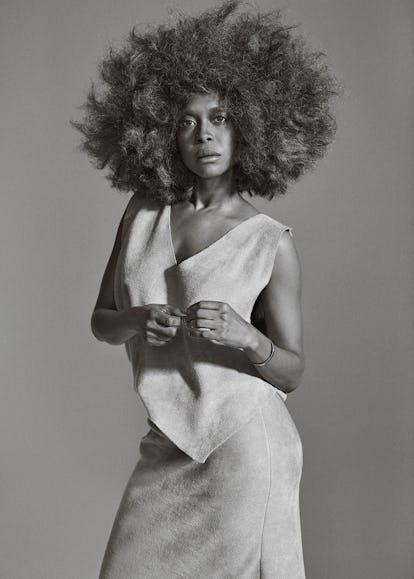 Photograph by Graeme Mitchell.
Erykah Badu is not just one of our foremost soul singers and songwriters—for years, she's kept a low-key second career as a Doula, and more recently, as a certified midwife. She's even known to her clients as "Erykah Badoula."
Badu's services are also accessible. She doesn't charge. Though, we imagine her client list is selective. In fact, her latest client is musician, model, and dancer Teyana Taylor.
"I'm considering home birth, and I'm actually going to be doing it with Erykah," Taylor recently announced on Nick Cannon's Power 106 morning show. "Her and Iman are going to deliver my baby. I'm super excited. I'ma have her just sing her verse from 'Lowkey' to me to calm my nerves."
Taylor, who is married to NBA player Iman Shumpert, recently announced she's expecting the couple's second child (and is also the new face of a line of MAC Cosmetics, plus, just released her latest album, which features Badu, last week—she's been busy).
"I've always had a mothering nature," Badu told People back in 2011. "But I didn't plan on becoming a doula. I just wanted to care for my family and friends."
Doula duties usually involve offering massage to a client during childbirth, along with other calming techniques for the mother and those in the room. So Badu singing her verse from "Lowkey" would definitely fall under that job description.
Badu, of course, is a multi-multi-hypenate with talents that expand beyond entertainment.
"People don't realize that I'm a renaissance woman," she told W in 2014. "I home-school my children. I'm a cook. I design all my hats. I'm my own manager. I write the songs and direct the band. I'm a DJ. I'm a doula. I'm a Reiki master."