How An Italian Family Turned Paisley Prints And Haute-Hippe Garb Into a 50-Year-Old Fashion Legacy
For the globe-trotting Etro siblings—Ippolito, Jacopo, Veronica, and Kean—fashion has always been about dreamy exoticism. Alexandra Marshall checks in as they celebrate 50 years of patterns, paisleys, and prints.
---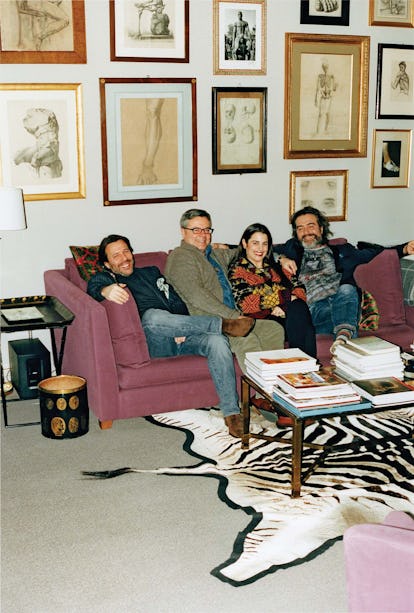 Photographs by Jonas Unger
Any storied legacy brand hoping to navigate the future has to find its own way to innovate. And so it is with Etro, the family-run company known for its opulent paisleys and haute-hippie garb, which this year celebrates its 50th anniversary. Founded by Gerolamo "Gimmo" Etro and now run primarily by his four children, Jacopo, Kean, Ippolito, and Veronica, Etro remains a product of each family member's individual passions, united by a long-standing clan ethos. Gimmo and his children have lunch together almost daily at the company's in-house café, and Jacopo and Veronica live in their parents' former home overlooking the gardens of the Villa Reale, in Milan's Palestro district. Gimmo, who plays more of an advisory role at the label now, passed the place down to them, splitting the duplex into two units. On this chilly December afternoon, the siblings have assembled at Jacopo's apartment for tea and Krumiri biscuits, and the chance to reflect on their family's values. "Faithful to beauty," says Ippolito, seated along with the others on a low-slung, overstuffed gray sectional, practically in the same spot where, as children, they would huddle around the TV watching Italian variety shows. "Curious about anything that takes you to a different place." Of course, given the rapidly changing world we live in, they are well aware of the need to find new avenues of expression. "We have a lot to say, but we haven't been saying it yet," Veronica notes. "That's what we're focusing on."
Even in the early days of the company, Gimmo brought his kids to the office on Saturdays. There, in a handsome 1920s building in eastern Milan, they played, chased flies, and drew in the atelier, eventually helping out where they could. Gimmo, a cultivated man who loved art and literature, had started the company to provide textiles to the then-burgeoning Italian ready-to-wear industry. He took commissions but had his own ideas too, inspired by the antique paisley shawls and dressing gowns he and his wife, Roberta, an antiques dealer, collected. In the 19th century, the textiles brought to Europe from Persia and southern Asia exerted a powerful pull on the collective imagination by alluding to the glory and might of far-reaching colonial empires. But by Etro's founding, in 1968, paisley motifs were being adopted by a counterculture eager to identify with the esoteric side of Eastern traditions—or at least look like they did. Gimmo bundled all of these associations, both highbrow and popular, and rendered his prints in the highest-quality silks and cashmeres. Then, in the mid-1980s, he moved beyond fabric design into accessories and home wares.
As his children grew up, they began to learn the business. Jacopo, the eldest, was the first to follow his father, skipping university and working his way up to head the accessories, home fabrics, and textiles divisions. Chatty, charismatic Kean was next. A natural with customers, he started looking after them in the showroom and assisting in the warehouse when he was 22. In 1990, he moved into ready-to-wear, which evolved from ties and haberdashery into a proper wardrobe, first for men, and then for women one year later. Though Etro's inspirations are eclectic—why stop at paisleys when you can do silk scarves decorated with fusilli?—their more elaborate prints are created in Lyon, a historic center of fine-textile making, where they are either painted or sketched by hand. Kean also began to experiment with some of his wilder ideas: He developed fabric made out of cooked milk for an ongoing line of sustainable clothes, and invited a shaman to bless Etro's spring 1998 show. Ippolito, meanwhile, helped run Etro's American business in New York starting in 1989, before moving back to Milan in 1991 to handle the company's operations. Finally, Veronica, a year after graduating from Central Saint Martins in 1997, joined Kean in women's wear, where she demonstrated a gift for floaty, feminine silhouettes. "It was a counterculture moment when Papa started the company," Kean says. "And now we do counterculture for today." He's not exaggerating: One of Etro's most ambitious 50th-anniversary celebrations is a series of happenings that will include seminars with international thought leaders to be held in specially designed yurts. They will be set up indoors and out, and in both public and institutional spaces, like Milan's MUDEC cultural and history museum, where the first of the events will take place during Fashion Week in September. The yurts will then travel to cities like New York, London, and Shanghai. "Etro is nomadic," Kean says. "This isn't going to be a retrospective based on objects," Jacopo notes. "We want people to come and see our world and our ideas, not just from a fashion point of view."
The source of those ideas can be glimpsed in Etro's in-house library, the glorious stockpile of the familial passions. Where a typical fashion house will cluster coffee-table tomes on fashion designers and photographers, Etro has amassed a much more eclectic collection of well-creased books on botany, heraldry, and Victorian wallpaper, as well as ethnographic treatises on tribal Africa, vintage Indian travel guides, and bound collections of fabric swatches. Other shelves are lined with antique dossiers full of fragments of embroidered silks and cashmere that Gimmo and Roberta, and later Jacopo, gathered along the Silk Road. Like their parents, Jacopo and Veronica are both passionate art collectors. Veronica collects Asian and Pop art; Jacopo, works from antiquity and contemporary ones. Kean is an antique-books lover, and Ippolito is fascinated by the natural world. Though he claims no creative role at Etro, Ippolito's interest in biology has found its way into the label's iconography over the years. Its fall 1997 AniUomini ad campaign, for example, featured models wearing lifelike animal heads—a raccoon, a stag, a mallard—along with jewel-toned silks.
The company began embracing technology only in 2014. "Our archives were still on paper just a few years ago," Jacopo says, recalling how Etro finally went digital to better facilitate the production of a book devoted to its history, which included interviews the family conducted with such disparate minds as Carlo Petrini, the founder of the Slow Food movement, and Leatrice Eiseman, the executive director of the Pantone Color Institute. The book also helped the family conceptualize the themes that underlie Etro's revamped website, launching this spring. The new home page is organized along the lines of five different cabinets of curiosities, or wunderkammers, each one corresponding to the focus of a particular family member: Nature (Ippolito), Color (Veronica), Play (Kean), Art (Jacopo), and Journey (Gimmo). On the day of the shoot for the splash page, Veronica's installation is strewn with clothes and fetishes: electric-hued kimono-style jackets, beaded slippers, Victorian sconces, and a tiny portrait of Frida Kahlo. "Veronica has an immense sense of color," Kean says. "She manages to make it unusual but not kitsch, and incredibly elegant." His own installation focuses on Play, and is decorated with a pinball machine and vintage toys. "A good sense of irony is key," he says, and not just in design but in business as well. As a family, "we say things with a smile, and play the tough stuff as a joke. Especially my father." Gimmo's section is dedicated to the idea of Journey, and is designed with maps and souvenirs from all over the world—though, as Veronica points out, the family edict has always been: "You don't need to go far to travel with your mind. Just keep your eyes open and absorb what you're surrounded by."
Modernization is happening on the company's business side too. For most of its 50 years, Etro didn't bother with consultants or market research to develop its strategy. Then, four years ago, Ippolito took a sabbatical in Asia, "to think about my life and the company's big picture," he recalls. He realized the family needed an external person "to enable us to make a lot of changes that were overdue," and six months later hired a general manager. "We'd been sitting too still for too long." A new layer of executives was added "so we could delegate more and focus!" Veronica says, noting that until recently they didn't even have a proper merchandiser to stock and style their boutiques worldwide. Today, Veronica and Kean's clothing counts for 70 percent of the company's reported $372 million in annual revenue. Meanwhile, to put Etro on a level playing field with its competitors, Jacopo handed his leather-goods portfolio to an in-house designer, who last year created the Rainbow Bag, a leather satchel that will recur across new seasons with different motifs—a standout version for spring comes in graphic yellow and black. "It's like a virgin land where everything can be done," Veronica says. "Shoes, textiles, accessories!"
Though Etro has experimented with home design since the early 1980s—a space where much of fashion has gravitated—in April it's doubling down, debuting a proper furniture collection at the Salone del Mobile in Milan. Developed by Jacopo, the collection, with its curved lines, warm metals, and polished stone elements, references the 1930s and includes sofas and chairs, bedroom sets, and lighting. Paisley is liberally used. Jacopo is aware that not everyone wants their living room to feel like a stop on the Magical Mystery Tour, so there are more tonal options, though Etro's colorful, almost decadent sensibility reigns. "Maybe at some point we won't be as fashionable because people won't be interested in prints or ethnic references or bright color," he observes. "But we do what we like. It's important to experiment and push new things forward, but you always have to be faithful to who you are and what you love."
Related: Milan Is Finally Having a Moment, Thanks to an Array of Bright Young Talents
Why Art Matters: Arts In Education