Ultra Violet, Pantone's 2018 Color of the Year, Is Beyoncé And Hillary Clinton Approved
Ultra Violet is officially your It color for 2018.
---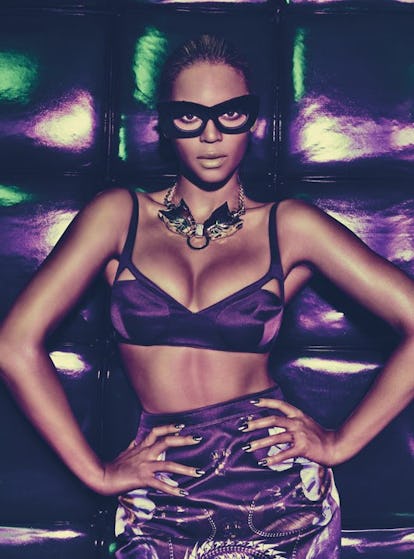 While the last few weeks of the year are traditionally reserved for reflecting on the year that was, each December, Pantone—the self-described "the global authority on color"—looks to the next twelve months as they officially announce the "Color of the Year." And 2018's hue-to-be is not for shrinking violets—or, maybe it is.
Today, Pantone declared Ultra Violet, a deep, bold purple, as 2018's Color of the Year, stating, "UltraViolet is an enigmatic purple shade that evokes the inventive spirit and imaginative thinking that challenges the status quo. A spiritual, cosmic hue, Ultra Violet pushes the boundaries of what inspires us to look upward and outward to the future."
The color mavens are also not skirting away from addressing what was undeniably a year of cultural change and shifts as they look to the next year, adding, "The Pantone Color of the Year selection is more than a comment on color trends; it is a reflection on a collective cultural moment. The selection of Ultra Violet speaks to our shared desire for deeper understanding in an increasingly complex landscape, and our eagerness to experiment to reach that level."
And they aren't exactly wrong. Recall the Ralph Lauren ensemble that Hillary Clinton wore to deliver her official concession speech following the 2016 election: a classic slate grey suit with a deep purple silk blouse and matching lapels. Clinton later explained the significance of the color in her book What Happened, writing, "The morning after the election, Bill and I both wore purple. It was a nod to bipartisanship (blue plus red equals purple)."
How To Shop Ultra Violet, Pantone's 2018 Color of the Year, Before Everyone Else
The color has also been a strong choice with the celebrity set in recent months, with Beyoncé donning a fur stole in the hue for Jay-Z's Tidal fundraiser in October, breakout style star Andrea Riseborough opting for a silk slip at an Emmy's party, and Karlie Kloss wearing a notice-me Salvatore Ferragamo leather skirt to celebrate her stylist, Karla Welch.
Itching to get the look for yourself? You're in luck. It was also a strong trend on the Spring 2018 runways, appearing everywhere from Carolina Herrera to Calvin Klein to Gucci, meaning it is only a matter of time until you can get your hands on some Ultra Violet threads.
Related: A Deep Dive Into Beyoncé's Mastery of the Instagram Grid
"I Will Not Be Silent": Hollywood's Biggest Names Pledge to Speak Up Against Sexual Assault