Euphoria Teaser: Alicia Vikander and Eva Green Play Feuding Sisters Who Wind up at a Creepy Resort
Watch the pair play feuding sister who wind up at a creepy resort.
---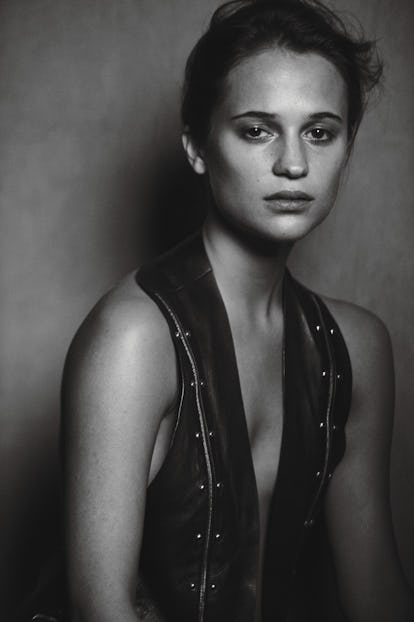 Both Alicia Vikander and Eva Green are the kind of actresses who are quite good at pulling off both a look and a performance that you might describe as beautifully haunting. So, in any film that casts them as sisters you might expect to be, well, quite beautifully haunting. That's exactly what Euphoria seems to be, judging from the just-released teaser trailer. In the film, Vikander and Green's characters unite after years of estrangement to travel around Europe. They fight. They make up. They do it again. Then they eventually wind up at an idyllic retreat somewhere deep in the forest that just seems, well, a little off. Green's character calls it "the most beautiful place in the world," but the trailer ends on a quote that isn't so sure: "This place, I really think we should get out of here." For good measure, eternal screen legend Charlotte Rampling is along for the ride as well.
Though, as it turns out this getaway doesn't end up being one where they get pedicures and massages in the middle of the forest. If you want to know what the film's dark secret it is, well, it's only hinted at in the trailer, but it has been mentioned in previous articles. Be forewarned if you're adverse to spoilers: the resort, set in the German Alps, is actually a euthanasia clinic. Green's character has terminal cancer and tries to make amends with her sister before deciding to end her life. It's a European arthouse movie, folks, what did you expect?
Behind the scenes, this is something of a homecoming for Vikander. It reunites her with her fellow Swede, director Lisa Langseth. She cast Vikander in her first ever movie, 2010's Pure, and further bolstered her career with 2013's Hotell. Five shorts years after Langseth introduced Vikander to the cinema world, the actress wound up with an Academy Award and a upcoming film list full of blockbusters and prestige pics. Though, Vikander remembers to dance with the one who brought her.
Indeed, Euphoria marks Vikander's first time as a producer and is the first co-production from her company Vikarious Productions. The film premiered at the Toronto International Film Festival earlier this year, but according to IndieWire does not yet have an American release date. The next time you can see Vikander o screen for sure it will be in a very, very different sort of film: Tomb Raider. Green, meanwhile, is busy filming Tim Burton's live-action adaptation of Disney's Dumbo with Colin Farrell and Michael Keaton.
Related: Alicia Vikander and Michael Fassbender Are Officially Married
Alicia Vikander Auditions for Humphrey Bogart's Role in "Casablanca":