Eva Longoria Experiments with ASMR–And Hopes It Is Soothing for Listeners
The actress gives the Internet phenomenon, better known as "head orgasms," a try.
---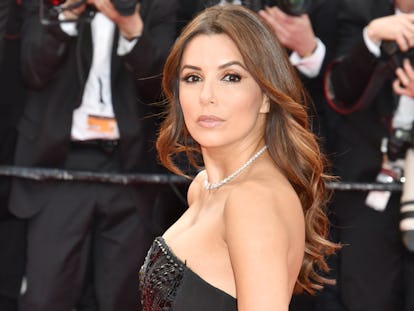 FilmMagic
With the friction of two sponges rubbing together, actress Eva Longoria plunges head-first into ASMR. For some, that sound — or that of nails scratching against a plush towel, or of a hair brush's bristles pulled through hair — is enough to send chills cascading down their spine, and Longoria taps into that auditory power with whispers and props.
She's not the first mainstream actor to experiment with the internet subculture that is ASMR: Suicide Squad star Cara Delevingne dipped in her toe while describing her character, the Enchantress, ahead of the film's premiere; and Vinyl's Juno Temple whispered an interpretation of Blondie's "Rip Her to Shreds," one of her favorite songs.
Longoria turned to household objects like kitchen sponges, hair brushes, bath towels, and even a bag of popcorn for her video. "I hope this is soothing for you," she says as she pulls the bag open, "because this is actually going to be something soothing for me." She pulls one kernel out — and then another, and another, soon downing them by the handful.
"Now I can't stop," she says, "It actually tastes like a skinny girl thing."
At the end of it all, the actress just hopes her efforts help listeners to follow asleep. Watch actress Eva Longoria's adventures in ASMR — with assists from a few everyday objects — in this exclusive video, above.