Eva Mendes Just Posted the Sweetest Throwback Video of Her and Ryan Gosling
It's from 'The Place Beyond The Pines,' the 2012 drama they co-starred in.
---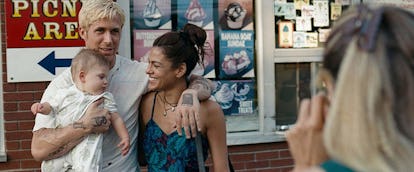 Photo by Atsushi Nishijima – © 2013 – Focus Features, via IMDb
Eva Mendes and Ryan Gosling have one of the most private relationships in Hollywood: they don't walk red carpets together, are rarely caught by the paparazzi, and usually only acknowledge their longtime partnership in the occasional interview. So Mendes' latest Instagram post is as close as we are going to get to a home movie from them.
For Flashback Friday, Mendes uploaded a short clip from the underrated 2012 drama The Place Beyond The Pines, which, yes, she did call A Place Beyond The Pines. In the film, like in the clip Mendes shared, she and Gosling are young and in love and taking a picture and it's honestly touching.
In real life, Mendes and Gosling have two daughters, Esmerelda and Amada. They were married in 2016, per Page Six, and their artistic collaboration seems to be the one topic that will actually get them talking about each other. Last month, Mendes said she'd love to work with Gosling on another film, either as his co-star or in one of his directing projects, while in conversation with O. When she was asked about their next potential film together, she replied, "The two times we've collaborated, him and I, have been the two best experiences in my career. There's such special work in The Place Beyond the Pines. We had known each other for a while already, so to work together was really exciting. And being in the film Lost River was nothing short of a magical experience. I would love to either act opposite him again or be directed by him at some point. I just love working with him. In a career of 20+ years, to have my two most incredible creative experiences be with him, of course, I'd want a third."
Around the same time, she opened up to Women's Health magazine about the decision to have kids, despite not always seeing motherhood as her path in life. The change came about, she said, because of "falling in love with [Gosling]. Then it made sense for me to have…not kids, but his kids. It was very specific to him."
Well, that settles it. Either they need to do another movie together or they need to cease and desist being so cute, because these little tidbits of adorability are too much to handle.
Related: Eva Mendes Says She Hopes Her Return to Movies Also Features Ryan Gosling
From Emma Stone and Ryan Gosling to Eddie Redmayne and Felicity Jones, a Guide to the Most Persistent Cinematic Couples
Eddie Redmayne won the Best Actor Academy Award for his performance as Stephen Hawking in The Theory of Everything and Felicity Jones was nominated for playing Hawking's wife, Jane. The two will join one another on set as a couple again for the upcoming Amazon Studios film, The Aeronauts, about 19th century scientists who travel by hot air balloon.

The Theory of Everything/YouTube
While Alicia Vikander may have just wed her The Light Between Oceans costar Michael Fassbender, she and Armie Hammer are on-screen soulmates. The actors will team up again in Freakshift as misfit cops, and previously starred in the 2015 international spy flick, The Man From U.N.C.L.E.

The Man From U.N.C.L.E./YouTube
Director David O. Russell loves to cast Jennifer Lawrence opposite Bradley Cooper, and has done so for three of his films—Silver Linings Playbook, American Hustle and Joy. Lawrence and Cooper also starred opposite one another in Susanne Bier's Serena.

Silver Linings Playbook/YouTube
Before they twirled across the city of angels in La La Land, Emma Stone and Ryan Gosling were cast as love interests in the romantic comedy Crazy, Stupid, Love.

La La Land/YouTube
The teenage rom-com The Spectacular Now had a stellar cast—Brie Larson, Mary Elizabeth Winstead, Bob Odenkirk, Jennifer Jason Leigh and Kyle Chandler each played important roles in the film—but it also marked the beginning of a working relationship between Shailene Woodley and Miles Teller, who later went on to star in the Divergent franchise together.

The Spectacular Now/YouTube
9 years after starring in Pretty Woman, Richard Gere and Julia Roberts reunited on screen in Runaway Bride. Both romantic comedies were directed by Garry Marshall.

Runaway Bride/YouTube
Kate Winslet and Leonardo DiCaprio followed up their Titanic romance by portraying of an unhappily married couple in the 2008 adaptation of Richard Yates' Revolutionary Road.

20th Century Fox/Courtesy Everett Collection
Richard Gere and Diane Lane have portrayed onscreen couples thrice—first in The Cotton Club, again in Unfaithful—a role for which Lane was nominated for an Oscar—and once more in Nicholas Sparks' Nights in Rodanthe.

Unfaithful/YouTube