Exclusive: Lou Doillon Stars in the New J Brand Campaign
The ultra stylish French musician and muse is the new face of California's J Brand for Fall 2016.
---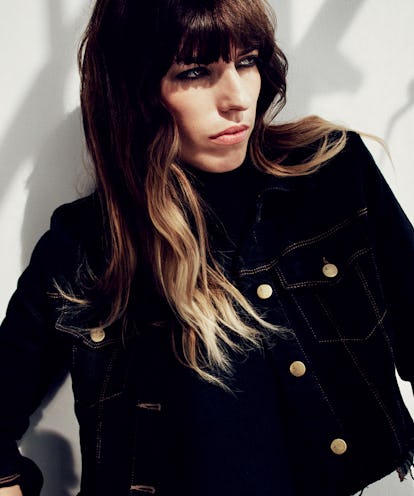 Lou Doillon had just arrived in the south of France for her well-deserved holiday. After wrapping up the tour to support her sophomore album "Lay Low" last week, the singer/songwriter said she's "learning to get back to a less chaotic life style." However, Doillon is not one to take it easy. This fall, she is the new face of J Brand, and she looks right at home in a pair of jeans and a leather jacket. "The line is very simple and comfortable," she said. "It's very mystical what makes you love a pair of jeans, and it doesn't have to go with trends. I'm into '80s denim cuts, I think because they remind me of my mother when I was small." Doillon's mother, of course, is the inimitable icon Jane Birkin, who has inspired her fair share of aspiring fashionistas. Family is important to Doillon, and so when she's starts work on her new album, she'll do so in the company of her son. "It's a very lonely process at first. Songs unravel or not, at their own pace. Like children…one has to have the patience and attention to grab the ideas, and concentration to take them in and out" she said. But it is not all hard work. The south of France gives the songwriter a chance to unwind, "I listen to the radio, Radio France and France Culture. Very old fashion national radios, always interesting and with a surprising choice of music, and lots of debates between intellectuals, that go on for hours," Doillon said. "Learn and cook! That's my summer!"
Describe your style: Personal, out of fashion and hopefully a little off.
Daily uniform: Pajamas when I travel or stay at home all day. Otherwise a dress and boots, or jeans and boots.
Style icons: Little Edie from "Grey Gardens," David Bowie, Jimmy Page, Katharine Hepburn, Patti Smith, Stevie Nicks, Juliette Greco, my mother. Favorite store in New York City: Quality Mending, at 15 Prince Street. I always find a vintage T shirt there.
Favorite store in Paris: Officine Universelle Buly 1803, at Rue Bonaparte 75006, for its beauty products. And, it's the most beautiful store in Paris…
Favorite vintage stores: Avalon Vintage in Los Angeles, owned by the delicious Carmen Hawk. Otherwise I roam in every city and find stuff.
Best recent discovery: Joel Durand chocolates in Saint Remy de Provence…Killer!
The piece that you'll be wearing all summer: My red velvet Saint Laurent boots with every vintage summer dress I find.
Last purchase: Earrings at Stone, a Parisian store I love. Lusting after: The vintage coat I brought my boyfriend in a vintage store in Montreal.
Most prized possessions: My son, my diaries and my books. The rest I don't really care.
Summer read: Right now, Sartre's "Les Mots;" "Leonard Woolf: A Biography;" "Girls to the Front", a Riot grrrl biography of the movement, "The Art of Billie Holiday's" life, Françoise Sagan, Simone de Beauvois' correspondence and poetry. And I always take my girls – D. Parker, S. Plath, A. Carson.
The Myth Of Orpheus and Eurydice, Part Three: The Descent