Exclusive Song Premiere: Skrillex Protégée Mark Johns Is Finally Doing Things Her Way on "Same Girl"
The 23-year-old singer and songwriter has come a long way, but she's still the same girl.
---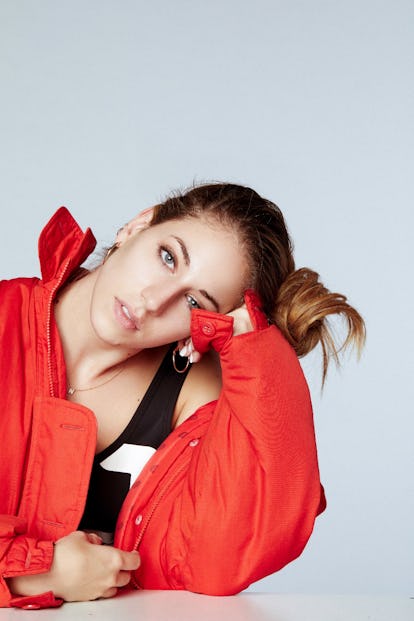 Courtesy Mark Johns
When Naomie Abergel, the 23-year-old singer and songwriter who records under the name Mark Johns, moved to Los Angeles nearly two years ago, her mentor Skrillex urged her to embrace all her different interests, to explore different genres and musical forms, without confining herself to a single unified aesthetic.
"When you move to L.A., there's a lot of pressure, so that's when I started trying to compound all this shit and make it more condensed," she said recently. "He just kept telling me, 'No, you don't have to do that, you can be whatever the f— you want.'" It took more than a year, a debut EP on Skrillex's imprint OWSLA, and a stream of the covers for which Abergel became known prior to moving to L.A., but with her new single "Same Girl," her first original track since her 2016 EP Molino and premiering exclusively here on W, she's finally embracing his advice.
"I realized if I have my label and I have my friends and I have my people who are willing to support whatever the f— it is that I want to put out, then why am I stressing?" she said. (She also got a dog at the beginning of the year, a poodle-Chihuahua mix, to whom she credits some of this new contentment.) The song is a kind of ode to Abergel's circle who relocated to L.A. around the same time and who connected over "being broke together and trying to get through it." Some grew distant as their respective careers gained momentum, but recently, Abergel has reconnected with them. "Same Girl" is the realization that they've all come a long way, but they're still, you know, the same.
That said, it's also a wild romp, obsessed with indulgence and escapism and filled with hotboxed cars and overused cell data and wads of cash too thick to fold. ("Look, I like to have fun," she confessed.) Abergel wrote it earlier this summer during a brief but productive writing session; it's the first in a planned series of one-off releases that establish an entirely new direction from the Molino EP.
Satisfied with a steady schedule of independent singles, Abergel is taking her time putting out a full-length record: "I don't have what I want to say mapped out enough that it's big enough to take up the space of an album," she said. The singles provide a way to figure out, "through trial and error," what works—and she hopes, by next year, she'll have arrived at the solution.
Charlize Theron on James Bond and Atomic Blonde: