Who Is Having The Most Fun in Alexander Wang's Latest Ads? A Detailed Ranking
Alexander Wang flew his #WangSquad out to a Los Angeles mansion to party, but some seem to be having a better time than others.
---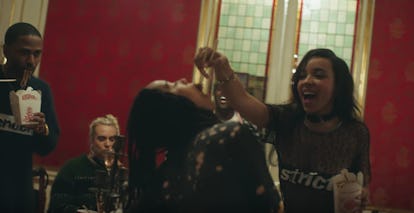 Image via Alexander Wang YouTube
Sure, just about every American fashion brand these days is filling their campaigns with a mix of dozens of models, celebrities and other creative types, but only one bothers to fly their entire squad to Los Angeles and give them free range over a mega-mansion to throw the party of their wildest dreams (or at least someone's wildest dreams). And that's Alexander Wang.
After previously announcing all 23 members of the WangSquad for his Fall/Winter 2016 campaign, Wang has been slowly unveiling a serious of short films helmed by Director X that show the squad, everyone from Kylie Jenner to A$AP Ferg, partying.
Yesterday, the third film in the series debuted, and all but one member of the WangSquad (painter Lucien Smith) has now been accounted for on the guest list. Naturally, official squad members RL Grime, Big Sean and Skrillex provided.
Though, it seems like a squad members are having just a little bit more fun than others.
Who is having the time of their life and who seems like they'd rather be at home catching up on Netflix? Clearly, we needed to make a detailed ranking.
Film One: A ranking of who is having the most fun from least to most.
Alice Glass The former Crystal Castles frontwoman enters the party by Skrillex's side and then spends the rest of the time bobbing her head on the couch. She seems the most likely to find a cat in the mansion and spend the rest of the party petting it.
Relatable? Most certainly. Fun? Not so much in this context.
Skrillex Considering he's surrounded by a pack of models bouncing to his own song he could at least crack a smile. Lighting up, Skirllex!
Tyga Tyga looks like a man considering the possibility that he might about to have a lot of fun but isn't quite sure yet.
Kylie Jenner Well, miss Kylie is certainly living tonight. She's gets her man in the hallway, and then gets some close girl-on-girl dance time with model Anna Ewers in the bathroom.
Various Models Meanwhile, back in the main room, the model squad, including Alice Metza, Issa Lish, Hanne Gaby, Katie Moore, Yana Bovenistier, are the only people keeping the mood up.
Anna Ewers Look, we're not going to assume what exact narrative arc between Jenner, Tyga and Ewers this commercial is suggesting the night will take. All we're saying is that it definitely looks like a good time, and Ewers won't have to deal with repercussions of it in the morning. What more could you want out of a party?
Film Two: A ranking of who is having the most fun from least to most.
Black Atlas The singer-songwriter literally is just looking at a painting of a horse. Not fun. Unless you're Jack Donaghy.
Curren Caples Yes, skateboarding is fun, but Curren Caples is a professional skateboarder. Who wants to be invited to an exclusive party in an L.A. mansion surrounded by models just to be asked to do your day job? Come to think of it, maybe that's why Skrillex also looks less than pumped.
Model Squad Daredevil golf cart riding? Sneaking into the cellar to steal expensive wine? Jumping in pulls in all of your clothes? Yes, model squad, yes! This is 100 percent, exactly what you are supposed to do at an abandoned LA mansion party. Spot on.
Film Three: A ranking of who is having the most fun from least to most.
Metro Boomin As much as we endorse Metro Boomin as a musician, W Magazine can not, in good conscience, endorse sword handling while drinking.
RL Grime RL Grime is basically like me at a party that I got to too early before my close friends showed up, but I still sort of know the other people there. Yes, I'm going to try and have a decent time to keep the mood up and not seem rude, but mostly I'm just going to keep sipping out of a red cup and sitting in a chair silently judging everyone else until my real friends arrive.
Big Sean Eating take-out while sipping champagne? Sure. There's worse things.
Mø She's there. Good for her.
Vince Staples Have you not, at least once in your life, wanted to make it rain dollar bills in the middle of a party? Are you not human?
Zoe Kravitz Did she just eat Cheetos out of Hanne Gaby's mouth? That's the kind of thing you tell people about for months long after the part has ended.
Model Squad Again, doing the heavy work of keeping the mood up here.
A$AP Ferg I think he smiles more than anyone else in this entire campaign. Or maybe it just seems like it on account of his grills. Either way, he clearly seems like the kind of guy who is having the time of his life, even if this is the fifth time this week he's had the time of his life.
Tinashe Tinashes is pretty much pulling both entertainment and hosting duties at this party, and making it look like the best time ever. Bored? Tinashe will entertain you by dancing on a pole. Hungry? Don't worry, Tinashe is there to deposit Chinese food directly into your mouth. Still bored? More Tinashe dancing time for you, this time on the table. Feeling a bit chilly outside? Tinashe will jump on your back and embrace you in her warmth. Tinashe is clearly owning this party and we wish she would have gotten there sooner.
Overall most fun: The Wang Model Squad The model squad deserves special citation for keeping the vibe of this party up throughout the day, and seamlessly chilling with all guests. Bless you, Model Squad. Alexander Wang should be proud.