The Lazy Girl's Guide to a Slimmer Body
When dieting is impossible, magic—or a really effective fat-melting treatment— is in order. Christine Muhlke explores the options… between meals, of course.
---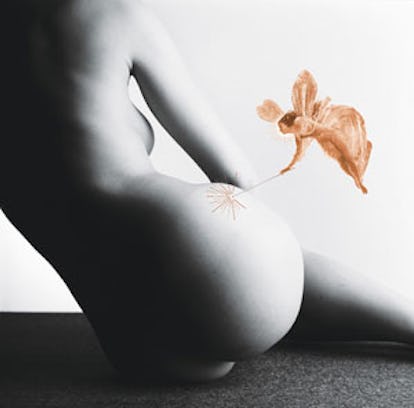 I'll be honest with you: I'm a professional glutton. As the executive editor of Bon Appétit, I am responsible for sampling each of the 50 recipes in every issue at least three times. I dine at a new restaurant almost every night. On top of that, I'm a culinary golden retriever—if I really like something at a tasting, I'll bring a full serving back to my desk. But I've always tried to balance my appetite with daily exercise, and I bike to work and take the stairs instead of the elevator. Still, in my world of burger tests and countless Thanksgivings in July (to meet the printer's deadlines for our November issue), those efforts had stopped cutting it. While I didn't need to drop pounds, I did wish all of my body sculpting worked where I wanted it to. (I've never been able to lose the most stubborn part of my belly.) So, after a bit of research, I was ready for a smorgasbord of state-of-the-art fat-burning treatments that didn't require too much work on my part.
And where better to start, I thought, than at a spa owned by winemakers? New York's Caudalíe recently imported "vinotherapist" Daphne Coulmance from the mother ship in Bordeaux, France, to its operation at the Plaza hotel, where she serves as the body-slimming expert. Before she started the Anti-Cellulite Body Treatment (for $185, it promises to de-dimple and de-puff the entire body), Coulmance warned me in her elegantly accented English that this would be a no-pain, no-gain operation—"but after a few treatments," she cooed, "you barely notice the pain." I certainly noticed this time, as she pinched and rolled every bit of my flesh in maneuvers meant to increase circulation that would, she explained, flush areas blocked with toxins. "Ah, this area is sensitive!" she said as her work around my knees elicited groans. "Do you often get swollen ankles?" Um, toujours.
"It's not a magic bullet," she said of the 50-minute treatment. "But there are people who come back every week." After I told her where I worked, we spent the rest of the ­session talking about New York ­restaurants—the whole experience, in fact, was so French that I half expected her to ­offer me a cigarette. Back at my desk, my ankles were indeed less puffy—but everything higher up was pretty much the same.
The notion of a French person helping me slim down was funny: I'd just returned from five days in Paris, during which I'd eaten nine dinners and eight lunches. All of which seemed far, far away as the stunning, Brittany-born Isabelle Bellis—part holistic nutritionist, part epidermologist— greeted me in her luxe-modern waiting room on the Upper East Side. It's the latter title that qualifies her to tackle clients' lumps and bumps via the New Age magic (actually, it's more of a science) of cupping. The first words out of the extraterrestrial beauty's mouth: "You have two hours for me, I hope?" I nodded dumbly. La ­Grenouille would have to wait.
Bellis's Bio Cupping Body Detox treatment ($310) uses elements of Ayurveda, ­aromatherapy, and endermologie (a suctionkneading device) to reduce both cellulite and fat buildup. After applying essential oils to my skin, she went over it with a dry body brush to activate circulation and give toxins an exit plan. She then picked up a contraption called a Biodraineur, which combines light therapy and machine-­powered cupping and walked the flashing glass domes up and down my legs, arms, stomach, and buttocks. I was worried that my entire body would end up looking like Gwyneth Paltrow's bruised postcupping back in those infamous photos but was reassured by the ­gentle suction, which felt like third-grade back-of-hand kissing practice.
Bellis sees the Bio Cupping procedure as a kick start, not a quick fix. She finished the treatment by rubbing caffeine-­infused Gel Thermo Amincissant by biochemist Joëlle Ciocco (under whom she trained) into my target spots and then sent me off with a new alkaline-diet regimen, a box of German herbal tea, and a bottle of Ciocco's slimming gel, which I was to apply twice daily for at least eight weeks. Bellis also suggested rest, no alcohol or caffeine, and that I "manage internal stress"—deep breathing, meditation, moving to Provence. Easier said than done, of course. But if I had the time for the recommended 6 to 12 treatments, I'd do them in a heartbeat. My relaxed state, which lasted almost a week, found me focusing on feeling "whole" in a vague kind of way. What I really wanted, though, was to be as glowing and slim as the ultra-natural Bellis.
While it's all too easy to repeat the mantra of "diet and exercise" until its lessons are somehow internalized, it's key to understand that fat is a stubborn substance much trickier to reach than, say, muscle. (Witness the struggle that even the very fit have with shedding those last few extra pounds, like the rock-hard-yet-soft-in-the-middle power moms in my spinning class.) As a result, the cosmetic-device industry has increasingly been aiming its energy beams and lasers at body fat.
The Manhattan aesthetician Ildi Pekar has a veritable showroom of body-slimming contraptions—everything from sweat blankets to radio frequency waves—in her little penthouse lair on Madison Avenue. After assessing my needs, she proclaimed, "Beam!" in her Hungarian accent. I thought something had been lost in translation, until Pekar told me that BEAM is the acronym for Bio Electrical Acceleration Management ($200 per treatment). "It's a muscle stimulator," she explained as she stuck several pads onto my belly, EKG-style, then hooked them to cords attached to the machine. Every few seconds, electrical pulses vibrated and pulled over the area. "This mimics the body's own bioelectric process to tighten your stomach muscles," Pekar explained. "It's doing sit-ups for you—and when the muscles are tighter and shorter, you get rid of excess toxins, water, and fat." "Where will the fat go?" I asked. "Urination," she said. Pekar promised that the results would last at least a week. She was right: The skinny jeans I'd just bought had a very flattering honeymoon period.
These short-term fixes were encouraging, but I decided that if I wanted something more lasting and dramatic, I'd have to get clinical—and the most buzzed-about machines for ­volume reduction and skin tightening are CoolSculpting by Zeltiq and Exilis. CoolSculpting uses extreme cold to destroy fat cells, whereas Exilis employs superhot radio frequency waves to melt fat within the cells as ultrasound tightens the skin. (Opinions vary as to how hot exactly tissue needs to be to make this happen.) Manhattan dermatologist Francesca Fusco, who works with star derm Patricia Wexler, has been thrilled with Exilis, which operates between 104 and 113 degrees Fahrenheit. However, she warns, it's not for the truly lazy: If you go on a bender after the treatment, fat will return to the area. "I use it for people who try to keep in shape through diet and exercise but have stubborn areas that they can't slim down," she says. "Like the belly or the underarm area." (Four to six treatments cost about $2,500.)
A technician taped a grounding patch to my thigh so I wouldn't be shocked by the electrically charged metal-tipped wand, and for the next 40 minutes she and I played a game: ­Every time the wand threatened to scorch me, I'd cry, "Hot!" and she'd dial back the temperature. At the end of six sessions over two months, I'd lost two inches around my middle. ­Looking at the after pictures in Fusco's office, I noticed the biggest improvement was in the view from behind, though my stomach also looked flatter than it had in a decade. Five months (and many, many meals) later, I'm still happy with the results.
As with every medical field, though, the science of slimming is constantly being improved upon—there's always something just on the market or around the bend. Case in point: Israel's newest export, the Apollo, considered the most cutting-edge of the radio frequency treatments. Instead of the Exilis's one pole of energy, the Apollo has three, which reach temperatures of 111 degrees. "Six knobs melt the fat tissue in the dermis without overheating the skin's surface," explains Jamé Heskett, M.D., who heads Wellpath, an anti-aging treatment center on the Upper East Side. In addition to melting fat cells, the Apollo is said to stimulate collagen growth, which helps tighten the skin. As Heskett moved Apollo's silver-knobbed wand around my belly and hips, I still had to interrupt our conversation with the occasional "Hot!"—though not nearly as often. Best of all: I lost an inch in under 30 minutes ($350 per area, per visit).
Like the others, Dr. Heskett didn't promise permanent miracles. Heating fat cells until they "liberate" their contents, she told me, is one thing; preventing my body from restocking its reserve supply is another. "It's just as if you'd exercised it off," she said. "But however you do it, it's up to you to keep it off."
Hmmm. This sounded curiously like a commitment to something strenuous. Speaking of commitment: I realized that amid all my early-morning fat-dissolving appointments, I actually hadn't been to the gym very much, and as a result, I wasn't faintingly hungry hours before lunchtime and viewing the Bon Appétit test kitchen as my personal buffet. So I naturally ate less—and naturally lost a few pounds. Throw in the help I had from all those gels, masseuses, and state-of-the-art gadgets and I didn't have to lift a finger to smooth out the squishy bits. I guess sometimes laziness really does pay off.
Photos: Christian Kettiger/trunkarchive.com and Trumbo/CondÉ Nast Archive