Ezra Miller and Erykah Badu Had a Wacky, Wonderful Chat
Their latest interview is a trip.
---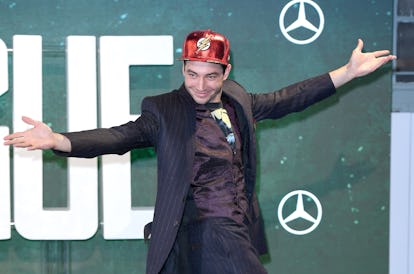 Photo by Karwai Tang/WireImag
Actor Ezra Miller (Fantastic Beasts And Where To Find Them, The Perks of Being A Wallflower) and singer-songwriter Erykah Badu are undoubtedly two of our dimension's most special and talented beings. Their recent conversation for Interview magazine is charming and sincere. It's also a trip because Ezra and Erykah clearly operate on a plane of existence I will never hope to reach in my life as a mere mortal.
My first favorite exchange of theirs (among many favorite exchanges) is when Badu says that she caught Miller's "genre queer" band Sons of an Illustrious Father in concert and instead of saying "I didn't know you were there," he says, "I didn't know your presence was among us," because that's a way cooler sentence. After Badu asks Miller to describe his feelings, he tells her he feels "wonderfully insignificant. I feel like one of those little bugs that hops across the water in this rain," and Badu responds, "I love the humility." Because, you know, they're not in the middle of a magazine interview or anything.
They also talk a fair bit about the The Diagnostic and Statistical Manual of Mental Disorders, why "wounds are blessings," and Miller's ability to sing two tones at once (very cool!), but by far the best part of the conversation is that Miller is ostensibly in the magazine to promote Justice League, which he stars in as Barry Allen, AKA The Flash. So, he has to tie the conversation back to The Flash. And he does so…beautifully. When the topic turns to love, Miller says:
"If I had to try to sum up love, I'd describe it as connective tissue, as the blood of the universe or the water that runs through all of the cosmos. The Flash's symbol is a lightning bolt over the heart. If there's any sort of superpower we desperately need right now, it's this transcendental force that reminds us of union and connection. I know it sounds a little cheesy and cliché, but I think that superhero stories come from somewhere. We make these aspirational images—whether it be wizards or superheroes— to remind us that we actually have this capacity in ourselves already. I think that electricity can run through disconnected wires, no matter how broken and mangled they are." [That's not quite how electricity works. Nice thought though.] "Superheroes, every single one of them, come from the world of imagination and they're played by humans, they're written by humans, and it's in the belief that we invest in these characters that they come to life."
Yes, Ezra Miller, superhero stories come from somewhere and are written by humans. You are absolutely correct.
Photos: Adrien Brody, the Artist, Loves Face Swap and Erykah Badu
Adrien Brody with his art at the opening of Art New York and Context art fairs at Pier 94. Photo by Mireya Acierto for Getty Images.
"Dropfish (Green)." 2016.
"Suicidal Mermaid," 2016.
"Koi in Four Seasons," 2016.
"Wild Alas Canned," 2016.
"Lucky Koi (Yin & Yang)," 2016.
"A Great White Shark," 2016.
"Impressionist Fish," 2016.