Facebook Might Have Found Its First Original TV Show
Facebook is reportedly picking up comedian Nicole Byer's comedy series Loosely Exactly Nicole after MTV cancelled it.
---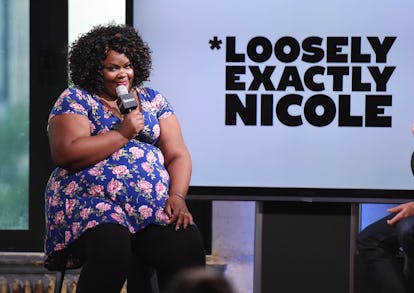 Nicholas Hunt
It's not enough for anything on the internet to just be what it is these days, everything wants to be a TV channel too. Just look at Amazon, a place best known for selling us our underwear, dog food, and other mundane items you don't want to have to drive to Target to get. It now has a whole bunch of Emmys (mostly thanks to Transparent). Twitter — the White House propaganda enabler and former Real Housewife GIF delivery mechanism — streamed NFL's Thursday night football games. Now Facebook, your aunts favorite place to put her Minions memes, is trying to take on the network and cable systems. They may have already found their first show. No, it's not about a puppy and a monkey that become best friends, but that would be fitting for Facebook.
The Hollywood Reporter says that the social network is getting ready to sign up for the second season of Loosely Exactly Nicole, an MTV comedy starring Nicole Byer that was cancelled by the teen-centric cable channel earlier this year. The scripted series was loosely based on Byer's own experiences of trying to make it in Hollywood. It's an interesting choice for their first foray into original content, especially considering the show's audience dwindled to a mere 150,000 viewers, which is but a rounding error compared to Facebook's 1.9 billion monthly active users.
The launch of Loosely Exactly Nicole would be part of an aggressive video strategy Mark Zuckerberg's online behemoth started late last year when it hired CollegeHumor founder (and Allison William's husband) Ricky Van Veen to be the head of "global creative strategy." He's mostly focused on Facebook's video tab and a move into original content is a way to "kick start the ecosystem" of video content on the platform. This would include original scripted content, unscripted content (ie reality shows and news), and streaming sporting events. Indeed, Facebook also just picked up Last State Standing, a reality competition series (with 50 contestants representing each state) from an American Ninja Warrior producer.
So far Facebook has partnered with people like BuzzFeed and The New York Times to provide premium content for their video tab, but getting into the scripted game is always a bit more perilous, especially when there are already more than 400 scripted shows each year vying for people's attention. Amazon has had the most success and even stole Twitter's NFL deal right out from under them. Playstation, however launched its first and only original show, Powers, in 2015 and hasn't been back for more since. Apple Music recently got into the game too, introducing Planet of the Apps earlier this month with a stand-alone Carpool Karaoke show in the works. It takes a lot to hang with those big boys in TV, but if Facebook can make you watch your friend's live video of him singing along to Katy Perry singles in a traffic jam, it can probably get you to take another look at a low-rated program that didn't quite work for HBO as well.
Related: HBO Swaps 'Girls' for 'Brown Girls'
See What's Trending in W Video: