Jill Soloway Is Thinking About Starting a Revolution — But First, a Hot Bath
The producer and director of "I Love Dick" and "Transparent" is gearing up for a talk with Gloria Steinem at CAP UCLA with her usual share of reality TV and a heavy-duty reading list.
---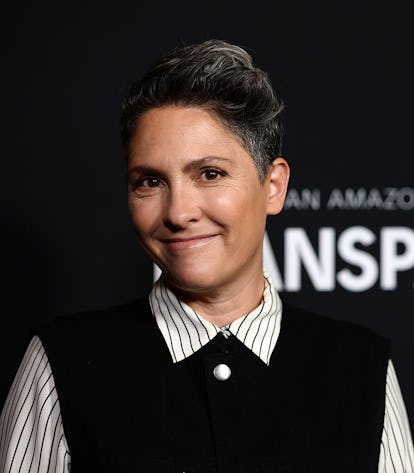 Amanda Edwards/WireImage/Getty Images
Not too long ago, in that woefully, seemingly distant world when it seemed like a woman, and not a man heard boasting about sexual assault, would become the next President of the United States, the team at the Center for the Art of Performance at UCLA organized a talk for this Sunday between Gloria Steinem and Jill Soloway — two noted feminists who have, since the election, also become billed as experts at "changing despair into hope." And while their conversation could now hardly be more timely, CAP UCLA director Kristy Edmunds is quick to note that the topics — equality, revolution, love, and politics, to name a few — are somewhat evergreen. "Regardless of the election, the need to continue to focus on the equality of women and our contribution to society and culture is critical," she said this week from Los Angeles. "Even in periods when where we're not riddled with uncertainty or anxiety, listening to those who have tons of perspective — and with Gloria in particular, experience — reminds us how to take agency with our own voices and have resilience."
Meanwhile, elsewhere in the city, Soloway was prepping for both a day of shooting her Amazon series "I Love Dick" and her conversation with Steinem, starting with the stack of wide-ranging books she's been keeping close lately on her bedside table. She shared her reading list and the rest of her culture diet, here.
First thing you read in the morning: The New York Times. I'm actually grabbing it right now from the front of my house.
Books on your bedside table right now: I have a copy of There Are More Beautiful Things Than Beyoncé by Morgan Parker, a poet, which is coming out soon; Communion: The Female Search for Love by bell hooks; Thank You for Being Late by Thomas L. Friedman; Citizen by Claudia Rankine; and Here I Am by Jonathan Safran Foer. I think I'm thinking about what everyone else is: searching for larger patterns around intersectionality, love, and politics, like with these books in particular and how they connect. I love Claudia Rankine, and when she got her MacArthur grant recently, she said — I don't know if it was seriously or jokingly — that she would use the money to study whiteness. That's a pattern I've been noticing a lot recently — people, both black and white, naming and being willing to be discerning about whiteness, and the first step in recognizing and trying to undo privilege.
The TV shows keeping you up at night: I have a weird thing where I only watch reality shows, so nothing really keeps me up because I'm a little bit too exhausted. I often get up in the middle of the night, like at three in the morning, and when I do I always watch "Shark Tank" or the Kardashians or any of the "Real Housewives" series.
Last movie you saw in theaters: American Honey. I'm actually working with [director] Andrea Arnold right now; she's directing an episode of "I Love Dick," so I get to go hang out with her in a few minutes. She's my hero. Probably the reason I became a director was her first film, Fish Tank. I worship her and all I want to do is be like her as a director.
Last thing you saw at the theater: Oh, Hello in New York. It's this weird trip down the vortex of a personal relationship between two old, Upper West Side dudes.
Last piece of art you bought, or ogled: I just got introduced to an artist by the name of Maria Lassnig, and it just kind of blew my mind to look at what she had made. I love how she writes about her art as well.
Last museum exhibition that you loved: Pipilotti Rist at the New Museum. She's amazing, and one of the filmmakers we're featuring in "I Love Dick" — every episode is going to have pieces of work by little known female filmmakers.
Release you're most eagerly anticipating: A book by one of my favorite writers, Daphne Merkin, called This Close to Happy. She's a journalist and memoirist, and I think one of the most moving and poignantly truthful writers, especially about depression.
Last song you had on repeat: I guess we all were listening to "Hallelujah" [by Leonard Cohen] over and over again during the week after the election.
Last concert you saw live: The most memorable person I saw recently was Adele at Radio City Music Hall. She was great, but the evening felt very special for multiple reasons — I brought my son and we were seated down the row from Louis C.K. and his daughter, who he'd picked up from school so she still had her backpack. So [my son] was looking at Louis C.K. be this super genuine dad, watching his daughter watch Adele, which was really cute. There was also this moment where Lorne Michaels and Donald Trump came in together, and this was in the early days of his run, about a year ago, but even then, it was a very strange feeling when Trump came into the room. It just kind of tilted when he walked in— some people were hissing, and other people were like, "He's with Lorne Michaels, he's okay…" It was just kind of weird and cool to be in Radio City Music Hall in New York for this evening where being part of the audience was as powerful as the singing.
How you get your news: The New York Times, and I also look at the Daily Beast and the New Yorker online.
Favorite social media accounts to follow: I just found a really amazing site I'm really excited about by these artists and activists called Mask Magazine. And on Instagram, I love Petra Collins, India Salvor Menuez, and ShiShi Rose.
Last thing you do before you go to bed: Take a hot bath.