Skin Trade
Is your facialist a type A, or a zen master? Naturally aggressive, or just nature-centric? Christina Han uncovers the personality behind the practitioner.
---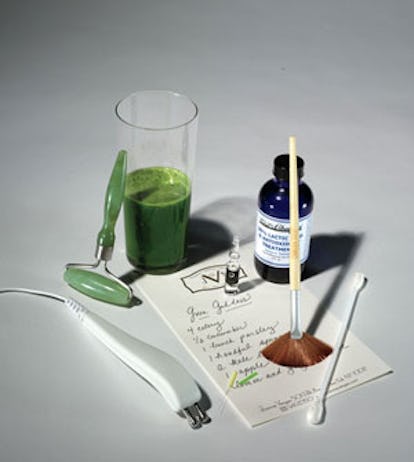 THE GREEN GODDESS Joanna Vargas, Joanna Vargas Salon, New York (joannavargas.com) Credo Healing from the inside out. "What's most important is to address the skin's problems in organic and noninvasive ways." Clientele Young professional women. "They're extremely successful, but they're stressed." Specialty The Power Peel—a combination of microdermabrasion, a blueberry-based detox peel, LED light, a blast of oxygen, and Vargas's Daily Serum. "It makes skin look perfect for weeks after." Magic Potion Her Daily Serum and a homemade green juice containing kale and cucumber, which stimulate the lymphatic system to better remove waste, process nutrients, and oxygenate skin.
THE DETERMINATOR Jodi Shays, owner of Queen Bee Salon & Spa, Los Angeles (queenbeesalonspa.com) Credo No nonsense, intensely results driven. "I'm not a fluffy aesthetician rubbing a few creams on your face; I'm going to do what works." Clientele Everyone from A-list celebrities to flight attendants. Specialty Healing facials using her Ultra Wave Skin Scrubber. "One side of it is great for exfoliating; the other gives an excellent lifting massage." Magic Potion Sanítas Skincare's biogenetic products. "I mix them and layer serums with masks."
THE MYSTIC Annee de Mamiel, de Mamiel, New York and London (demamiel.com) Credo Beautiful skin through balance and harmony. "I treat clients by assessing their tongue and pulse, which tells me how their body is reacting to stress." Clientele Twentysomethings to high-powered businesswomen to 70-year-old ladies. Specialty Seasonal attunement, which includes acupuncture, meditation, and a customized mask. Magic Potion Her eponymous seasonal facial oils containing "highly vibrational" essences like neroli.
THE SYNTHESIZER Jordana Mattioli, facialist at plastic surgeon Adam Kolker's office, New York (kolkermd.com) Credo The best of nature and science. "I love tea tree oil, but I also rely on benzoyl peroxide." Clientele Professionals and "young socialite moms." Specialty Chemical peels. "They're an easier recovery than lasers." Magic Potion Naturally derived antioxidant serums as well as Daily Hydroxy Peel pads from Kolker's AKMD Skincare line, which contain glycolic and salicylic acids.
THE EXCAVATOR Alexandra Wagner, Alexandra Wagner Skin Care, Venice, California (alexandrawagnerskincare.com) Credo Deep purging. "You can get filler and Botox and a peel, but you still need extractions to rid skin of bacteria and make it superclear." Clientele Younger women with adult-onset acne and older women with high-pressure jobs—­entertainment lawyers, producers, stylists. Specialty The Abbot Kinney Ultimate Electro Lift facial—a combination of oxygen, microderm­abrasion, extractions, massage, an enzyme peel, and microcurrent stimulation—to help regenerate skin cells. Magic Potion Collagen-elastin ampoules, which feed extra-dry skin.
Photographed By Stuart Tyson; Prop Styling By Renate Lindlar