Critical Mass
For decades, a select group of print journalists dictated our views on fashion. But in the age of Twitpics and do-it-yourself commentary, Troy Patterson wonders: Who can you trust?
---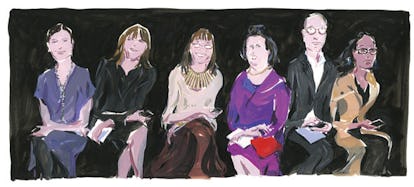 On a Monday night in June, outside Lincoln Center at the annual awards ceremony of the Council of Fashion Designers of America, red-carpet photographers hoot and kvetch. Across the street, gasping amateurs snap the arrivals of the international fashion set with their phones and shoot images through the ether. Inside Alice Tully Hall, though—where signs encourage the audience to blog and tweet via Wi-Fi—Hilary Alexander is alert in her aisle seat, nervously squeezing a spiral-bound pad and eyeing her notes through narrow glasses. She has a speech to give.
Alexander, the outgoing fashion director of London's Daily Telegraph, is here to collect an honor marking the end of a quarter century at the UK's best-selling broadsheet. "Hilary's retirement is definitely a sign that the great pillars of 20th-century fashion are coming down," says Suzy Menkes, Alexander's counterpart at the International Herald Tribune. Alexander's hustle is legendary—Menkes and nearly everyone else I speak with mentions her sprinting to shows, weaving through crowds with sharp questions at the ready.
Alexander would prefer not to have to quit now, just as the craft of fashion criticism is picking up unprecedented digital momentum. But as required by British pension law, she is leaving her full-time job 65 years after being born in New Zealand—under the sign of Christian Dior, you might say. That same year (1946), Dior was establishing his house in Paris and daydreaming of the coming spring's collection. The New Look, as Vogue editor Bettina Ballard wrote, was a revolution in both design and display: "The first girl came out, stepping fast, switching with a provocative swinging movement, whirling in the close-packed room, knocking over ashtrays with the strong flare of her pleated skirt." Of course, that was an intimate affair in the designer's showroom, and there were restrictions on the publication of journalists' sketches. Today, with many top designers live-streaming their shows, the runway is as accessible as your smartphone, the showroom as democratic as the Web.
The prize Alexander is receiving is named for Eugenia Sheppard, the syndicated columnist, who, in Andy Warhol's words, "invented fashion and gossip together" in the Fifties and Sixties. Formerly recognizing excellence in "fashion journalism," it was recast this year as "the media award," which alludes to fashion journalism's shifting landscape, even as it raises a tricky question: Will the brave new mediaverse produce any pundits of Alexander's stature?
A month earlier, Alexander hurries into the restaurant Pastis, in New York's Meatpacking District, where she bumps into Dutch design duo Viktor & Rolf—whose most recent show she had described, in her characteristic tight style, as a "forbidding vision of womanhood." Kiss, kiss; kiss, kiss. Once she takes her seat, however, she confesses to me: "I can never remember which one's Viktor and which one's Rolf."
Alexander had dressed for lunch in her habitual style, one Menkes calls "hippie deluxe"—Maasai necklace, Marks & Spencer sandals, flowing black skirt by one young London designer (Eskandar), and a black top by another (Malene Birger). Each of her big toes is decorated with crystals along the cuticle line, and all 10 toenails glow, as always, with a shade of aqua that Revlon calls Tidal Wave. It reminds her, she says, of the ocean of her girlhood.
Obsessed with Vogue Patterns, the young Alexander was that iconic figure of fashion lore: the little dressmaker hunched at her Singer sewing machine, needle racing to keep up with the style of the day. Her academic passion was archaeology, but her father refused on principle to pay university tuition and instead got her an apprenticeship at the local paper. Two years later she graduated to New Zealand's national newspaper, and in 1969 she became the fashion editor at Hong Kong's China Mail.
Her timing was fortuitous. In England the aftershocks of the Sixties youthquake were still being felt. Mary Quant had evolved from the inventor of the miniskirt to a pioneering designer of accessories, furniture, and linens. And Menkes—who as a student at Cambridge had gotten a scoop on Quant for the school paper—was settling in as a fashion reporter at the pre–Rupert Murdoch Times of London. In France the Chambre Syndicale de la Haute Couture was dropping its rules against photography at presentations, and the entire spectacle of fashion was slowly growing even more spectacular.
Alexander became a fashion writer at The Telegraph in 1985, when the era of the supermodel was dawning and technology was paving new avenues. "Computerization meant that color photographs could be processed more quickly," Alexander says.
"Every major newspaper had a fashion editor," remembers Robin Givhan, the first and only fashion writer to win a Pulitzer Prize for criticism. In 1995 Givhan defected from her hometown paper, The Detroit News, to The Washington Post—a fine perch for a critic aiming to demystify fashion. The portfolio of stories that won her the Pulitzer in 2006 included pieces on Condoleezza Rice's power dressing, the costumes of Star Wars fanatics, and a review of Jennifer Lopez's foray into fashion, titled "J. Lo Beneath the Bling," in which she opined: "The show was a lesson on how to dress like Lopez on the cheap.…Is that fashion? Or just an elaborate fan club come-on in an era when admirers demand more than just an autographed picture and a T-shirt and stars willingly oblige?"
Givhan has a theory that one consequence of the Hollywood-ization of fashion was the death of old-school American fashion journalism. "Newspapers stopped covering fashion as a business and started covering it as entertainment," she says. "It changed the emphasis. Then, when newspapers started cutting back, it was really easy to do away with fashion reporters. Why have a fashion reporter write on the Oscars red carpet when you can get a movie reporter to do it?"
For that matter, why should readers wait to read reportage in black and white when the likes of Heather Cocks and Jessica Morgan—aka the Fug Girls—exist to provide instant analysis and off-color color commentary? Gofugyourself.com and the girls' regular column on the website of New York magazine exist to celebrate celebrities' couture triumphs—or, more often, dwell on their failures, as when pithily dissecting a Grammys mishap involving Jennifer Love Hewitt and a slit skirt: "Her thigh is presented to us like a Thanksgiving Day drumstick," Cocks blogged.
"We don't consider ourselves fashion journalists," Morgan says. "We use fashion as a way to get into pop culture. For us, it's about making fun of Jessica Simpson for wearing some Alexander McQueen dress—which might be wonderful in itself but looks ridiculous on her." In 1999 Cocks and Morgan, then reality-TV story editors by day and episode recappers for a television website by night, took a detour into fashion snark—and took off. "We started the blog at the same time that celebrity and fashion merged," Morgan says of their unexpected success.
Meanwhile, as Internet criticism bloomed, newspaper coverage withered. In recent years Givhan's only American print colleagues at the European collections were from The New York Times and the Los Angeles Times. In January she herself left The Washington Post for Tina Brown's Newsweek–Daily Beast, a print-Web hybrid. "When you're doing criticism," she says, "the Web draws more from-the-gut reactions. Print gives you a bit more time for reflection. That's important, because often, the more provocative something is the more time you really need for its full impact to register."
Givhan prides herself on her candor, calling reviews "the only place that a designer can get an objective assessment." Bridget Foley, executive editor of Women's Wear Daily, on the other hand, considers delivering bad news an unfortunate if necessary part of the job, noting, "If everything's fabulous, then nothing is." Of course, the popularity of the Fug Girls and their competitors is built on tearing down, their sarcastic reflexes honed in service to the quick hit.
Alexander, meanwhile, doesn't like "wasting column inches on negativism." As she puts it: "I guess it's a bit of a Pollyanna attitude, but I always try to find the good. If I find something completely repellent, I don't write about it." Never? "Once or twice," she admits over a second glass of Sancerre. "I remember a Hussein Chalayan collection that was accompanied by a troupe of singers who just kind of warbled." She demonstrates with some awkward throat singing. "It was so frightful, I couldn't concentrate on the clothes at all."
AT THE CFDAs, a video tribute to Alexander—including a clip in which she charms a song out of Stella McCartney's father—gives way to an encomium from Michael Kors, who recounts the 2005 accident where a light fixture collapsed on the critic at a Diane von Furstenberg show. After leaving in an ambulance, Alexander continued her coverage of the week with the aid of a Bentley provided by a deeply apologetic von Furstenberg. Alexander's acceptance of the designer's largesse was a rare exception that proves the rule about the difference between shoe-leather fashion reporters and the worst sort of new-media freeloaders. "While I'm struggling to hail a taxi in the rain after a show," complains Menkes, "bloggers are whisked away in town cars hired by the designer."
On the phone a few days later, Kors says he has always been keen to read informed reviews of his work. "There are designers who say they never read anything, and there are some who are so glued to [reviews] that they lose their own voices and turn into people pleasers," he says. "I think you'd be silly to shut it out entirely, but you take it with a grain of salt. Am I interested to hear what people whom I respect have to say? Absolutely. But when it's a housewife in Peoria?"
Of course, the "housewife in Peoria," like the "teenager in Oklahoma" that marketers reflexively conjure up, is a stand-in for all the amateurs reshaping both the media and front-row seating charts. This is not the cadre of "fashion bloggers" comprising critics and reporters fulfilling relatively traditional roles, such as Tim Blanks at style.com or Cathy Horyn's blog on The New York Times site. Nor are these amateurs among the most well- regarded bloggers—a pack led by Scott Schuman of the Sartorialist—who bestow prominence on both anonymous pedestrians and formerly unknown fashion insiders. The teenager from Oklahoma is a different animal entirely. He is sometimes Bryan Boy, a twentysomething from the Philippines; she is sometimes 15-year-old Tavi Gevinson, who writes the Style Rookie blog from her parents' house in suburban Chicago—someone whom Alexander characterizes as "a bit dreary. She writes things like, 'I woke up today and thought I would try a Chanel look.' I thought, So what? There's no context. There's no reason for it. It's like people who tweet, 'Oh, I feel like a hamburger.'"
Like the rest of the establishment media, Alexander and her colleagues have witnessed a fracturing of the cultural center, and a pluralization of voices. "Everyone can be, and in many ways is, a critic," says WWD's Foley, of the Internet. "It's opened a lot of possibilities, but not all opinion is journalism." Alexander's 21st-century counterparts, according to my informal survey of her peers, will need to combine the skills of a beat reporter, a cultural theorist, a multimedia savant, an ardent self-publicist, and a high-speed typist. "The more rapid the media coverage," says Foley, "the more intense the interest in what's new, what's new, what's new, what's next, what's next, what's next."
As fashion began its postmodern phase, so did fashion criticism, perhaps best exemplified by Guy Trebay's move from The Village Voice to The New York Times in 2000. "The paper," Trebay says, "was beginning to apprehend that this was a large cultural force that needed to be looked at more seriously than, you know, 'the spring clothes are in the stores.'" For him, a piece on trenchcoats is a chance to meditate on the semiotics of military garb while referencing Song dynasty warriors, Gen. Douglas MacArthur's tailor, and the economist John Maynard Keynes. "It sounds pretentious, but the phenomenology of fashion is really the point," Trebay says. "I mean, I like clothes, but I don't think fashion is clothes."
This is not everyone's cup of tea—certainly not Alexander's. "I think The New York Times tries to be extremely intellectual," she says. "It doesn't seem lighthearted." In an e-mail declining an interview request for this story, Horyn, the Times's chief fashion critic, wrote that she has "a lot of respect for Hil." For Alexander, however, reading Horyn feels "like doing homework."
Naturally, Horyn's position means she has more than the usual number of land mines to negotiate. "Some people take it as a badge of honor to be banned from a show," says Alexander, in the course of reminiscing about a feud Horyn once had with Giorgio Armani. (In a 2008 blog post, Horyn recounted the backstory: "A year ago Armani complained backstage about something I had written, and Italian journalists reacted to the complaint like a machine, turning an off-the-cuff remark into headline material. That's often how it seems to work in Milan, and it's no wonder that cynicism, and not mere drama, is born.") Still, ­Alexander sides with Horyn on principle: "I don't think it's justified to expect everyone to love everything you do every single time."
Trebay, who's had his own difficulties with Armani, has a permanent problem with Dolce & Gabbana: "I made some wisecrack years back and offended the sensibility of the designers." Since then, every men's wear cycle brings a ritual exercise in futility. "We have to request an invitation, and they reject it every time. I could say something bitchy, but I won't. These people were used to a lapdog press, and I work for The New York Times. I'm not Bryan Boy."
Upon inspection, it's not clear that even Bryan Boy is Bryan Boy. Not long ago, Bryan Grey-Yambao was a freelance Web designer writing a blog featuring his travel journal, his snapshots, and his pictures of pictures in magazines. Then Marc Jacobs presented his 2008 spring collection, a show that infamously started two hours late. This was around the time that a kid named Chris Crocker posted an operatic YouTube tantrum—soon dubbed "Leave Britney Alone!"—in support of a tabloid-embattled Britney Spears. Bryan Boy adapted the defense to support the designer. "Five minutes after I uploaded the video," he says, "I got an e-mail from somebody named Marc Jacobs. And then, you know, one season later, he named a bag after me." This past May Bryan Boy signed with CAA with the goal of marketing himself as a personality.
"I don't have the education about fashion, and I have the vocabulary of a 12-year-old," Grey-Yambao admits when I get him on the phone at his Manila home. His ambition is to become a star for its own sake: "I'd rather create desire among my readers than anything. It's so much better to have a dream, fulfill your dream, and inspire other people. Fashion is really just a tool."
In an age of streaming runway shows and storming amateurs, the industry is more populist than ever. But with the loss of exclusivity comes a loss of magic, and from the perspective of some designers, it's high time for a strategic retreat. "The cultural moment," Foley says, "is that everyone has access to everything in an instant, and what Tom [Ford] did was in juxtaposition to that." What Ford did, last September, was stage a women's wear show for an audience of 100—and zero press photographers. Video arrived three months later. "It took someone with the fascination factor to pull that off," Foley says, "and he had to be willing to forgo the instant publicity."
The achievement of Alexander and her peers has been to steer fashion journalism away from mere "hems are down this season" cheerleading. The project of their flashiest successors is to revert to unmodulated enthusiasm and to exert a special kind of commercial influence. "The one thing I think you can do as a journalist is to bring attention to young designers," Menkes says. "It's great if you can put the name in front of someone." Meanwhile, the teenager from Oklahoma, modeling the latest hem length for her cult of personal admirers, can exist as a one-woman advertorial for the major labels.
Back onstage at the CFDA ceremony, Alexander hoists her heavy trophy and promises to use it as exercise equipment for fighting flabby arms: "I won't have bingo wings!" Outside in the smoking section, aquamarine toes twinkling under a night sky, she explains to well-wishers that, after all these years of doing anthropology on the fly, she's going to college to study archaeology next fall. She's relieved that, for once, she doesn't have a story to file. "It's so hard to write about yourself," she says. "Who would want to do it?" Bill Cunningham shuffles over in his Reeboks to snap her picture for his society column in the Sunday New York Times. Marc Jacobs comes by to kiss her on both cheeks and invite her to his after-party, at which point Alexander goes off the record and into the night. A young photoblogger with an all-access pass around his neck asks to take my picture and then tells me to write down his name—"and add a dot-com at the end."
Hilary Alexander The Daily Telegraph

Signature look: Tribal accessories—including a fur hat from Kazakhstan, where they hunt foxes with eagles. "I feel it was justly earned." Bad habits: Marlboro Lights. Responding to Mayor Bloomberg's smoking ban in New York City's public parks, she exclaims: "That fucker!" College life: Never went, but when she begins archaeology classes next fall she'll concentrate on Babylonians, Mayans, and Assyrians. Early reporting coup: Scored a preview of Christian Lacroix's first ready-to-wear show in 1988. After the photo editor nixed a picture she had selected, her editor in chief dug it out of the trash.

Stylist: Edward Enninful
Suzy Menkes International Herald Tribune

Signature look: A regally aerodynamic pouf of hair, with dresses and pantsuits from Pleats Please. Early education: "I did a course in fashion design in Paris, and learned pretty fast that it was easier to write about it than to do it." College life: "When Courrèges brought out short white ankle boots, I took the milk train from Cambridge to London at half past four in the morning to buy a pair and be back in time for class." Worst reaction to an unfavorable review: After she wrote that the classic Chanel bag was passé, Karl Lagerfeld took out a full-page rejoinder in the International Herald Tribune. "That shows the genius of Lagerfeld," she says, "to do that and get massively talked about."

Stylist: Edward Enninful
Bridget Foley Women's Wear Daily

Signature look: Eschews pants; fights off chills with cashmere cardigans. Career track: Has worked at WWD since 1984, starting on a beat covering junior sportswear, jeans and casual pants, blouses, and shirts. Journalistic approach: "I do not start from a neutral position. While I try my hardest to be objective, I go into every show loving fashion." Worst reaction to an unfavorable review: Known for her lightning-quick speaking style, Foley responds with a rare pause. "That is not something I would go into."

Stylist: Edward Enninful
Cathy Horyn The New York Times

Signature look: Roomy pants and sensible shoes. Signature sound: In Fashion Week wrap-up videos on the Times's website, Horyn speaks in a lockjaw accent that out-Hepburns Hepburn and belies her small-town Ohio roots. First fashion job: The Detroit News. In response to a 1985 classifieds ad, she submitted two writing samples: "One was about the trend for mixing black and navy, the other was a piece that looked at curvaceous tailoring (this was the Thierry Mugler era) by reflecting on how my mother used to have hip pads sewn into her clothes," she revealed in the Times. Worst reaction to an unfavorable review: In an over-the-top dis, Oscar de la Renta railed against Horyn as "immature" and "unprofessional" when she won her CFDA award in 2002.

Stylist: Edward Enninful
Robin Givhan Newsweek/The Daily Beast

Signature look: "People assume that if you write about fashion, you should have a certain look," she says. "My No. 1 goal is not to embarrass my employer." College life: Wrote her senior thesis at Princeton on Edward Albee. Still has a letter the taciturn playwright once wrote her. Early fashion education: "If you grow up in the Midwest, as I did, you spend a lot of time hanging out at malls." Worst reaction to an unfavorable review: An elaborate letter of protest from a member of the 9/11 Commission after she wrote that his "bold pinstripes…make him look like he shoots craps on the side."

Stylist: Edward Enninful
Guy Trebay The New York Times

Signature look: Levi's and owlish eyeglasses. "I've worn more or less the same pair of frames since I was a kid, but when they discontinued Oliver Peoples's O'Malleys, I wrote a story, and there was such a response, they brought it back as a retro line—one of the rare instances where I had an impact." College life: None. "I dropped out of high school, and I went to work for Andy Warhol. A friend of mine had gotten a gig with Warhol's Interview, and I thought, If she can do it, I can do it." Nominees for the fashion-critic canon: Kennedy Fraser (The New Yorker) and Holly Brubach (The New Yorker; The New York Times); Blair Sabol of The Village Voice and counterculture magazine Rags.

Stylist: Edward Enninful