Fashion Designers Can't Get Enough of Emojis (and Who Can Blame Them?)
Everyone from Karl Lagerfeld to Comme des Garçons' Rei Kawakubo have created their own designer emojis, because even your messy group chat could use a touch of glamour.
---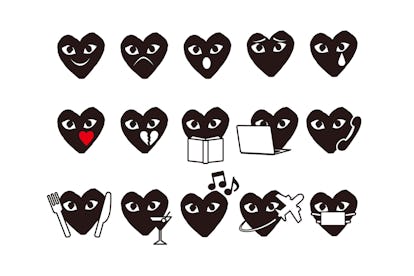 Imaga via Commes des Garçons
The fashion industry's first reaction to the rise of emojis was to integrate them into their designs: Jeremy Scott packed his Fall 2012 collection with tons of grimacing yellow faces; Del Toro once slapped the unnervingly smiling poo emoji, amongst others, on pairs of velvet slippers; Acne Studios recently embroidered their favorite messaging icons on a line of sweaters; and even Versace and Chanel have adorned clothing with a few touches of emoji inspiration here and there.
Of course, visual creative types can only consider an object for so long before getting the impulse to put their own design spin on them. So, naturally, we are now living in the world of fashion designer created emojis. Because there are few places that don't deserve a little injection of refinery and glamor. Even your messy group chat.
Here's a rundown of all the latest fashion emoji-packs. Just in time for you to spend the rest of the week glued to your phone rather than engaging with your family.
EmotiKarl by Karl Lagerfeld It should come as no surprise that Karl Lagerfeld was one of the first designers to jump on the costume emoji-trend. The man takes delight in jumping into the unexpected only to see the rest of the fashion world follow him after all. Launched all the way back in 2014, the app features tons of tiny Karls pulling off more facial expressions than you're likely to see Lagerfeld use in real life, a bunch of animate Choupettes, and, naturally, a bunch of fingerless gloved hands.
Versace Emoji Versace's had a pretty obvious angle to putting a spin on their own mobile icons and they took it. They emoji-fied their famous Medusa logo. Unfortunately, that means there's no little animated Donatellas to be found, but you'll make do. Versace launched the app to coincide with this past Valentine's Day, and released a line of $695 sweaters to celebrate the release. The app, at least, is free.
Jeremy Scott for Google Pixel Scott was one of the first to use emojis in his own designs, so it's natural he decided to get in on the emoji game himself. He partnered with Google to celebrate their new Pixel phone. His animated emoji pack is not only exclusive to the phone, but you have to buy a Jeremy Scott designed live case as well (which are also available for the Nexus models as well). You'll get access to not only an animated key board, but live phone wallpapers as well. Scott recently feted the launch at a New York party which included people dressed up as some of the Emojis like sports mascots.
COMME des GARÇONS PLAY Emoji Pack Even Rei Kawakubo is in on the trend. Comme des Garçons' iconic Play heart logo has been emojified so your text message can coordinate with CDGXConverse kicks. The pack is timed to coincide with the holidays, and will be available tomorrow.
Topshop x Nordstrom Emojis Even stores are getting in on the fun. The British fast fashion chain and the American department store teamed up earlier this year to put their own spin on the emoji genre.
Bitmoji's Design Collections If you prefer emojis that look like you, well, you can even put your Bitmoji avatar in designer threads. In W's shop, you can dress in straight-from-the-runway Alexander McQueen, Marc Jacobs, and Calvin Klein. Other options available are from Zac Posen, Michael Kors, Tanya Taylor, and Diane von Furstenberg.
There's clearly a trend at hand here, but there's certainly room for even more designer Emojis.
Who wouldn't want Alessandro Michele "Gucci garden" on their keyboards? Marc Jacobs could emoji-fy his dog Neville. And who isn't curious to see what Vetements and Balenciaga designer Demna Gvasalia would do with the format?