Lens Flair
Is the camera the next big fashion accessory? Susannah Frankel meets the designers who are shooting their own campaigns.
---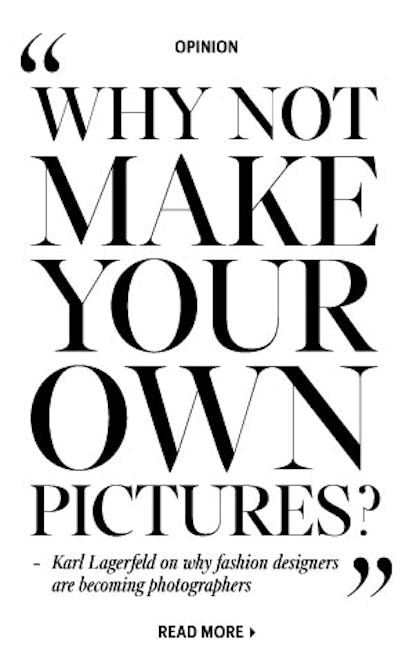 It has become something of a habit for Domenico Dolce and Stefano Gabbana to pay homage to Dolce's Southern Italian roots with their collections. For spring, they showed panniers that resembled street sellers' baskets, dresses embellished with prints borrowed from local ceramics, and raffia sacks encasing curvaceous bodies rather than vegetables. So it wasn't surprising that when it came to shooting the season's advertising campaign, they headed to Sicily. What was unusual, however, was that for the first time ever, Dolce himself took the photographs, with Gabbana serving as art director.
The designers have employed the services of many big-name fashion photographers in the past, and they are quick to affirm that they will continue to do so. Dolce and Gabbana also stress that their DIY approach was by no means a money-saving ­exercise—although the day rates commanded by top fashion photographers can easily hit six figures.
"It was Stefano who convinced me I had to shoot the campaign," says Dolce, who made his debut as a photographer in June 2012 with Campioni, a book of portraits of Italian soccer stars. "I felt a bit hesitant at first, but it allowed us to follow the collection through as much as possible." The resulting images are not unlike a particularly jubilant family album, complete with resplendent bambinos and matriarchs—plus the designers' longtime muse Monica Bellucci and the odd model thrown in for good measure.
Dolce and Gabbana are hardly alone in photographing their own campaigns: Reed Krakoff, Hedi Slimane, and Tom Ford also worked behind the lens this season. The move is indicative of the protean abilities required these days of designers—or rather, creative directors, as they are more often known. The image of the tortured artist in a gilded cage making flamboyant illustrations is long gone; the influence of the fashion creator can now be seen in everything from runway soundtracks to the short promotional films, money-­spinning scents, and of course, advertising campaigns.
It all started, as so many such things seem to, with Karl Lagerfeld, the archetypal contemporary designer. "I was the first," Lagerfeld says magisterially, before admitting that, in fact, "Thierry Mugler did it also many years ago." Lagerfeld's initial foray into commercial photography sprang from a spat. "The press packs that I distribute at the show used to be done by has-beens or young debutante photographers," he explains. "One season at Chanel, in 1987, they did three tests, and they were all awful. I said to the director of fashion imagery, 'I'm very sorry, but that doesn't work.' And he said to me, 'If you're going to be like that, do it yourself.' " So, being Lagerfeld, he borrowed a Hasselblad, hired an assistant, and did just that. "The model Inès de la Fressange was my first victim," he recalls. "Then we started to do advertising and editorial, and it became its own industry."
Karl Lagerfeld shooting Chanel's spring 2013 campaign.
Today, Lagerfeld shoots campaigns in his studio on the Rue de Lille in Paris and occasionally on location, for Chanel and Fendi—all brands for which he designs. He was also responsible for the Dior Homme ads after 2007—when Slimane left his post there—until now. (The latest campaign was shot by Willy Vanderperre.) In addition, Lagerfeld regularly contributes to magazines including V and Harper's Bazaar. "Taking pictures opens up your vision," he says. "It's good to work with other people. If not, you're isolated in an ivory tower, and that is very unhealthy."
Slimane, who was named creative director of Saint Laurent last March, has also shot for major fashion publications, and his images have been published in books and exhibited in art galleries. As a young man, he took photography classes while studying political science, in the hope of becoming a reporter; that ambition ran alongside an obsession with rock-music culture that remains central to his work.
Slimane's subjects have included Robert De Niro and Gore Vidal, but his chronicling of musicians and disaffected youth—Amy Winehouse, Pete Doherty, the list goes on—is more well known. In 2009, he photographed the Prada men's campaign using Claude and Louis Simonon, the sons of the Clash bassist Paul Simonon, as models. His first campaign for Saint Laurent featured former Girls frontman Christopher Owens, Tom Burke, from Citizens!, and the model Kati Nescher. For spring, he shot the female model Saskia de Brauw (attired as an entirely convincing male teenager) and the musician Beck for Saint Laurent men's wear, as well as models Julia Nobis and Edie Campbell for the women's line. The Saint Laurent website is regularly updated with Slimane's photographic work, and it's safe to say that his camera has done as much, if not more, to propel the label in a new direction as a reworked tuxedo ever could.
A purist might argue that a designer should design, a photographer should take photographs, and so forth. But, says Reed Krakoff, "honestly, that's a very unsophisticated argument." Since the birth of postmodernism, critics have been divided over the pluralist aspirations of everyone from painters to architects, who have often been taken less seriously for daring to work across multiple media. Consider the case of Tom Ford, who left the Gucci Group in 2004, at the zenith of his career, and went on to direct and produce the film A Single Man. During the run-up to its release, widespread skepticism was palpable (some commented that the film had all the aesthetic bells and whistles of a very expensive perfume ad), but that changed when the movie was nominated for an Oscar in 2009. Ford has also photographed a number of campaigns for his eponymous label since its launch in 2006, including the current one. He tends to alternate with established photographers, including Mert Alas & Marcus Piggott, Terry Richardson, Sølve Sundsbø, and Marilyn Minter.
Domenico Dolce and Stefano Gabbana behind the scenes of the Dolce & Gabbana spring 2013 campaign.
For his part, Krakoff has taken pictures for years—when he's not busy with his day jobs as executive creative director of Coach and designer of his signature brand. Fighter, a collection of his portraits of Ultimate Fighting Championship contenders, was published in 2008. "I mean, what makes a picture?" asks the designer, who has shot every campaign to date for his Reed Krakoff label. "I only use film. I don't need monitors or assistants, and I prefer to work alone, but that doesn't make me a good photographer. Digital photography has leveled the playing field. I'm sure there are people out there who have never taken a picture, but with a digital camera and the right support, their work could be spectacular because they have a vision and an eye. On the other hand, someone may have been a photographer for 30 years and no longer have anything interesting to say."
What is more, Krakoff argues, being both a designer and a photographer allows him to be more spontaneous. "You don't have to worry about pleasing someone else or trying to discover what it is they are trying to say," he says. "For art photographers who do advertising, it's tricky, because they're caught between doing what they do and needing to do something else in service of the campaign."
Still, for the time being, the position of fashion photographer is hardly in jeopardy. "We don't want to steal anyone's job," Dolce swears. "Photographers bring a vision with them." Lagerfeld, too, is happy to heap praise on at least some of the main players: "Of course, there are very good photographers," he concedes. Alas, his all-time favorites—Helmut Newton, Richard Avedon, and Irving Penn—are all deceased. "I like Steven Meisel, because he's really into fashion—and Mario Testino, too," he adds. "I like Bruce Weber's very personal style. Mert and Marcus do great things. But if you have your own vision, and you want to see your clothes presented in a certain way, why not make your own pictures?"
Footer: Clockwise From Top Left: Olivier Saillant; Getty Images; Still Life Photographed By Marko Metzinger; Courtesy Of Dolce & Gabbana (3)