Class Act
San Francisco's sprawling Academy of Art University looks to compete as a serious school of fashion.
---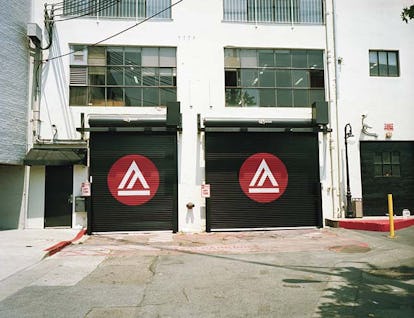 For a legion of devoted reality-television fans, the Academy of Art University in San Francisco is known not as the country's largest private art school, but rather as the place where the publicity-crazed Heidi Montag met friend-turned-nemesis Lauren Conrad, thus begetting MTV's The Hills. Neither girl graduated from the school's fashion program, in which both were enrolled, but that's just fine as far as Simon Ungless, the program's director of graduate fashion, is concerned. "I advised Heidi that if she wanted to get her own line, then she should go to L.A. and become a celebrity," Ungless recalls. "These shows have made fashion more accessible, but the reality of being a designer is something quite different."
With its open-enrollment policy and a student population stretched to 12,000, the Academy, as it's known among the locals, has long fought the perception that it is a factory for kids with glamorous aspirations. It is run by president Elisa Stephens, a lawyer by training whose grandfather Richard S. Stephens started the school in a downtown loft space in 1929. The family business has apparently done very well; the for-profit school does little fundraising, and it owns more than 30 buildings scattered throughout the city. (Some San Franciscans grouse about the ubiquity and say that you can't turn a corner without running smack into one of the red, black and white Academy of Art University signs.) While the school will not reveal profits, an Academy spokesperson says that tuition, which averages $660 per unit (or about $19,800 for a full year's undergraduate course load), makes up 86 percent of its total income. And all the Academy properties—even the one on Van Ness Avenue that houses the automotive program and displays Mr. Stephens's collection of shiny vintage cars—are for school use.
One of 14 departments that also include animation and industrial design, the fashion program, in particular, has struggled against the assumption that, unlike prestigious institutions such as Parsons the New School for Design or Central Saint Martins, its graduates have yet to go on to starmaking turns at independent labels or major design houses. This spring, however, the fashion flock got some news that turned its often fickle heads westward: Of the eight Council of Fashion Designers of America scholarships awarded to rising juniors at design schools, an impressive three went to students of the Academy, including the top $25,000 prize and two of the three $10,000 awards. And with a directive stating that every one of the nearly 1,800 undergraduate and graduate students at the fashion school—even the merchandising majors—must know how "to draw, cut, sew and drape" within a year of arrival, the institution's president is none too shy about her ambition, which is to turn the Academy into the world's best fashion school you've never heard of.
Ungless, a bespectacled Englishman whose broad shoulders and buzz cut make him look more like a drill sergeant than a textile expert, is the executor of this grand plan. He was hired away from Saint Martins in 1996 by fashion illustrator and former Saint Martins instructor Gladys Perint Palmer, the executive director of the Academy's fashion school. Ungless, who moonlights as a design consultant, is considered the school's day-to-day cheerleader and disciplinarian; students say he is there when they arrive, sometimes as early as 7 a.m., and he is often still in his office, flipping through sketches and looking over assignments, when many leave in the evening. Having worked for close friend (and former Saint Martins classmate) Alexander McQueen for six years, Ungless admits that he suffered from outsider anxiety when he landed in San Francisco. "I constantly thought, What am I missing? I was forever going to New York and Paris, just to feel like I knew what was going on," he says, sitting at his desk on the first floor of the fashion school, a squat brick building in downtown San Francisco. It is late April, and in a large windowless room next to Ungless's office, about 30 undergraduate students are scrambling around racks of garment bags stuffed with their senior collections, which will be shown the next day to an invitation-only crowd in an enormous tent in the city's warehouse district. "And then suddenly I realized that a lot of these things that I'm looking for start on the West Coast," Ungless adds. "The surfer aesthetic, the green movement, graffiti. I see in the community here all kinds of bonkers people, and we really feed off that."
The following evening, as socialites Denise Hale and Tatiana Sorokko look on alongside designers Ralph Rucci, who is on hand to select a summer intern, and James Galanos, who is receiving an honorary degree, the students' creations proceed down the runway. There are a terrific wood-paneled dress by Liina Gruener, rendered lacelike by the work of textile designer Marjorie Cox; dramatic, intricately draped evening gowns by Ronnie Escalante Jr.; and a series of expertly cut, crisp wool suits by Alyssa Prentice. As the models strut past, undergraduates shimmy and leap in the bleachers—"You go, Ronnie!" screams one tattooed pixie—with their cameras flashing, as if at a rock concert. While none of the designs evokes a sustainable or surfer aesthetic per se, there's a real sophistication to many of the pieces. "I'm surprised by the level of technique, to be honest," Rucci, who offers internships to both Prentice and Escalante on the spot, says after the show. "These kids showed some beautiful work."
For Perint Palmer, the evening and, indeed, the three CFDA scholarships that were announced two days earlier are hard-won validation. During the mid-Eighties, after moving to the Bay Area by way of England and Hong Kong for her husband's job, Perint Palmer was the fashion editor of the San Francisco Examiner. She came to the attention of Elisa and Richard Stephens when they overheard her say "something very, very negative" while she was covering the 1995 senior collections for the newspaper, and, she says, they "basically asked me if I wanted to help them to change the program." Perint Palmer, who wears black and white sparkly Chanel laces in her black sneakers, is quick to point out that she is the author of two books about fashion illustration and says she "told none of my fashion friends" that she even worked at the Academy until 1998. "We had a lot of disasters," she admits, referring to a few ill-fated hires. "We had one woman before Simon who was going to teach design, and the week after she arrived, she was on the plane back to England without telling me."
Today the drafting rooms are filled with instructors Perint Palmer and Ungless have pursued doggedly, like Rob Curry, another Saint Martins alum who spent five years, from 1996 to 2001, honing his draping expertise with Vivienne Westwood. Part of the appeal is the state-of-the-art equipment—the Stephens coffers provide for continuous upgrades, including digital drafting tables and a new heat-transfer press. What Ungless calls "the really great Northern California lifestyle" also helps to lure top-notch teaching talent. "It's only in the last two years that we've gotten to the point where it's not that difficult to hire good people. Now they're coming to us," says Ungless. Perint Palmer teaches a drawing course as well. "I want to see hands, feet, and I want to see the body," she tells the students. "Because if you can't draw the body, you can't design." The one requirement for all instructors? Each must do outside work, whether it be designing, drawing or writing. "Otherwise," says Perint Palmer, "you don't know what's new, and fashion is all about the new."
Certainly no one could accuse the Academy itself of not embracing the future. In addition to its six-year-old online curriculum, which now boasts 3,200 students, a full sports program is set to launch in the fall, steered by former San Francisco 49ers tight end Jamie Williams Ph.D. After all, asks Stephens, "Who says fashion designers can't play soccer too?"
Yet even utopia has its drawbacks. According to Ungless, the thing he loves about his job—the so-called laid-back Bay Area vibe—is what he laments has stood in the way of some students' careers. With its coffee-shop culture, gorgeous vistas and occasionally reasonable rents, San Francisco can be a tough place for design grads to leave. "I would love it if every student got on a plane and went to Paris, but that's not the reality," he says. "We have a lot of students who go to L.A., for the jeans companies. And then there are some in the Midwest, at Abercrombie." And with The North Face, Levi's, Old Navy, Gap and Gymboree, and even smaller, more chic labels such as Erica Tanov all in the school's vicinity, there's no shortage of potential gigs. This dovetails nicely with the Academy's top priority, which is to see its graduates gainfully employed. "There are offers you can't turn down, and people want to stick around here," Ungless explains. "Our goal is to get all our students work."
That can be a difficult mandate at a school whose doors are closed to no one. But Stephens doesn't consider open enrollment a barrier to landing a first-class job. "We believe you can teach taste," she says. "You can improve people's taste—take something and make it better. I call it the Pygmalion effect." It's an attitude some art school purists might find horrifying, but Stephens is dead serious about the notion that—with hard work and good teaching—anyone can become an artist. And a highly visible one at that; for the past three years, Ungless and his staff of instructors have chosen a selection of M.F.A. candidates to show at the Bryant Park tents during New York Fashion Week, making the Academy the only school to do so. "Being outside of New York, we bring a lot of fresh blood to the shows," says Stephens. And do they, in turn, generate a tremendous amount of publicity for the fashion program? Stephens nods. "The real world is competitive," she adds, "and to compete, we have to find creative ways of approaching the education. That way, in five or 10 years, our students are the ones you'll be writing about."