Father's Day: A Male Model's Advice To His New Baby Daughter
True beauty is always on the inside, says new dad Cory Bond, who took a moment to reflect on his first Father's Day with his new daughter.
---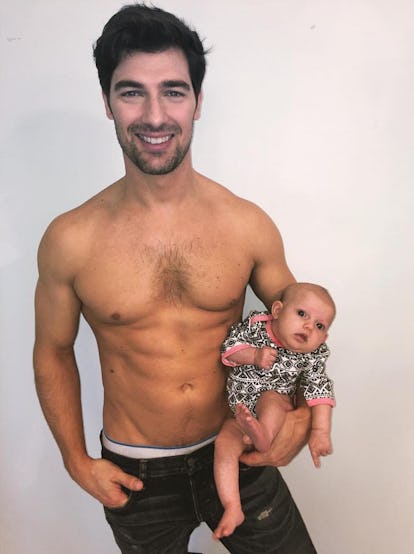 On December 26, male model Cory Bond welcomed his baby daughter, Brooklyn Grace, into the world with his wife, Bekah Jenkins, who is also a model. She was destined to have good genes, and according to Bond's Instagram account, she's already a natural in front of the camera. "She's not camera shy at all," he said. "That might be another trait she gets from me." In addition to picking out her clothes and driving a little slower, Bond has also learned that fatherhood mostly consists of lugging around a diaper bag, which means less going to the gym.
How did you decide on your daughter's name? I lived in Park Slope, Brooklyn and have always thought that the name "Brooklyn" sounded strong. I wanted to give my daughter a powerful name. Brooklyn Bond had that power that I was looking for.
Can you see any of your traits in her yet? Like eyes, nose, etc.? Yes, she has my feet! Nice and long. She smiles like me and I think she has my nose. Babies grow and change so quickly, so it's tough to say which traits will have staying power.
What is the hardest thing about being a new dad? The hardest part about being a new dad is that you have to carry all of the stuff that comes with having a baby. At this point, I don't even have to go to the gym anymore.
And the best thing? Waking up to a baby smiling at me every morning is the best! I've actually turned into a morning person now!
Something you were not at all expecting? I was really surprised at how easy it is to change diapers. It's really not that bad. I think most dads just don't want to do it.
How do you plan to balance modeling with fatherhood? Did you take a break at all? I took the first 3 months off to "Bond" with Brooklyn and moved us all to the farm we have outside of Nashville, Tennessee. Now that Brooklyn is bigger, I plan to travel to New York City with her and commute between there and Tennessee. The travel back and forth is not difficult. When she is of a school age I'll need to figure it out again, though.
Do you help pick out her outfits? I do! I've always been better at dressing and picking out clothing for others rather than myself [laughs]. I love all the options that are available for babies, especially little girls. It's all very adorable and tiny.
Are you totally obsessed with taking photos of her and posting on social media? Or is she camera shy? We take a lot of pictures. It's fun to share pictures with people online through social media. She's always getting a lot of love. She's not camera shy at all. That might be another trait she gets from me.
What's something you want your daughter to know about what you do? What do you think you would say if one day she wanted to do the same? Modeling is not the easiest job to get into and that your self worth isn't based on how many big jobs you get. You'll hear "no" more than "yes," and that is okay. True beauty is always on the inside. I'll also explain how the branding and the advertising worlds work. I'd rather her be somewhere on the other side of the camera than in front of it.
How has having a daughter changed your perspective? I'm much more aware of my surroundings and lot more protective. I find that I'm driving slower. [Laughs.]
What are you doing for your first Father's Day? Probably getting a new tie! I know that sounds cliché, but I think that a tie is a classic and appropriate gift. I'll find a dinner spot and have a fine whiskey to enjoy my new tie.
Do you have any advice for new dads? Enjoy every crazy moment of this new experience! Yes, your life has changed but it's for the better. Raise your child well and know that pretty much everything they will be learning will come directly from you as the parent, so always be on your best behavior!
Photos: Father's Day: A Male Model's Advice To His New Baby Daughter