15 Instagram Accounts W's Digital Editors Are Thankful For
From Martha Stewart to Marc Jacobs, the follows we cherish most.
---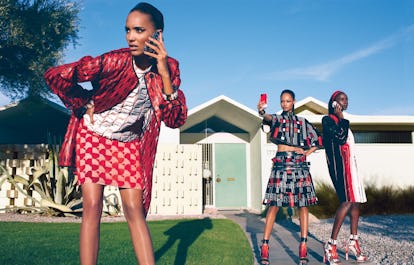 As digital editors, we spend our lives glued to our Instagram feeds so you don't have to be. Whether we're obsessing over celebrity accounts, gleaning inspiration from photographers and stylists, or laughing out loud at memes, social media is something we're unanimously thankful for. Below, our favorite accounts, from Martha Stewart to Marc Jacobs.
Marc Jacobs, @theMarcJacobs
"Marc Jacobs's Instagram has gotten him into trouble in the past, but let's put all that schadenfreude to rest. Let's, in fact, all be thankful that Marc feels comfortable enough to let his freak flag fly." — Erik Maza, Digital Features Director
__The Archive of Shade, @theartofshade___
"I am thankful for @theartofshade_ and their impressive archive of divas." — Sarah Leon, Digital Editorial Director
AC Journal, @acjournal
"Ana-Cecelia has a great eye for the vintage fashion and beauty shot. I find her posts comforting, and they're making me strongly reconsider going back to the days when I only wore vintage." — Jane Larkworthy, Beauty Director
Tiny Gentle Asians, @tinygentleasians
"I am thankful for @TinyGentleAsians. Makes me all warm and fuzzy whenever it shows up on my feed." — Beau Sam, Director of Video
Pernille Teisbaek, @pernilleteisbaek
"Pernille is the ultimate girl crush. She's got impeccable taste — you want to be her friend. And she's genuinely cool." — Caroline Grosso, Digital Fashion Editor
Yara Shahidi, @yarashahidi
"I'm thankful for Yara Shahidi's Instagram account because she inspires our generation to be socially enlightened, all while juggling her acting career, crazy school schedule and activist lifestyle. She's simply amazing!" — Chrystin Bunion, Assistant to the Editor in Chief
Martha Stewart, @marthastewart48
"I am forever grateful for Martha Stewart's unverified alter ego, @marthastewart48, and its surprisingly unfiltered insights into life on the farm, which she frequently illustrates with unintentionally bizarre (and always distinctively captioned!) scenes like her Ringwraith-like shadow looming over a coyote's corpse." — Stephanie Eckardt, Assistant Digital Editor
__The Warwick Rowers, @warwick_rowers__
"I'm thankful for the @warwick_rowers. Every year they release a calendar to fight homophobia." — Biel Parklee, Digital Photo Editor
Amanda Lepore, @AmandaLepore
"In times good and bad, I take solace that no matter what is going on in the world Amanda Lepore remains over-the-top glamorous with no apologies." — Kyle Munzenrieder, Digital News Editor
Nicola Formichetti, @nicolaformichetti
"Every time I scroll through Diesel creative director (and former Lady Gaga stylist) Nicola Formichetti's Instagram, I think about the time I looked deeply into his eyes as we passed each other walking down Church Street. Equal parts workout selfies, videos playing piano in his gorgeous apartment, and snaps of his two dogs Tank and Bambi (who also have their own account, @tanknbambi, his Instagram is a follow you'll never regret." — Katherine Cusumano, Assistant Digital Editor
Caroline Solomon, @lowcheekbones
"This account is the only one I check regularly. Caroline Solomon is hysterical and should be on Saturday Night Live. She puts on crazy accents and makes fun of fashion and all things 'basic'." — Gillian Sagansky, Contributing Writer
Mehmet Gunes, Professional Pet Stylist/Groomer, @petstylistt
"I'm not a fan of small dogs but these pups are so cute! Also, what is not to like?" — Jacqueline Sir, Video Producer
__Colin Dodgson, @colin_dodgson__
"I'm most thankful for my friends' Instagram accounts. But I'm also thankful for @colin_dodgson because sometimes, after a long day of looking at photos, they start to blend together and I begin to lose confidence in my judgment about what qualifies as a beautiful, meaningful image. But Colin makes worlds where the sun is always just setting. I'm thankful for his photos, especially on the darker days." — Alex Hodor-Lee, Photo Assistant
Tina Lawson-Knowles, @mstinalawson
"Beyoncé and Solange's mom, Tina Lawson-Knowles, is not only flawless, but also loves going to get free samples at Costco with her mans. She's the proudest and baddest mama in the game, and I like all her photos in the hopes that she'll adopt me." — Emilia Petrarca, Digital Associate Features Editor
Agnes Lloyd-Platt, @AgnesVita
"The winner of W's talent search for the next up-and-coming fashion photographer has the most delightful feed." — Sarah Leon, Digital Features Editor