Watch the Birdie
A new exhibition in Antwerp explores the history of feathers in fashion
---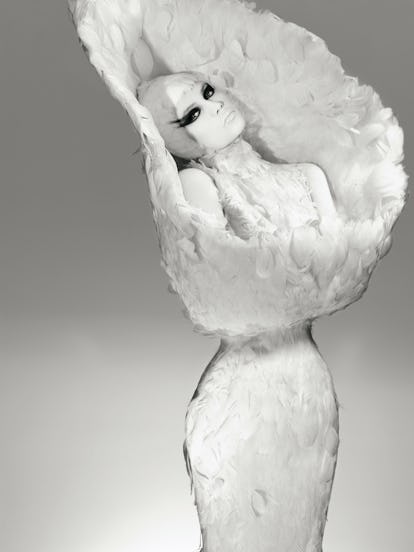 During the Gilded Age, the feather-bedecked hat was so ubiquitous a feature of feminine wardrobes that some bird populations were decimated. "It's funny to think, but the idea of animal rights in some ways started with these hats because some of these birds ended up as protected species," says Karen Van Godstenhoven, the curator of "Birds of Paradise," currently on view at the Mode Museum in Antwerp. The exhibition examines the use of feathers in fashion, from the coveted ostrich that were among the most expensive status symbols of the 1920's, to Marlene Dietrich's iconic swans down coat, to the use of feathers by contemporary designers such as Alexander McQueen and Ann Demeulemeester. Given special consideration is Maison Lemarié, the Paris atelier that is to the art of plumissage what the Maison Lesage is to embroidery. Though designers no longer use exotic feathers—conservation concerns, not to mention costs, rule that out—Lemarié, says Van Godstenhoven, "can make a chicken feather look like it was plucked from a bird of paradise."
"Birds of Paradise," is at Mode Museum Antwerp through August 24, 2014. +32 3 470 27 70, momu.be.
Alexander McQueen Fall 2009. Photo by Francois Nars.
Hat trimming, cut and lacquered goose feather, 1920-1940. Photo courtesy of MoMu/Suzan Rylant.
Dries Van Noten Fall 2013-2014. Photo by Bache Jespers.
Folding fan, mount in ostrich feathers dyed in degrade, tortoiseshell sticks decorated with a crown and arms in platinum, diamonds, rubies and enamel, 1928. Photo by Stephen Mattues.
Ann Demeulemeester Fall 2010-2011. Photo by Dan Lecca.
Cleave, mixed media with crow feathers by Kate McGwire, 2012. Photo by Tessa Angus.