It's Always Sunny in Swarovski
The crystal atelier commissions a sun sculpture from Fernando Romero, son in law of Mexico's richest man, Carlos Slim.
---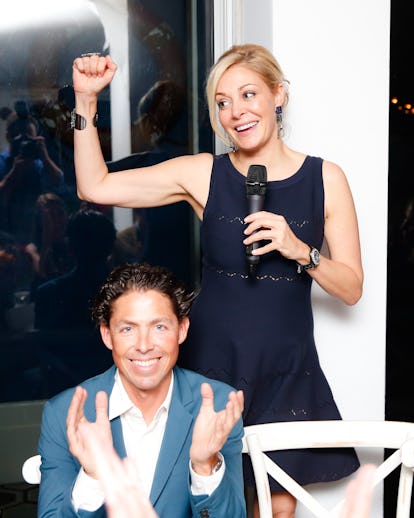 Who: Nadja Swarovski, Soumaya Slim, Fernando Romero, Erica Pelosini, and Yves Behar.
When: Thursday, December 3rd.
Where: Soho Beach House, Miami Beach, Florida.
What: As a tropical storm raged outside, Nadja Swarovski was fifteen floors up in a penthouse suite looking serene and dry in black Azzedine Alaïa. "I hope this dinner is a creative and quiet escape from the chaos that is Miami!" she said.
Why: For their tenth year at Design Miami, Swarovski's namesake crystal atelier commissioned Mexican architect Fernando Romero to create "El Sol" – a replica of the sun consisting of 2,880 custom–made precision-cut crystals. "I loved how Fernando reacted to crystal," Swarovski said of Romero, whom she first met five years ago at another Basel event. "When I heard his vision as to how he planned to use the material I knew he was right for the job."
For the installation, on view at the Art Basel satellite fair, Romero's team spent over 350 hours creating the sphere at the Swarovski headquarters in Austria. "The piece is informed by the work of Buckminster Fuller from the 1950s and 1960s and his search to find a platonic perfect sphere," said Romero, who's married to Soumaya Slim, the daughter of Carlos, the world's fifth richest man. In Mexico, Romero is best known for another sparkling commission: the colossal museum covered in aluminum tiles in the center of the capital city. Opened in 2011, it is also named Soumaya, after Slim's late wife.
Photos: It's Always Sunny in Swarovski
Fernando Romero and Nadja Swarovski. Photo by BFA.
Erica Pelosini. Photo by BFA.
Alex Merrell. Photo by BFA.
Sarah Arison and Spencer Bailey. Photo by BFA.
Dayssi Olarte de Kanavos and Nadja Swarovski. Photo by BFA.
Tony Chambers and Alex Mustonen. Photo by BFA.