Feud Season 1, Episode 5 Recap: The Insanity of the 1963 Oscars
The real winners of this episode? The actresses playing the scheming actresses onscreen.
---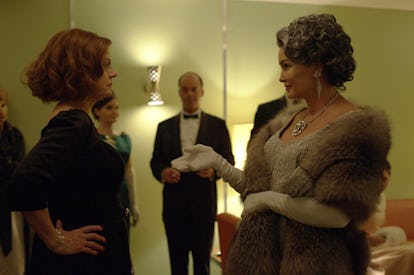 Copyright 2017, FX Networks. All rights reserved.
This was might be the finest episode of Feud we've seen yet, and it didn't have any of the really campy good stuff (Joan wearing a weight belt while Bette drags her across the room, Bette installing a Coke machine on set). Visually, it was just stunning. The long tracking shot of Joan at the Oscars, as she walked from presenting Best Director onstage back into the green room to confront Bette is one of the best things I've seen on television all year. (I know it's only April, but still!) Also, what about when Joan puts that clear shield over her face right before a little flurry of silver powder cascades over her hair, or when Bette loses and it's like a bomb has gone off somewhere inside her gallbladder? Wow and wow.
This episode turned all of its awful, heavy-handed storytelling on its ear and into a positive. Hedda explains to Joan how so many people profit off of her and Bette being at each other's throats, but then Joan takes her outside and talks about how not being nominated broke something inside of her and robbed her of her self-confidence. It was shattering. Famous director George Cukor just comes right out and tells Joan not to ruin things for Bette at the Oscars; his speech was so sadly on the nose about how she is "bigger than this." But then Joan turns around and says, "No, I'm not," and sashays out of the room with a sort of self-possessed ambiguity that I have never see before.
But the biggest negative that turned into a positive was Catherine Zeta-Jones and her wonderful turn as Olivia de Havilland. So far I've thought the interview segments set in 1978 were just an excuse for clunky exposition. Then they ask her about her own feud with her sister Joan Fontaine. It was so slight it was imperceptible, but the way she held her face and pronounced that there couldn't be a feud because she doesn't have contact with her sister was chilly enough to refreeze the polar ice caps. Thank you Catherine Zeta-Jones for ending climate change. (Here is the photo referred to in the episode where Olivia snubs Joan. It's not as bad as it sounds.)
We see how she really feels later when she and Bette compare notes on whose Joan is worse. What's odd about her presence is that, other than Mamacita's lunch with Pauline last episode, its the only time we've seen two women actually supporting each other. Sure, there is Hedda and Joan, but they are just allies against Bette, whom they both despise. Olivia and Bette have no quarrel with each other, and Olivia even goes halfway around the world for her friend, the woman who fought to help her career so many years ago. It's a rare, almost sweet moment.
Thanks to all the behind-the-scenes Oscars machinations, we got a bunch of great scenes between actresses. Sarah Paulson, who is apparently contractually obligated to appear in all of Ryan Murphy's media including his annual family Christmas card, has a great scene as Geraldine Page. Geraldine allows Joan Crawford to somehow convince her to stay in New York so Joan can pick up the Oscar in case she wins; Joan tells her how hard it is to get dressed up and go all the way out to Los Angeles. The funny thing is, that is actually Page's second nomination (she won in 1986 for The Trip to Bountiful) so she knows how the game is played.
Still, Paulson's delivery was flawless as always, and when she hangs up the phone and says, "Well, she needs it," it was absolutely wonderful. But the scene ends with the clunker: "Hollywood should be forced to look at what they've done to her." Show, don't tell, right? But we'll forgive her.
The best actress in the scene between Joan and Anne Bancroft, the eventual Oscar winner, is neither of those two. It's Jessica Lange. She goes from perky insult—congratulating Anne on playing for "half full house"—to sitting in the corner, every visible wrinkle on her face like a gully of regret, telling her the only thing in the world that will bring her pleasure is seeing her rival bomb on a very public stage. What's sad is that the real award Joan always craved was the respect of her peers. When Anne gives it to her and says she admired Joan's work in the less showy role in Baby Jane, that's still not enough for her.
Bette was absent for most of the episode, but Susan Sarandon gets her, well, Oscars moment at the end, when she lashes out in rage and disbelief after losing, thanks to Joan. She also got to deliver that great speech about how sometimes all she has is her Oscar, cradling him in bed at night as she watches TV, remembering, "That perfect night when I won. The whole world stood up for me and cheered and I was loved."
In the end, that is what this all comes down to: These women gave up absolutely everything for their careers. They lost more than a couple of husbands, nearly every one of their children, most of their friends, and the respect of their peers in order to stretch out their careers as long as possible. And what do they end up with? Nothing but a couple of trophies in an empty house where not even schadenfreude can dull the sting of their loneliness.
The Scorecard, Episode 5:
Joan:
Marches into the Academy of Motion Picture Arts and Sciences and demands to present at the Oscar ceremony: +5
Gets the Academy to pay for her hair, makeup, and limo ride to the ceremony: +2
Doesn't even realize how ironic the line "the people at Price Waterhouse are honest to a fault" will one day be: 0
Plays good cop, bad cop with Hedda to sway the Best Actress race: +4
Convinces Geraldine Page to stay in New York: +3
Convinces Anne Bancroft to stay in New York: +3
Bonus points for her clear hairspray shield: +2
Ignores Cuckor's advice that this will ruin the rest of her career: -5
Turns the green room at the Oscars into her own personal party: +2
Her plan comes together and she walks off the stage with Bette's Oscar: +10
Stares at someone else's Oscar on her nightstand and it doesn't wash away the sadness: -4
Tally this week: +26
Score from last week: +30
Feud total: +56
Bette:
The frontrunner for Best Actress: +5
The press only wants a cat fight and Bette keeps giving it to them: -1
Has a friend like Olivia to support her: +2
Still has the "worse Joan": 0
Looks ravishing in her black dress and fur at the awards: +2
"I'm not ashamed to admit I want this": +2
Has a Mexican standoff with Joan in the green room: -1
Realizes that Joan has ransacked her award and there is nothing she can do to stop it: -3
Joan Crawford steals her historic third Oscar: -20
Tally this week: -4
Score from last week: +16
Feud total: +12
Winner This Week: Olivia de Havilland
Related: Feud Episode 4 Recap: In the Company of Awful, Awful Men
Related: Everything You Need to Know About Bette Davis Vs. Joan Crawford Before the Premiere of Feud
Hollywood's Juiciest On-Set Feuds, from Dustin Hoffman vs. Meryl Streep to Sarah Jessica Parker vs. Kim Cattrall
Dustin Hoffman reportedly took up method acting just in time for Kramer vs. Kramer, Robert Benton's 1979 film that saw Hoffman star opposite Meryl Streep. That meant, when it came time for the pair to fight, he actually punched Streep while filming—and took it upon himself to get her appropriately riled up for her performance by teasing her about her boyfriend's lung cancer diagnosis and later death.

Columbia Pictures/Getty Images
The Icelandic enigma that is Björk made it more than clear than she could act by stealing the show—even from Catherine Deneuve—with her performance as a struggling factory worker saving up for her son's eye operation in Lars Von Trier's 2000, Palme d'Or-winning film, Dancer in the Dark. Still, even though she took home the Best Actress award from the Cannes Film Festival, Björk hasn't acted since: her experience on-set with von Trier was so fraught that she vowed to never make another movie—even though it was actually Björk, according to the director, who missed their first meeting because she had to jet off to a Greek island and took up greeting him by spitting on the ground.

Pool BENAINOUS/DUCLOS
Though Cameron Diaz, Drew Barrymore, and Lucy Liu all seemed to get along just fine on the set of 2000's Charlie's Angels, Bill Murray took it upon himself to liven things up mid-scene by reportedly turning to Liu and telling the actress she couldn't act. Liu, for her part, stayed in character by throwing Murray a punch—and came out on top by landing a role in the sequel, which Murray definitely did not.

Archive Photos/Getty Images
Not many would characterize Bruce Willis as an "emo b—h," but that's exactly how the director Kevin Smith described Willis after working with the actor on his 2010 buddy cop film Cop Out, which also starred Tracy Morgan. The experience, according to Smith, was both "soul-crushing" and "terrifying," thanks to Willis's intimidating demeanor and diva-like preference for the real movie-star treatment.

Abbot Genser, © 2010 Warner Bros. Entertainment, Inc.
Decades before Faye Dunaway added a heavy dose of drama to this year's Academy Awards, the actress starred in Chinatown and reportedly got so heated with Roman Polanski, who allegedly pulled a hair out of her head that was getting in the way of his shot, that she threw a cup of urine at him when he wouldn't let her pause to pee.

© Paramount Pictures
George Clooney and David O. Russell apparently got so heated shooting Russell's 1999 film Three Kings that the pair got into a physical fight. Russell, apparently, was not taking well to a cutback in the film's budget, and in the final days of shooting, threw an extra—and, later, Clooney—to the ground in a supposed demonstration. Four years later, in 2003, Russell was still holding a grudge: for a comment on the actor for a Vanity Fair profile, the director offered up, "George Clooney can suck my dick."

Getty Images
Jake Gyllenhaal's role as a political cartoonist plagued by letters from a serial killer in David Fincher's 2007 film Zodiac required quite a bit of vetting: Fincher initially met up with Gyllenhaal, whom he'd taken a liking to from Donnie Darko, and recorded his mannerisms before offering the actor the part. Once cast, though, filming was still hardly a breeze for Gyllenhaal: he'd repeatedly act out scenes for Fincher, only to hear the director call for the last 10 takes to be deleted immediately and everything to start again—an offense Gyllenhaal unabashedly recounted to the New York Times.

Tony Barson Archive/Getty Images
In 1991, Julia Roberts reportedly landed herself the nickname "Tinkerhell" thanks to her role as Tinkerbell in Steven Spielberg's Hook, a live-action version of Peter Pan. "It was an unfortunate time for us to work together," Spielberg later said of the experience on 60 Minutes. (Roberts had just broken off her engagement with Kiefer Sutherland a few days before.)

Getty Images
"Once and for all, what's my opinion on Jamie Foxx?/He pussy/Pussy ain't funny as Chris Rock," a line in LL Cool J's 2000 song "U Can't F–k With Me," is just as explicit of a call-out as it sounds. The pair took their fight scene in Oliver Stone's 1999 football film Any Given Sunday a little too literally, getting so physical that the crew eventually called the police.

Getty Images
George Clooney is hardly the only actor with whom David O. Russell's lost his cool. Before the director made Amy Adams cry on the set of American Hustle, but three years after his 2004 film I Heart Huckabees already came out, footage emerged of Russell calling Lily Tomlin, one of its stars, a "b—h" and a "c–t" and sending things flying behind the scenes. Tomlin later acknowledged the director was under pressure, while Russell made sure to tell the New York Times that the pair "love each other" in 2013.

Jason LaVeris/Getty Images
Though they were the best of friends on Golden Girls, Betty White and Bea Arthur didn't exactly vibe off-screen. Arthur reportedly called White a "c–t" when she was receiving a lifetime achievement award, and wasn't too pleased that White was the first of the show's four actresses to win an Emmy (an award they'd all eventually end up with).

Desiree Navarro/Getty Images
It took a dozen years, but Sarah Jessica Parker and Kim Cattrall's reported difficulties with each other when filming Sex and the City hit a peak when the pair was filming the series's film sequels, which only magnified their dispute over unequal salaries. Not that they've brought any of it out into the open: Parker, for one, has made public peace offerings in the way of well-wishing Instagrams.

Kevin Mazur/Getty Images
See Hugh Grant audition for Joan Crawford's role in "Mommie Dearest":