Filming "Doctor Strange" Made Benedict Cumberbatch Question "What the Hell I'm Doing for a Living"
The actor had an appropriately strange initiation into the Marvel universe, he said at a screening of his new film in New York on Tuesday night.
---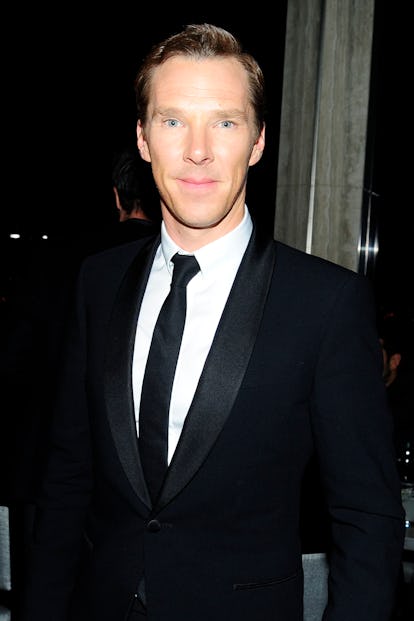 Paul Bruinooge/PMC
Last year, amidst of a string of onstage appearances at the Barbican theater in London for a much buzzed about run of "Hamlet," Benedict Cumberbatch took what little free time he had and started prepping to moonlight as a character even more out-there than a Danish prince on the brink of sanity. Marvel's production of the comic book series Doctor Strange, underway since the 80's, was finally becoming a reality thanks to Scott Derrickson, a director with a past in horror films like The Exorcism of Emily Rose, a passion for comic books, and a mission to make the big-screen edition of his longtime favorite as strange as possible – meaning, of course, that he wanted the belovedly alien-like actor to play the title role, even if it meant adjusting production to Cumberbatch's schedule.
So, before he knew it, the day after his stint on the West End wrapped up, Cumberbatch was off to Kathmandu, having already geared up for his transformation into Dr. Stephen Strange, an American neurosurgeon who suddenly loses the use of his hands after a car accident, due to driving while texting his coworker and love interest, Dr. Christine Palmer, played by Rachel McAdams. Frustrated with Western medicine, Strange's quest to heal himself takes him to a clandestine compound in Nepal where he begins mystical training under the Ancient One, played by an ever-androgynous, delightfully bald-headed Tilda Swinton, who soon helps him discover his capabilities as a sorcerer, which include access to a bevy of other dimensions, including the astral plane.
"They were very different worlds to inhabit," Cumberbatch said, of juggling the roles of Hamlet and Dr. Strange, at a screening of the film hosted by the Cinema Society and 19 Crimes in New York on Tuesday night. He added that the physical exertion required for both roles did make switching hands a bit easier than you might think. "But yeah, kind of bonkers," he said.
More bonkers still was what happened once filming actually started: Not only were Cumberbatch and his costars like Swinton, McAdams, and Chiwetel Ejiofor shooting everywhere from Hong Kong to the far regions of Nepal, but they were also working with some of the most advanced visual effects to date, making it possible for them to enter other worlds like the Mirror Dimension, where navigating Manhattan's skyline, which folds endlessly unto itself, is akin to playing a lifesize game of Jenga. Cumberbatch in particular spends a large chunk of the film off of his feet, floating through the air courtesy of a benevolent levitating cape whose collar even attempts to clean the bloody battle wounds on his cheekbones that, once the action starts, never seem to leave his chiseled face.
"The strangest thing I think I did was probably around four in the morning, when I was upside down in a Lamborghini … going into a water tank that had been there since about five o'clock in the afternoon, with divers who were there for safety and lighting … who'd also been there since five o'clock in the afternoon – and I was in a full tux," Cumberbatch recalled with a chuckle of filming the car crash scene's immediate aftermath. "I had to pinch myself and go, What the hell am I doing for a living? This is crazy."
Luckily, though, his costars came along for the ride: Swinton, for example, was "just really joyous to spend time with – she's funny and incredibly collaborative and selfless," he said. That was true, too, for everyone who came onto the film, "even as we were throwing all kinds of hell at each other as the characters," Cumberbatch added, pointing to Mads Mikkelsen, who plays the glittery-eyed villain Kaecilius, in particular.
"And from the first filming day, Chiwetel was making me laugh," Cumberbatch said of his costar Ejiofor, who plays Mordo, a fellow sorcerer and student of the Ancient One. "He was in his full Mordo gear, but he had to disguise himself so that we didn't attract too much attention. So he just had this lumberjack shirt and some chinos over this huge costume and was walking like this going, yep" – he paused to mime marching and swinging his arms – "just a regular Joe going about my day."