The Final Fantastic Beasts: The Crimes of Grindelwald Trailer Is Packed With Wizarding World Reveals
Brace yourselves, Harry Potter fans.
---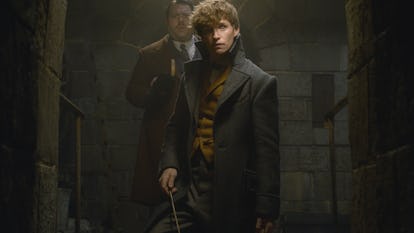 Warner Bros.
Thus far, the Fantastic Beasts: The Crimes of Grindelwald trailers have implied their fair share of beasts and crimes, but the newest and final teaser for the next installment of the Wizarding World saga is without a doubt the most fantastic.
Of course, all your favorites from the the first film make a reappearance—plus the additions of Jude Law as our beloved Albus Dumbledore and Zoë Kravitz as Leta Lestrange, Newt Scamander's old flame—but the most surprising new character reveal comes in the form of a certain reptile all too familiar to fans of the OG Harry Potter series. Yep, Nagini, Voldemort's trusty snake sidekick/Horcrux, is finally getting the backstory she deserves. And, as it turns out, she's a woman! According to Entertainment Weekly, Nagini (played by South Korean actress Claudia Kim) is a traveling circus performer who also happens to be a "Maledictus"—or, for the un-indoctrinated, a cursed human doomed to one day transform permanently into a beast. Spooky.
The Crimes of Grindelwald trailer also offers plenty more of Johnny Depp's eponymous villain, Gellert Grindelwald, including a particularly interesting, albeit brief, snippet featuring him and current rival, former friend Dumbledore. In the clip, Scamander asks his old professor why he has to be the one to defeat Grindelwald, to which Dumbledore replies, "I cannot move against Grindelwald. It has to be you," as we're shown a brief flashback of a young Grindelwald and an even younger Dumbledore touching the Mirror of Erised, which Potterheads are well aware will show one's greatest desire. (For the record, director David Yates has previously said the film's young Dumbledore will not be "explicitly gay," but "I think all the fans are aware of that. He had a very intense relationship with Grindelwald when they were young men. They fell in love with each other's ideas, and ideology and each other.") Hmmm.
Big reveals aside, the latest trailer will certainly satisfy Muggles' thirst for magical crime-fighting and spell-binding action. Fantastic Beasts: The Crimes of Grindelwald will hit theaters on November 16.