Haute Healing: Fiona Arrigo
Former jetsetting socialite Fiona Arrigo is redefining rehab in the English countryside.
---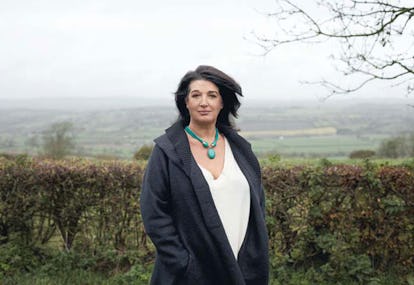 Spiritual healing and the power of raw vegetable juice were not on Fiona Arrigo's mind in the Seventies, when she was living the high life in London—modeling, dating photographers, flitting from San Lorenzo to Annabel's to Tramp with titled Eurotrash. In those heady years she met her husband, an Italian-Maltese jetsetter and entrepreneur, but life took a somber turn when she was hit by a car in 1982. She required 18 operations for her injuries, which she recovered from at the London Clinic, a private hospital on Harley Street. "My room was known as the best bar in London," Arrigo, 55, says with a wry smile. "You couldn't breathe for all the flowers and the handmade chocolates, and there were 10 or 15 people in the room at any time." In addition to the bedside socializing, Arrigo recalls something else about that time. "I was counseling all the nurses," she says. "I had an innate wisdom."
It wasn't until a second car accident a year later in Zimbabwe—and more surgery—that Arrigo cast off her Charles Jourdan accessories and left her old life behind. She began doing yoga eight hours a day to deal with the physical pain of recovery, met healers who worked with her qi (the Chinese term for energy flow) and found yogis who gave her sutras, or aphorisms, to meditate on. "A whole world opened up," says Arrigo. She went on to take postgraduate courses in psychology and metaphysics, become a certified psychotherapist, and work alongside nutritionists and biochemists, all in an effort to get to the heart of mental and physical healing.
Over the past 18 years, Arrigo, now a divorced mother of two, has used her training to create residential healing programs. Today she runs the Arrigo Programme, a boutique retreat in Somerset, near the hippie-haven town of Glastonbury, that caters to everyone from alcoholics and anorexics to actors and fashion editors feeling overwhelmed by life. Arrigo notes that the 60 percent of her clients who are suffering from addiction come to her only after they've done an initial stage of treatment. "They don't come to me cold turkey," she says. "I need to know they've spent sufficient time getting clean. I'm the next step."
It's an overcast summer's day, and Arrigo is sitting in one of the three cottages on campus. She charges clients up to $1,200 per day, and has a maximum of three at any given time (one in each cottage). Retreats last anywhere from five to 45 days, during which she offers her own talk-based and meditation therapies, but also calls on consultants including acupuncturists, aromatherapists, massage therapists, Tibetan Pulsing healers, and experts in herbal medicine and biodynamic psychology. She greets guests with footbaths on arrival, suggests they take regular walks in the countryside and has them eat their meals—greens, grilled protein and fresh juice—in silence, in order to slow down and learn to appreciate the food.
"People arrive on their knees, and we find a way through," says Arrigo, who is nearly always barefoot—even when she drives—and whose dark brown hair is perpetually, sensually tousled. Swathed in drapey off-the-shoulder knits, flowing scarves and long skirts, she's as glamorous as an earth mother can get. "This is no 'la-la-la' program," she says, adding that she expects hard work from her clients. "Life can be f—ing painful, but here you learn to be in the pain, in the joy and in the chaos. People come to me when they are ready for change."
"The first time I went, I thought, What kind of mix-and-match therapy is this?" says Elizabeth, the Duchess of Buccleuch, who called Arrigo when the stress of her life and her work as an arts journalist and biographer began to weigh on her. "But it was very professional. By the time I finished I had gained a degree of balance, stability and clarity. Fiona returned me to myself." Emma Booth, an Australian actress who periodically sees Arrigo for help with work-related emotional and physical stress, says she "peels away the layers until she gets to the rawest form of you. I have never met anyone who cares so much about helping people get better."
Arrigo runs occasional 10-day detox courses in Sri Lanka and Bali, and beginning in September she'll make trips every three months to New York to work with clients on a one-on-one outpatient basis, with hopes of starting an inpatient program Stateside. And recently she expanded her program to include day sessions—consisting mostly of talking or meditative therapies—back in London. But she hasn't set foot near her former socialite haunts in years. These days the best bar in town is the one that serves organic carrot juice.