Five minutes with Alexis Mabille
Alexis Mabille, the 31-year-old Parisian dandy and designer, is better know for his bowties and clothing creations than for his sweet tooth. But for years he has been a regular at Angelina, the legendary paitisserie...
---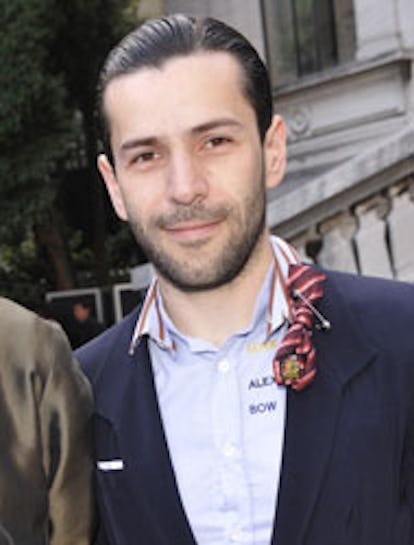 Was this a fun experience? Yes, and I got to taste a lot of cakes. They already have quite a few orders. Maybe it will turn into a nightmare though, because the cakes take so long to make. Each of the 50 [edible] pearls need to be set by hand with tweezers.
Were there any ingredients you knew you'd definitely stay away from? Ice cream. I always hated the look of the ice cream Buche de Noel when it was melting on the table at the end of the meal. It looked quite disgusting.
Do you cook? Sometimes. Only complicated recipes. I don't find it interesting if it's too easy—I like to try out new things.
Do you bake? I never make deserts, but I eat them. I'm addicted to vacherin (meringue with fruit and whipped cream). In my grandmother's village, Saint Bonnet de Joux, in Burgundy, I still can order it at the local pastry shop. It's the real thing.
Did your grandmother teach you how to cook? No, but she was a marvelous cook. And she has a hunting ground, so she was alwys cooking big meals for hunters.
Do you hunt yourself? No, I don't have enough time. When I was younger, I would collect the game feathers and make dresses with them.
Will you accept other collaborations like this in the future? I have one planned with Veuve Cliquot for next Halloween, for the US. But I don't intend to do that many. I have other things to do, and I'm not a grocery store.
Photo: WWD