Five minutes with Bright Star costume designer Janet Patterson
Jane Campion's acclaimed film Bright Star, starring Abbie Cornish as poet John Keats's lover Fanny Brawne, is sure to be a contender in multiple Oscar categories when the nominations come out in a couple of...
---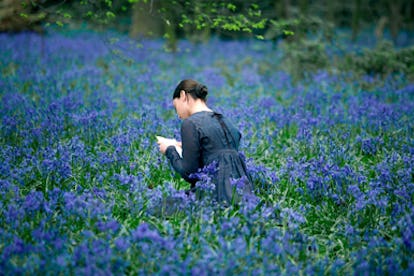 Jane Campion's acclaimed film Bright Star, starring Abbie Cornish as poet John Keats's lover Fanny Brawne, is sure to be a contender in multiple Oscar categories when the nominations come out in a couple of weeks. We recently spoke with longtime Campion collaborator Janet Patterson, who served as both the film's costume designer and production designer, and who can take much of the credit for the film's pitch-perfect Regency atmosphere.
Obviously, the costumes were going to be especially critical for this film, as Abbie Cornish's character, Fanny Brawne, is a seamstress who puts a lot of thought into her own clothing. How did you approach Fanny's wardrobe? With a sense of homage to how young women behave—then and now. Even right in Sydney, I see young fashion and art students, beautiful young girls experimenting with things that perhaps they could never carry off at another time in their lives. Really, it's quite fabulous. For me, Fanny was the kind of girl with an instinct for her own nerve and beauty. She's able to pull off this experimental stage of expression.
It seems like she was always trying to make a conscious statement— Yes, and I tried to get behind what I imagined what a young girl would be able to achieve. For example, when she wears the high-collared silver dress to the ball [above], she is creating herself as a peacock.
Can you tell us about the outfit that Fanny wears when she and John are caught in the rainstorm—the rose-colored dress and the dramatic white hat with the plaid ribbon? I used the romantic Valentine's theme to select the fabric, and I thought it would be good if the fabric was a sheer linen that would would deteriorate in the rain. Well, it actually deteriorated a little too well and provided for some dramatic filming. But it worked well because the scene is about a moment of opportunity in their love affair and also a betrayal. There is an ambiguity there; Fanny looks fresh and beautiful, and then when it starts to rain, she looks like a wet rag.
What were your challenges in the wardrobe for Ben Whishaw [John Keats]? My challenge with Ben and Abbie was to match them up as a pair because they occur in our story like a pair of matching bookends—they are part of the same whole. What was challenging was they are incredibly different physically. Ben is light and very pale. His skin almost looks blue and he's black-haired. Abbie, on the other hand, is a healthy, golden-skinned, voluptuous beauty. It really was about making them look like they belong together.
Tell us a little about Abbie Cornish. Abbie is a very fine actress. She's incredibly disciplined and very intense. And strong. Very strong. She stays very much in her own space. She's not actually professionally trained, so her resource is from within. She's a very gifted girl.
Are you interested in runway fashion at all? I watch. I notice. But, I'm not a player. I don't dress "in fashion" particularly. In fact, I don't! But I think Alber Elbaz is fantastic, and I love the Japanese and the Dutch designers too.
You've collaborated with Jane Campion for over 20 years. What is it like to work with her? Jane is a friend and it's wonderful to work with her. Because we know each other so well you don't have to reinvent the wheel every time. So we get to travel a greater distance together and challenge each other. It's very gratifying.
It's not all that common to serve both as costume designer and production designer on the same film. How would you describe the experience? It's very convenient. When we designed the costumes and the sets, everything was all held in one skin bag, you know? It is an inordinate amount of work, and I relied heavily on two teams—David Hindless, my fantastic art director, and Deborah Scott, my costume assistant—to do both jobs. But it all fits so well together because the designer of Bright Star is one person. Serving as both costume and production designer, it really comes together.
Related: Read Diane Solway's interview with Jane Campion from the February issue HERE.
See our previous feature on Abbie Cornish HERE.