Five Minutes With Domenico Dolce and Stefano Gabbana
The addition of ready-to-wear collections by young, international designers into the Dolce & Gabbana accessories store in Milan's Via Spiga made Domenico Dolce and Stefano Gabbana at once patron saints of emerging fashion and forward-thinking...
---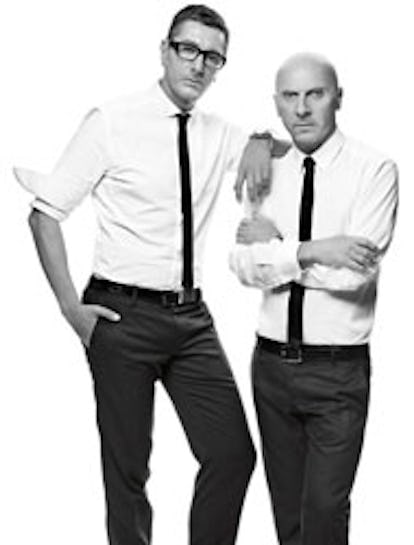 Where are you right now? Domenico Dolce: In Milan, in our office at Via San Damiano 7.
Your business is having an important anniversary this year. What is the secret to a 25-year partnership? Stefano Gabbana: The dialogue, the respect for each other, and the fact that we trust in the same values.
What are your hopes for the next 25 years? DD: In our professional life we would like to go on with our aesthetic work. Personally speaking, we would really love to have more time for ourselves.
What was the thought behind turning your accessories boutique into the multi-designer Spiga 2? DD: We have been young and we know very well that at the beginning of the career a designer needs a chance to emerge. Someone gave us this possibility and we wanted to return it, offering young designers a real opportunity… We really believe that affirmed designers should offer to emerging ones the chance to show their worth.
SG: We had this idea and we liked it so much that we did not want to wait for 'better times'. When we decide to do something we do not think too much, we are instinctive. If we have an idea we try to communicate it and then we see if it works.
Why is supporting emerging designers important to you? DD: Twenty-five years ago we were young designers, and we were looking for opportunities and visibility. With this project we want to return the possibility we were given 25 years ago.
SG: In the future we may happen to do a creative collaboration with some of them.
Do you think the boutique is a reflection of how consumers shop these days? SG: Absolutely. Customers are very demanding and well informed. Thanks to new technologies we are able to know what is going on in every part of the world and fashion is not an exception. They are curious, always looking for something fresh and above all for quality and innovation.
How are you approaching the buying process? DD: We asked to our own buyers to select pieces from the collections of these young designers. We asked them to follow two principles: [First] the commercial one, because more than protectors or benefactors we want to be considered as designers who put their experience and visibility at the service of young talents who will represent fashion in the future. [Secondly], the designers were also asked to select their own favorite pieces from their collections. At the beginning of the career is important for a designer to present his most representative pieces.
SG: There will be a turnover but with some of them we will probably build a long-term relationship. The certain thing is that we will go on in selecting new talents.
You've said that you want the store to be a place where people spend time and relax. Will visitors ever find you hanging out there? DD: Yes, of course. We often go into our boutiques. We do shopping in our Corso Venezia menswear boutique. And we love going round through our boutiques when we are in Milan but also abroad when we travel, to feel the atmosphere and to stay in touch with our customers. We learn a lot from them.