Five Minutes With Exhibition A Co-Founder Bill Powers
Online art is having a moment. The VIP Art Fair—the first exclusively-online art fair—had its inaugural show last month; heavyweights Dasha Zhukova, Larry Gagosian and Eric Schmidt are launching Art.sy, dubbed the Pandora for art,...
---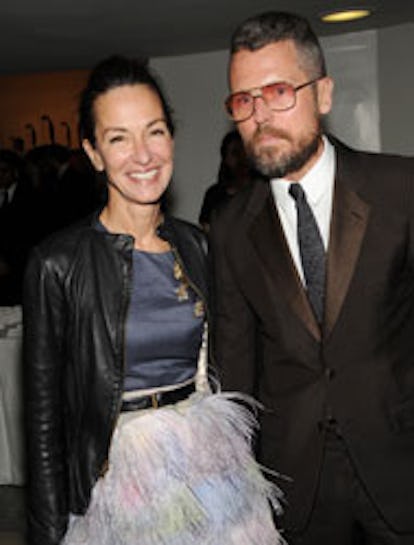 Although Powers is no stranger to art dealing (his contemporary art space, Half Gallery, is mobbed on opening nights), Exhibition A's model is a bit of a departure: The online art gallery produces and sells artist editions priced from $100 to $500, including works by Terence Koh, Olivier Zahm, Jim Drain, Nate Lowman and Steve Powers, among other contemporary artists, in limited- and open-print runs. The goal, he says, is "to expand the parameters of collecting contemporary art and broaden the audience in this often very niche community."
W caught up with Powers to discuss life lessons learned at Alleged Gallery, geeking out on Artnet and to preview what Exhibition A has in store for us this month.
How did you come up with the name Exhibition A? It's sort of extracted from Andy Warhol's book, "[a,] A Novel." I like how generic the Warhol title was. And that was sort of the jumping off point for Exhibition A.
What recommendations would you give to people coming to the site for the first time? There's a Jeff Koons quote in the "Jeff Koons Handbook" that says something like he doesn't believe in bad taste. When it comes to art, you should jus trust your own aesthetic vision. Whatever that may be.
You should do some homework before you start collecting. You know, find out about a piece. I always like something that has more to it, something to deconstruct. Like the Terence Koh piece we did, for instance. It could just look like a cool light sculpture, but then there's a back story that reveals so many more layers.
How about your and Cynthia's style of collecting. Do you battle over what gets to hang over the sofa? Mostly it's about not feeling like you live in an art gallery and not having every square inch of you house covered in art.
Is your goal to make buying art more approachable? You know the Alleged Gallery in the early 90s introduced me to the world of contemporary art. You could get a Chris Johanson drawing or a Terry Richardson photo or a Mike Mills piece all for under $1,000. I became interested in art through a process of discovery. That was a real revelation to me that I could participate in that world–without formal training or a big budget. So I thought 'what if I could get other people as excited about contemporary art?'
And that was almost 20 years ago now, but that spirit stayed with you… Thanks for reminding me (laughs). I feel like I try and carry that spirit with me with Half Gallery. We did a Leo Fitzptrick show where the pieces were $750. I like to carry on some of that tradition.
Is there crossover between your gallery and Exhibition A in terms of exhibitions and prints? Yeah, absolutely. We're doing a show at Half with Ben Blatt that opens on March 1. So we have two works by Blatt coming up on Exhibition A on March 7th. And we also look to launch sales that correlate with other galleries. For instance in May there's a Sean Landers show opening [at Friedrich Petzel Gallery] that we're going to dovetail with a print when the show opens.
Tell us about the wallpaper you're releasing. You've had your first run of it with Jim Drain, who's up next? We'll be releasing a bubble-wrap print silver Mylar wallpaper by Olympia Scarry in mid-April. And actually we'll be previewing "Bubblewrap" at the Ace Hotel on March 15 where we'll have an exhibition of some of our artist prints on view in their lobby gallery.
What other art sites do you frequent? ArtInfo, Art in America, Artforum does great opening coverage, but it's also a great aggregator for art news. And Artnet is a great tool. I geek out on those four mostly.
What are your plans for Armory Week? Mostly I'm focused on Tuesday for the Ben Blatt opening at the gallery, but in terms of Exhibition A, we have a Nate Lowman limited edition print launching Monday that I'm really excited about. Nate definitely is a hometown hero in New York. So I think people will be excited about that.
What other sales should we be looking forward to? This month there's a George Rahme print on canvas on March 2, two prints on canvas by Ben Blatt on the 7th and an Olaf Breuning print on canvas on the 21st.
On the site you present images of artwork in environments, like a living room. Why did you decide to show works in this way? We want to give people content in context. So by putting work in environments, and showing it at different angles, and giving a little background about the artist that isn't worded in art double-speak, I think makes it easier for people to get excited and get involved in the work.
Can you recall your own earliest memory of experiencing art? I haven't ever answered this before, actually, but when I was growing up my parents had one of those Robert Indiana Love posters in our hallway. Now every time I walk by the sculpture on Sixth Avenue, I'm taken back to that hallway.