Five Minutes with: Florence Welch of Florence + the Machine
Florence Welch of Florence + the Machine You could say Florence Welch has had an incredible year. Starting in January, Florence + the Machine's debut album, Lungs, hit #1 on the UK charts and...
---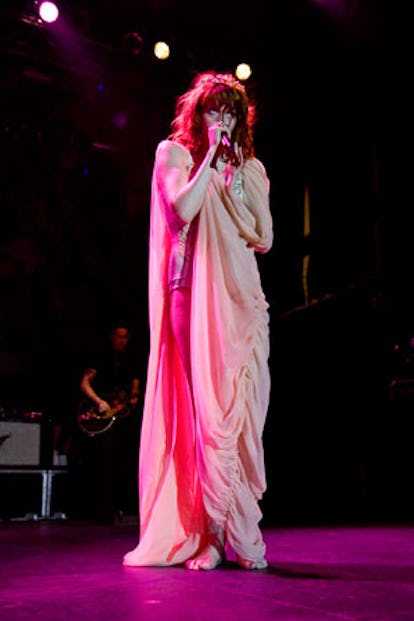 You could say Florence Welch has had an incredible year. Starting in January, Florence + the Machine's debut album, Lungs, hit #1 on the UK charts and sent the singer and her band on a whirlwind of international performances. In the following months the band garnered a viral video, an SNL performance, a shout out from the cast of Glee and, as of this week, a Grammy nod. A budding trendsetter, Welch teamed with Talenthouse.com to hold a competition this fall for a lucky fan to design her costume for a Terminal 5 performance. W caught up with the effervescent Welch to talk about the competition, her fashion obsessions and, of course, music.
What inspired the idea for a costume design competition? We kind of had a great fan base in the US and it just seemed like a nice thing to do. I'd never really done anything like this before at all. Not even in the UK. People send me designs that they think would look nice, but I've never actually done it as part of a competition where people could submit. It's always interesting to see how people visualize your look.
How many people applied? There were like 800?
How did you guys pick the winner? We narrowed it down to a select few and then just debated over which one to choose. I liked the ones that were the most inventive, but classic. You could see that there were interesting details. It's the small things, I think, that kind of catch your attention.
And so the winner came to the show at Terminal 5? Yeah she did. And I met her in London because she's based in London. We flew her out to New York to see the outfit in action. But she's really sweet and she got to my house and we were like trying on peach bodysuit, and I made a couple cups of tea.
Who are your favorite designers? Givenchy, I wore a Givenchy dress to the VMA red carpet. Bodyamr. He is amazing. I've worn so many of his dresses, like they're so good for shows. Even the color palate and everything, you know, and everything just fits. Anything by Riccardo Tisci at Givenchy–he's a total genius. I love the big classics like Chanel and Dior. But I'm also a big fan of Temperley London and Alberta Ferreti… God, the list goes on! (Laughs)
Do you think that your style had changed since you've started performing more? You have more freedom to kind of experiment because people do kind of want to lend you clothes, which is brilliant. So you can kind of develop your style more, which is great. You know, I used to go on stage in top socks and like a £3 dress from the charity shop. That's when it was just me and two boys– and you know, I didn't really think too much about what I wore on stage. I'd usually just wear one of like [the boy's] shirts and some shorts (laughs) and jump around. And that was quite a long time ago. Now the band is bigger, and there are girls in the band–it's all becomes part of the fun of it, and it becomes part of the show.
You've gotten to go on tour with a lot of really awesome bands, play shows with big bands. Who are your favorite contemporary bands? Yeah one of our first tours, like the tour where I was running around on stage in a boy's shirt. It was the MGMT tour, which actually changed my outfits a bit because Andrew [VanWyngarden, of MGMT] would be on stage wearing a dress and I thought, Wow maybe I'll put a dress on.
Yeah, they're pretty theatrical too. Yeah, we toured and traveled together for a really long time. I think I was kind of influenced to dress a bit more out there because we would all get dressed together and like I'd be putting glitter on Andrew and we'd swap dresses. And he actually gave me a lime green catsuit that I went on to wear with a curtain, like a glittery see-through curtain, at my first Reading performance. From touring with other bands, like seeing their performances, you kind of influence each other and things kind of–you egg each other on.
Kind of like a friendly competition. What's been one of your favorite big performances in recent memory? We performed in an old Roman amphitheater where gladiators used to duel. It's kind of frightening just because there's been so much blood and death in there but it's kind of amazing. Part of the theater was shut off to the audience, and I just sneaked up there by myself in the moonlight, just creeping around this ancient amphitheater. And there's no, like, bars on any of the arches– you're just running around this amphitheater. And I went all the way up to the top and I was overlooking the whole of Nimes, which is this old Roman garrison in France. And it's kind of amazing thinking, 'Well this where singing has brought me'–I'm standing on top of a Roman amphitheater looking at the moon.