Five Minutes With Gretchen Bleiler
Gretchen Bleiler is an Olympic medal-winning snowboarder (silver, Turin 2006) and a four-time gold-medalist at the X-Games. She splits her time between the snowy mountains of Aspen during training season, the waves of Carlsbad, CA...
---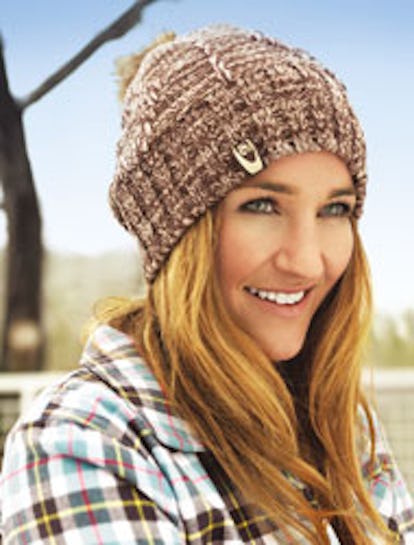 What's your skincare must-have? I partnered with Mission, it's a really cool company based on giving athletes what they need. I have my own signature lip balm because when I'm up on the hill, protecting your lips is so important. It's called the Lip Balmer in Sweet Vanilla, it smells sort of like cake batter, but not, it's delicious.
How do you protect your hair from the elements? Last season we were competing in -16 degree weather, and if your hair's out, it freezes, so it tends to get dried out. I always use a really heavy, moisturizing product like the deep conditioner from Pureology.
Do you ever talk beauty with the other female snowboarders while training or during competitions? Lots of the girls that I snowboard with are very opinionated and have their own style, so we definitely talk about it. Actually, Hannah Teeter recently asked me what I do for my hair. She said, "I need something to put in my hair to make it softer." And I said definitely Moroccan oil!
The Olympics, you're in front of the world, and yeah you're competing, but you want to look good. You want to have a great representation of who you are. I care about the way I look and I want to look my best. My regime isn't crazy. For my face it's just sunscreen because foundations and tinted moisturizers rub against my neck warmer. But I do like eyeliner, mascara, and a little color on my lids. Just all very natural to kind of spruce it up a little bit. I use M.A.C. a lot, Cover Girl mascara and a Clinique eyeliner in Brown Sugar, it's my go-to.
What is the one thing you need to have with you on the mountain during competition? I'll just have some essential oils in my pocket, I love lavendar, and smell it before a race if I'm feeling very nervous. Hannah, she's a total hippie girl and will show up to the mountain covered in patchouli. But I think smells are so important for athletes who compete, and for anybody really. If you're stressed at work, or before a competition, or if you need to be energized, or relaxed, there's so many scents that kind of take you there.
Photos: © 2011 Oakley