Five Minutes with Joan Rivers
Spotted at Luxottica's LensCrafters event talking about sunglasses with prescription was none other than the grande dame of comedy and the main attraction of E!'s Fashion Police, Joan Rivers. Dressed in a figure hugging black...
---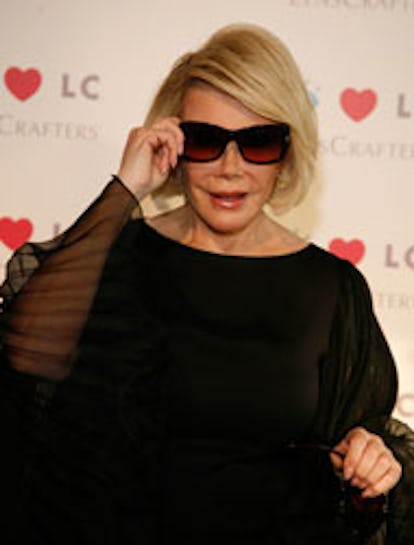 What are your beauty secrets? I hate to tell you but it's DNA. Good skin is in the DNA. I thank my grandmother everyday for my skin.
How do you still look so great? Besides Botox, Restylane, and anything else you can shoot into my face? Thank god for science. But I'm very bad with beauty routines. I'm still using Pond's Cold Cream and Noxema.
Are there any starlets out there who are going over the top with plastic surgery? I think plastic surgery is wonderful, but some are just starting too early. I think at 16, that's when the law states a girl can get a nose job. But you want to know something? If it's going to make you happy then do it. Now that's a graduation gift.
What beauty tips have you passed along to Melissa? Melissa is very into this stuff, she's much better than me. She takes very good care of her skin. She will take off every stitch of her makeup off each night. I don't. I will leave my makeup on for 2 to 4 weeks.
What is your hair regime? My hair is washed everyday and done everyday. It's a luxury to have a guy come to my home and do my hair every single day. It takes forever, about an hour, but it's OK because we're good friends. I also put the Joan Rivers Fill-In Hair Powder. We did an infomercial on it and it's our number one selling product on QVC. It's un-fucking-believable. For ladies with thin hair, it makes your hair thicker and takes the shine off the scalp. Men use it too. And it doesn't come out in the rain. I needed it for myself and that's how I came up with the idea. I was 20 years old and filling my hair in with a pencil. Again DNA, my mother had thin hair. So my guy, Raymond Rosario, he does all my hair pieces. I'm very much into pieces. He does a lot of the Upper East Side ladies. He knows how to tease. He can take an old Jew and make her look like a W.A.S.P. When Raymond does my hair I can walk into the Knickerbocker Club.