Five Minutes with "Nowhere Boy"'s Aaron Johnson
Making its debut on October 8th, the eve of what would have been John Lennon's 70th birthday, is the touching biopic, Nowhere Boy. W spoke with lead actor Aaron Johnson about his film role as...
---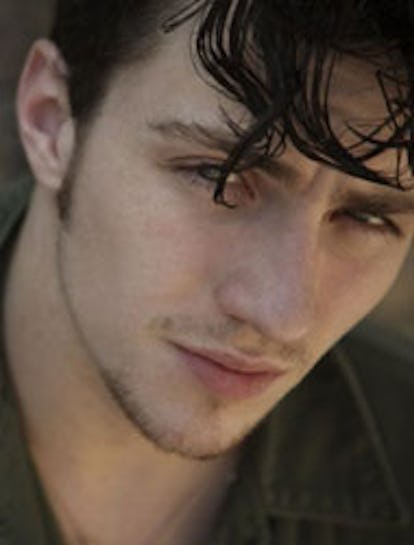 Were you a fan of John Lennon or The Beatles growing up? I'm British, so it's embedded in our history and culture. I love the Beatles, of course, and the music.
How did being a fan affect your portrayal of John? I never knew the in depth backstory of John Lennon. The script was my first insight into it. I guess not being a Beatles fanatic or from that generation allowed me to look outside the box and study, really observe what went on then. The pressure is on when you are playing anyone who was once alive. It being a true story, I wanted to do as much research as possible.
How did you prepare for the role? I read that you had to learn how to sing and play the guitar. Was this easy for you? The producers were casting musicians, actors and look-alikes at the time. Luckily, I got in there. They thought I was fine to do the acting but they wanted to get someone to dub the songs and cut to someone else strumming the guitar. I thought to myself that if I played Lennon, I needed to sing and play the guitar. I couldn't just do 60% and have someone else do the other 40%. It kinda pushed me… made me more determined to do the best I could and prove them all wrong.
Do you still sing and play the guitar? No. Literally, the day we finished filming I put the guitar down and I haven't picked it up since. I learned about ten-twelve songs to play and sing…. but I've moved on to something else.
How influential were Paul McCartney and Yoko Ono in shaping how the story was told? Paul and Yoko were hugely involved because they granted the rights to three songs — "In Spite of All the Danger" one of the first songs that The Beatles ever recorded, as well as "Hello Little Girl" and "Mother" which Yoko owns the rights to. These songs were vital to telling the story. Two of them we had to perform and film before they even gave the rights to, so we had our fingers crossed. Luckily, they gave their blessings. It's unique because Paul and Yoko had never, together, given rights to any one film.
Aside from your personal relationship with Sam Taylor-Wood, how was it working with her as a first-time director? Sam's a fantastic director. She really knew exactly the story that needed to be told. From really early on, she was hands on. She didn't want me to do an impersonation of Lennon. She didn't want any of the actors to do an impersonation, but to rather embody the spirit, the essence, and the whole of the person. The way it's shot was beautiful due to her background as a photographer and her great working relationship with the cinematographer Seamus McGarvey. Sam's just one of those women who walks on set and lights up the room. She's really warming. She has that ability to befriend everyone and everyone wants to do his or her best for her.
What moment in John's early life that was captured in the film most greatly defined the man he was to become? I think it's a combination of these two women and the role that they played in his life. Aunt Mimi really brought him up to be well mannered and was strict with him. She was very cultured and taught him about the greats — Oscar Wilde, Van Gogh. He learned very early on from her, when Uncle George died, how to keep his emotions in and lock them away. And then he met his mother, who was very open and spirited. She taught him about rock and roll, this whole other world. He fell in love with her. I think that was a special gift she gave him to play music. It became the voice to his art form. And when she died, he went back to what Aunt Mimi taught him — how to close barriers and go on with his life. Elvis made a huge impact as well. Lennon saw how women would fall in love with him, and he really wanted the love of these two women [his mother and Aunt Mimi]. . . more than anything in the world.
What do you hope audiences will take away from the film? If you learn the backstory of any artist, it always makes their work more intimate and interesting. This movie shows all these aspects of John that no one knew about because he was always putting on a front or a show. He had all of these vulnerabilities and insecurities hidden away. To explore that, to go on a journey with it, is an experience in itself. It makes you appreciate his art, his music, and his poetry more.