Five Minutes With Ohne Titel's Alexa Adams and Flora Gill
Ohne Titel designers Alexa Adams and Flora Gill have a few new tricks up their sleeves for spring. As part of the collection, which will debut this Saturday, Adams and Gill are presenting a number...
---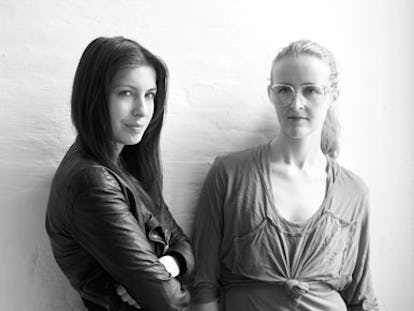 It is one week before your spring show. Tell us about what you are working on right now. Alexa: This week is really exciting. We're seeing some of the pieces that Tuaba Auerbach worked on with us for the show. The pieces have a linear, graphic quality with an interesting combination of materials. There are techy materials mixed with some cleaner and softer lines. It will be the debut of our first jewelry collaboration.
Each season we look forward to your new fabrications, like the mesh lace last fall. What can we expect to see for spring? Flora: We have some really interesting striped textures that we are showing throughout the collection. We have a fabric that twists around the body and a sort of textured stripe that we're doing as a solid color and in two color ways.
Alexa: Our patterns and colors are very graphic and bold this season. We're using some new technical materials that I think will be surprising when you see them in the show. We've developed specific fabrics for the collection, and we've also collaged fabrics with other textures that will mix on the body.
What is the overall theme for spring? Flora: We're feeling something very, very clean and graphic this season. It's going to become very obvious in terms of the fabrication uses and the color story when you see the collection.
Are you working with Cesare Paciotti again for shoes? Alexa: Yes, we're designing the shoes with Cesare Paciotti, and they are pretty incredible. A lot of the ideas from the collection are being put into the shoes — the graphics and the color story are definitely there.
How do you manage production with partners all over the world? Alexa: A lot of email, a lot of skyping and calling each other constantly. We've got Tauba in San Francisco. The shoes are in Italy and of course they are on holiday until September 1st, so it's always an interesting challenge.
What are you most excited to see coming down the runway? Flora: It's so hard. There are so many pieces I'm exited about! Alexa: I'm most excited about the striped knits and the new shoes. I think they are going to be spectacular.
Any post-fashion week vacation plans? Alexa: We'll be sticking around New York for sales and press before heading to Paris. Hopefully while we're in France we will take some time off to enjoy the countryside for a few days.