Five Minutes with Christian Lacroix's Sacha Walckhoff
Sacha Walckhoff first met Christian Lacroix in 1992, while interviewing to work on knitwear for the designer. "We spoke about Barcelona, we spoke about [the director] Jean Jeunet, and after one hour, he still...
---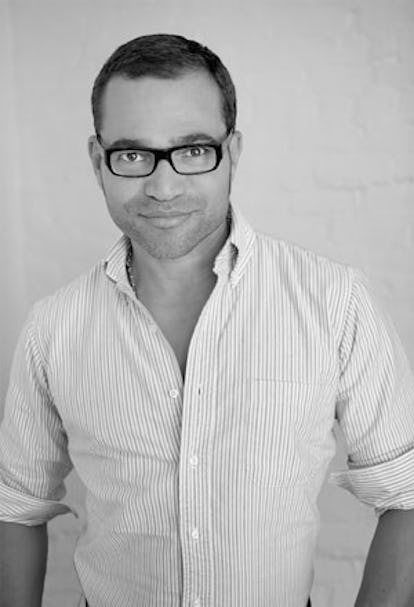 Walckhoff worked with Lacroix over the next 17 years, until the house's couture and ready-to-wear businesses were shuttered last year following a bankruptcy filing, and Lacroix left. Walckhoff was named the house's new creative director and tasked with rebuilding the brand, starting with menswear, eyewear, stationary, and home textiles — all done through licenses — with hopes that womenswear and couture will return one day, too. W caught up with Walckhoff for the latest.
How is it to be the creative director of Lacroix? Very, very demanding. I've got several different emotions: Without Christian, it's weird, but it's also very challenging, very exciting. We are building a new kind of house, but we worship the [brand] heritage very much. We are [a staff of'] 12; we used to be 120. We do not do haute couture anymore. Haute couture was only possible with Monsieur Lacroix.
At the moment the idea is to work with the licensees we already have, the menswear, the silk, the wedding dresses. Everything was under license under [Monsieur] Lacroix except couture. We have a newly licensed eyewear collection which just came out to buyers last week and will come out in boutiques in January. Home fabrics also comes out in January. And we've just signed licenses for bags and leather goods, to be for both men and women, as well as licenses for jewels and watches — for women only — all to come out next winter. The deals are very fresh so we can't say with whom. And we're also doing women's lingerie in 2012.
Do you have any concerns that so many extensions and licenses might cheapen the brand? No, not at all. We didn't have so much [variety of] product out on the market two years ago; there was not a huge diffusion. I think our work now is to attract a different kind of people [who we weren't able to reach before]. These products [the eyewear, the home fabrics] are more affordable, and can help more people reach the universe of Lacroix, [an idea that's] quite new for us. It's important to give [the new products] the same attention as we would prêt-a-porter or haute couture. They are more affordable but at the same time very special.
Have you been in contact with Mr. Lacroix at all? Your first Lacroix menswear collection you said was a tribute to him. Not since last December [when Lacroix couture was shuttered for restructuring]. From that moment, we have not had any communication. And I do understand it very well [why it is this way]. It was very painful, it was 20 years of his life, and I respect this completely. I've [worked] with him 17 years, and I am convinced that he will come out with something again.
Is it true that we won't see any Lacroix women's ready-to-wear until 2012? Why did you decide to start the brand again without it? We needed a break after last year, after all the noise that was made. We needed to pause, reposition Lacroix accessories, to give the public audience time to rethink the brand. When we do restart it, we want it to fit the life of today and the way young people think — we want it to be much more for the girl of today. We need to reaffirm the house DNA with something that is lighter. We know what it was before was not successful, so we need to reposition a new idea of Lacroix, but also with an eye to Lacroix's past. The brand, it's known all over the world. But people best know the haute couture images, and because of that they think, 'It's not for me, it doesn't fit my life, [Lacroix is] only for marriage or cocktails.' I want this to change. It's a huge challenge, I know, but it's so exciting.
I think for now, it is easier to express the new idea of Lacroix with eyewear rather than prêt-a-porter. We will do it when we think we are ready to do it — possibly two years or four season seasons from now, but it's too early to say.
Do you see couture happening again in the future? Couture was really Monsieur Lacroix, A to Z, all alone. It was his baby. When you were looking at him doing it, it was amazing. For today, haute couture is attached to him. Maybe in a few years, it will change, but for now, [we're not doing it] out of respect for him. He gave it so much, gave me so much — to be next to him for so many years . . . It was a very difficult and deep and emotional moment, why I said yes to [being creative director at Lacroix]. I didn't want this house to stop. I wanted to change it to something more linked to reality and commercial success.