Five Minutes With Taylor Swift
Taylor Swift, the twirly, curly haired crooner, has had quite the holiday season: Thanksgiving in Brooklyn with the Gyllenhaals, then last week her Speak Now world tour tickets sold out within minutes, and in...
---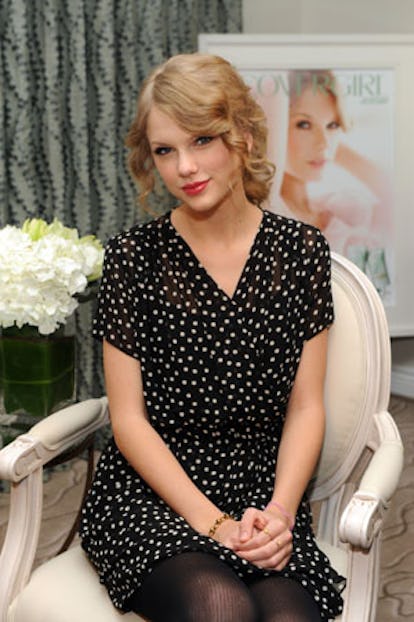 What are your earliest memories of CG? I used to go through the makeup aisles in grocery and drug stores to check and see who the newest Cover Girl was! And in magazines, I would see all the ads and I always thought it would be such a girly, feminine company to be a part of. All the models seemed really different from each other which I thought was really cool. I also loved trying out different things too, it's still my go-to place when I walk into a store.
I really like Lash Blast mascara. At my photo shoots, where the makeup artists can use any kind of product they want, a lot of the really great artists use Lash Blast. So I started using it before I was even in talks with Cover Girl. It was my favorite, it still is.
Do you have any makeup icons that you look to for inspiration (film, art, friends, family)? My grandmother always had a lot of pretty makeup containers and little jars that I just loved playing with as a little kid. I took after her in a lot of ways–she was very girly and I always played with her dresses.
What has been your biggest makeup mistake that you've learned from? I used to draw on freckles or beauty marks with eyeliner. I was experimenting with new things. They were new things all right! Just not good things!
When I'm on tour, I do my own makeup. And it's such a fun regimen. My fiddle player and backup singer and I are the only girls, and we're best friends. We sit at a table and put on makeup, and when you live a life without much routine, it's nice to settle down and have one. I'm pretty fast and simple. On my eyes, I like to have a little glittery line under my bottom lash line or bold intense eye liner and a rich red on my lip. It's always red though; I can't seem to use anything but red. When you're on stage it just makes everything more definitive and your smile pops and your emotions read louder. But when I'm not on tour, moisturizer, foundation, a quick swipe of eyeliner, mascara and then I'm good! My go-to comfort hairstyle is a side-braid. Most recently when I was recording, I think I wore a side braid for like 50 days straight.
Would you ever change up your look by cutting your hair? I have considered cutting my hair, but I always wimp out at the last minute. I figure I can pin it up and make it short again, but I can't go short and make it long.