Five Minutes With TenOverSix designers Kristen Lee & Brady Cunningham
Kristin Lee & Brady Cunningham, the owners of cult Hollywood boutique TenOverSix, are first and foremost designers so it's no surprise the pair will be launching their very first full ready-to-wear collection under the store's...
---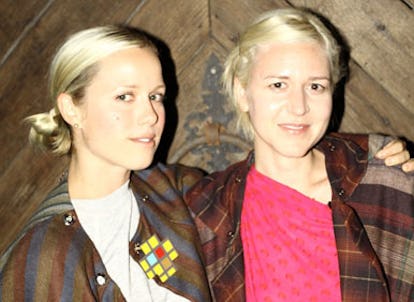 Brady just had a beautiful baby girl, and you've just given birth to your first boy. How curious is it that you both got pregnant at the same time? Was it planned? Kristen Lee: Was certainly not "planned" but we were both ready, and I finally convinced my man this past spring! It did all happen very close, which is great, because it's been fun to go through it together.
Has maternity affected your sense of style? KL: Not really, although we are both looking forward to being able to wear high-waisted jeans again! We love shapeless, voluminous, oversized ready-to-wear right now. Luckily, we were both already feeling that shift in shape before we were pregnant, so the transition was not that crazy. I didn't buy a single piece of "maternity" clothing. Everything I've worn comes from the designers I always wear, with a slight adjustment on how I wear them (i.e. no waist belts). Great accessories provide a style lifeline through pregnancy, as no matter how big your belly grows, a bold necklace or beautiful shoe always fits.
Describe the concept behind the third birth this year, the first TenOverSix Private Label collection. KL: We both were designers before opening TenOverSix, so a private label has always been part of the plan. We've only designed for the store, and in pieces up until this point, but were finally ready this year to take it to the next level. We know our customer very well, the market, and we've fine-tuned the concept of what we want to bring to the world: chic uniform dressing. A uniform that consists of non-trendy, practical yet stylish coats, dresses, handbags & shoes that are meant to be worn over and over again. For us they have become our uniforms, and we hope other women will use them the same way.
Tell me more about Gee's Bend and the Alabama inspiration. How did it come about, and why has it made the title of your very first RTW collection? KL: Brady is from Alabama, and my mother is from New Orleans, so the South is close to both of our hearts. Brady has been obsessed with these quilts for some time now, and it just seemed the right starting point of our inspiration for this collection. There's such history in the quilts, and yet their graphic nature and color stories are so modern. We were both gravitating to the quality and time put into handmade/ homemade pieces at the start of the design process, the lasting nature of such pieces, and the tragic BP Oil Spill reset our focus on the Gulf region last year. It just seems to sum up the spirit of the collection.
What's your overall favorite thing about this collection? KL: It's not overly complicated or gimmicky, but still special. The pieces are so easy to wear. Brady Cunningham: Coats are a big part of fall, which is a category we adore.
Where do you source most of your inspiration? KL: Everywhere. The usual suspects: life, environment, travel, art, books, music, history, vintage, color. BC: Overall, I think we just design for ourselves, for what we want to be wearing everyday.
After successfully designing as a team, would it be frightening to go back to working on your own? KL: I wouldn't say frightening, but we certainly love the collaboration & support. We work together, but also independently. We come up with the concept together, color story, and mood – then break off – Brady designs the ready-to-wear (jackets, coats & dresses) and I design the accessories (shoes & bags). We are able to do the detail work independently, but always bounce things off of each other, which is great.
What makes you most excited about getting dressed in the morning? KL: Putting on heels.
Do you ever miss the New York groove? KL: Of course. Luckily, we both still spend a lot of time there. I went back ten times last year, and Brady sometimes goes back for a few months at a time.
What do you love most about living in Los Angeles? KL: The weather.
That was easy! Which other city would you be willing to make a move to? BC: Paris. KL: Back to Brooklyn, a Rockies mountain ski town, Paris.
If you could do one thing all over again, what would it be? KL: To have kept a journal.