Five minutes with Max Osterweis (another Mrs. Obama fave)
Count Max Osterweis among the handful of young designers whose careers have been kick-started by Michelle Obama. The San Francisco native and former screenwriter, 34, started his clothing line, Suno, last year, a culmination of...
---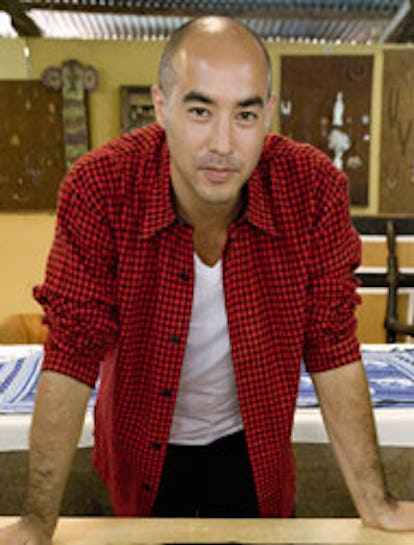 You worked in film up until about two years ago—how did you make the leap to designer? The first time I went to Kenya I just started collecting them. I was thinking about making some skirts and dresses for my girlfriend, who had seen the kangas. I said, "Oh, yeah I'll make you something," but never got around to it. And then I was thinking about doing something in Kenya and the post- election violence in 2007. I think that at a certain point when I thought about making 50 or 60 dresses for friends, it turned out that it was going to cost me a lot of money. So I thought maybe I should make 150 of them and sell half of them. And then, it still didn't make any sort of financial sense, so I thought, I should actually take a leap and try and start a business. I'd just finished working on a script, and had some time on my hands.
Two looks from Suno fall 2009.
What has been the biggest challenge? There are lots. Initially we used two little workshops [in Kenya]… and [one] didn't have a generator, there were regular power outages. So made the decision to turn that workshop into a cutting factory. The other workshop was started by an Irishwoman who had been a costumer for the Royal Opera in London. She married a man in Kenya and moved there and started training tailors the day she got there. Since we started with her, she's now built a second workshop on her grounds to accommodate us and has more than doubled her workforce.
These kangas have sayings written on them, correct? An aphorism—usually about social or sexual politics. And women will buy them based on the aphorism, rather than the print. Like… "There's a new hen in town, watch your roosters." And one I chose for Spring 2010 is, "A ripe mango is best eaten slowly." So they're usually messages from women to men, or from women to other women, and in Swahili.
Who are the people behind these aphorisms? I think they're mostly men. Because I have yet to meet a female factory owner for kangas.
Michelle Obama wore one of your shirts this spring—was that a surprise? Well, we brought the collection to Paris during the shows in February, and Ikram [Goldman of Chicago's Ikram] happened to be a friend of a very good friend of mine, so she came over to dinner. And we happened to have the collection sitting on my front couch. Ikram bought a bunch of stuff, right then and there.
So Michelle has a couple of your designs? At this point, as far as I know, she's worn one piece. But I know [Michelle] bought 5 pieces [from Ikram], and I didn't know that until she'd actually worn something. It was kind of wonderful.
Portrait: Sarah Elliott; Obama: Kimberly White/GettyImages