How Florence Pugh, Star of The Little Drummer Girl, Became Hollywood's Most In-Demand Actress
At just 22, the actress Florence Pugh has built up the résumé of a veteran.
---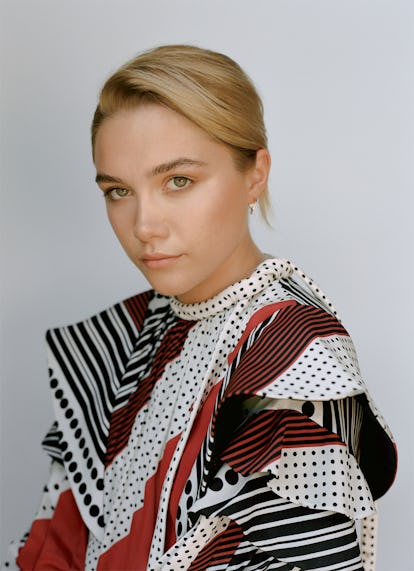 Photograph by Jeff Henrikson; Styled by Jason Rider. Hair by Lauren Palmer-Smith for Bumble and bumble at Lowe and Co.; Makeup by Gia Harris for Chanel; Manicure by Nettie Davis for Zoya; Photography Assistants: Jamie Stachan, James Bailey; Fashion Assistant: Megan King.
Earlier this year, not two weeks after the saga was first published in New York magazine, Anna Delvey's tale of fortunes stolen and scammed found a home on Netflix. Shonda Rhimes, who signed a nine-figure, five-year deal with the streaming service in 2017, picked up the rights to Jessica Pressler's viral feature, swiftly igniting fantasies over which Hollywood ingenue would play the fake German heiress. Quickly, a runaway favorite emerged, her campaign backed by Vulture and legions of Twitter fans: the English actress Florence Pugh.
"I have been tagged in this so many times on Twitter!" Pugh, 22, told me excitedly over the phone not long after. "I've asked all my American friends and they've explained to me about her and what she did, and I keep getting tagged in these stories online, and I'm like, sure, whoever's directing it, just hand me the job, because this sounds so fun."
Not that Pugh really has time for yet another project these days. Three years ago, with just one feature film credit to her name, a then-19-year-old Pugh landed the lead role in Lady Macbeth, playing a young woman who, seeking to escape her marriage to an abusive older man, turns violent. The following year, the film premiered to rapturous audiences at the Toronto International Film Festival, where Pugh's performance was singled out as a potentially star-making moment.
So it was. In the coming months, she'll appear in Hereditary director Ari Aster's sophomore film Midsommar with Jack Reynor; in the wrestling biopic Fighting With My Family alongside Dwayne Johnson and Lena Headey; and as Amy March in Greta Gerwig's upcoming adaptation of Little Women, which will also star Emma Stone, Saoirse Ronan, Meryl Streep, and Timothée Chalamet. Earlier this year, she returned to TIFF, this time to open the festival: with David McKenzie's historical epic Outlaw King, in which she appears opposite Chris Pine as the Elizabeth de Burgh to his Robert the Bruce. (The film debuted on Netflix last week.) She played one of King Lear's three daughters in a BBC production of the Shakespeare play (with Anthony Hopkins in the title role), and a ghostbuster in the Netflix film Malevolent. And on Sunday, she'll headline the premiere of The Little Drummer Girl, AMC's miniseries adaptation of the John Le Carré spy novel of the same name, directed by Park Chan-wook of The Handmaiden and costarring Alexander Skarsgard.
Or, as Pugh put it succinctly, "My characters do have some fantastic taste in men."
The Little Drummer Girl was the first job Pugh booked following the release of Lady Macbeth. In the series, set in 1979, she plays Charlie, a hyper-observant, brash London theater actor with Palestinian sympathies who, during a trip to Greece, is recruited by Israeli intelligence officers (Michael Shannon and Skarsgard) to track down a terror cell responsible for a recent bombing in Bad Godesberg, West Germany that killed an eight-year-old boy. In order to do so, Pugh must pose as the girlfriend of the man behind the bombing; she's suddenly thrust into the thrilling spy life and left to unravel where her allegiances really lie, all while smudging the boundary between reality and performance. "I take whatever role it is on offer," Charlie says in the second episode.
The series' first episode features a climactic moment on the steps of the Acropolis, in Athens. Before she was an actor, Pugh was an avid student of classical civilization—but prior to The Little Drummer Girl, she never anticipated actually traipsing over the same monuments she had once written essays about. "Whenever there's a big moment in the script, you kind of have to be aware you might have to do a green screen because it's virtually impossible," she explained. In fact, The Little Drummer Girl became the first show to shoot, by night, at the Acropolis: "It's such a bizarre thing to know about a place, to learn about a place, and then, to be the only people in this historic place," she describes. "It was just us there. Fifty of us, roaming these old artifacts."
If there is a through line in Pugh's quickly proliferating performances, it's that the women she plays over different periods and places are outspoken with an independent streak. They have no problem assuming their own power. Katherine, in Lady Macbeth, "kicks back; she fights back," Pugh explained. Amy March, in Little Women, is "a headstrong, passionate girl," she said. "She's quite a modern girl, back then." As for Elizabeth de Burgh, in Outlaw King, "She has been written down as an add-on in history," Pugh told me. "What was so amazing about doing this role was finally saying, 'Whoa, hang on a second, this lady was incredible.'"