Chris Pine Is Reportedly Dating British Actress Annabelle Wallis
Did she inspire his epic overalls look?
---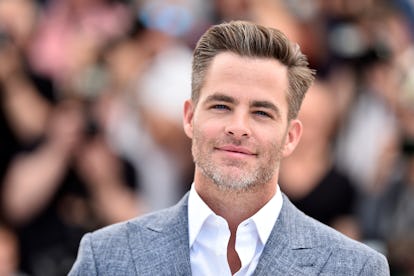 Pascal Le Segretain/Getty Images
Earlier this week, Chris Pine sparked many a think piece and Instagram poll with the Carhartt overalls look he wore to Heathrow airport in London. But the overalls were apparently distracting the world from the real story of the trip: his love life. According to Us Weekly, the A Wrinkle in Time actor's blonde traveling companion was the British actress Annabelle Wallis, who is reportedly Pine's new girlfriend.
After the two were seen at the airport, a source confirmed the relationship to Us. "Chris and Annabelle are dating! She was seeing someone else when they met," the source said. "They kept it casual for the beginning. Chris was very attentive and wooed her to get her attention away from the other guy." Apparently this is not the first time the international couple has traveled together. The source also notes that they took a trip to Hawaii.
Despite appearing together in public, don't expect the Tudor actress, 33, and Pine, 37, to open up about their reported relationship any time soon. Pine has previously shut down reporters who inquire about his love life and emphasizes his work over personal life when asked. Despite that, media most recently linked him to dancer and actress Sofia Boutella.
Wallis is equally mum on the subject. In 2017, she spoke about keeping her personal life away from prying public eyes. "It becomes hard when you know about someone's personal life—it's just distracting," she told The Sydney Morning Herald. "It's a whole other job in itself if you go down that road." She also discussed someone she "loved" without naming them, though the Mummy actress was paired to another Chris—this time, Chris Martin. "I love the person I love, but it means so much to me that I like to keep it safe," she continued. "I have nothing to hide. It's just that when you have people in your life that you care about, you get very protective of them."
One thing's for sure, if Pine's recent makeover is thanks to Wallis, she might just be a keeper.
Related: Is Chris Pine the Best Actor of All the Hollywood Chrises?