Florence Pugh Would Like You to Leave Zach Braff the Hell Alone
"I do not need you to tell me who I should and should not love," the actress declared on Instagram.
---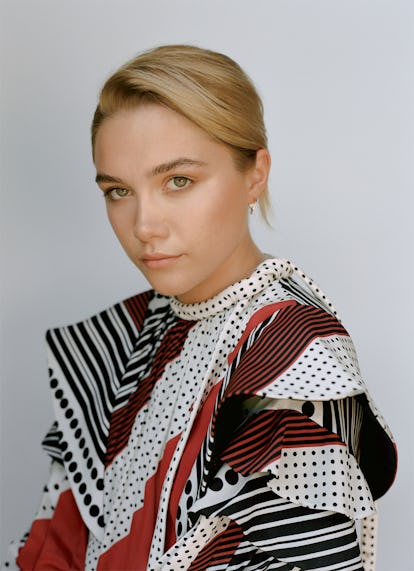 Photograph by Jeff Henrikson; Styled by Jason Rider. Hair by Lauren Palmer-Smith for Bumble and bumble at Lowe and Co.; Makeup by Gia Harris for Chanel; Manicure by Nettie Davis for Zoya; Photography Assistants: Jamie Stachan, James Bailey; Fashion Assistant: Megan King.
On Tuesday, Florence Pugh partook in the age-old tradition of posting a birthday tribute to her loved one on Instagram. "Happy Birthday wishes, boogies and cheers for this special person," she wrote, referring to the Scrubs and Garden State actor Zach Braff. Almost immediately, her followers flooded the comments section with much less glowing descriptions of the actor. Braff, you see, is 45 years old. Pugh, on the other hand, is 24.
The more Pugh's fanbase has grown since her breakout role in Little Women, the more it's grown distressed. For many of its most vocal members, the discovery that Pugh has been dating Braff since October—and filming her beloved cooking videos in Braff's kitchen—has left them feeling crushed. (Back in January, Reductress published a satirical piece of service journalism with the headline "How to Stop Worrying About Florence Pugh Having to Explain Memes to Zach Braff.")
Now, Pugh has finally had enough. A day after she disabled the comments section on her tribute to Braff, the actress posted a nearly four-minute video explicitly instructing her 1.3 million-plus followers to leave Braff the hell alone. "Within about eight minutes of the photo being posted, I had about 70 percent of the comments hurling abuse and being horrid and basically bullying someone on my page," she said. "It is the first time in my entire Instagram life that I have had to turn off the comments on my page. I have never been an Instagram page that encourages that. I have never been an Instagram page that likes that toxic vibe."
The "bullying," Pugh continued, "makes me upset. It makes me sad that during this time when we really all need to be together, we need to be supporting one another, we need to be loving one another—the world is aching, the world is dying—a few of you decided to bully for no reason."
"I'm 24 years old," Pugh repeatedly stressed. "I have been working since I was 17 years old," Pugh noted. "I have been earning money since I was 17 years old. I became an adult when I was 18 years old, and I started paying taxes when I was 18 years old. I'll underline this fact: I am 24 years old. I do not need you to tell me who I should and should not love, and I would never in my life ever, ever tell anyone who they can and cannot love. It is not your place, and really it has nothing to do with you."
This time around, Pugh didn't disable the comments, and the response has been overwhelmingly positive—especially from celebrities. Olivia Wilde, Eiza Gonzalez, Sarah Paulson, and Rachel Brosnahan all praised Pugh for her eloquence, and Xavier Dolan, Joey King, and Maisie Williams used emojis to express their affection and support. "Beautifully worded and deeply appreciated," Ariana Grande wrote in a repost on Instagram. "Sharing special, personal life things that make u happy on the internet can be truly traumatic."
Last year, Camila Morrone expressed a similar sentiment about the response to her relationship with the 45-year-old actor Leonardo DiCaprio. "I just read some of the comments on my Instagram and my god, people are so mean," the 22-year-old actress said in a video. "And like full of anger for people they know nothing about. I guess I just hope on this Friday that people learn to live with a little less hatred and place their time and interest elsewhere because living without hatred feels pretty good."
Related: Camila Morrone Has Had Enough With the Age Comments