In the Homes of the World's Top Gallerists, Art Enlivens Every Corner
'For Art's Sake: Inside the Homes of Art Dealers,' a new book by Tiqui Atencio-Demirdjian, offers a glimpse into the living rooms of David Zwirner, Jeffrey Deitch and others.
---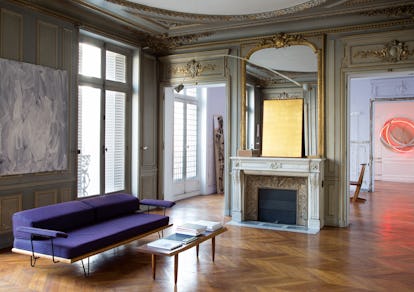 © Fondation Giacometti, Paris/Succession Giacometti, Paris, 2020; © Christodoulos Panayiotou; © ADAGP Bertrand Lavier; © Petrit Halilaj; © ADAGP François Morellet. Courtesy studio Morellet. All Mennour images: Courtesy of the artists and Kamel Mennour, Paris/London All images in this story: © Jean-François Jaussaud, For Art's Sake: Inside the Homes of Art Dealers, Rizzoli New York, 2020
For Art's Sake: Inside the Homes of Art Dealers—a new book out from Rizzoli by the Venezuelan-born art collector Tiqui Atencio-Demirdjian—is, despite its artistic pedigree, all about interiors. Over nearly 400 pages, Atencio Demirdjian and photographer Jean-François Jaussaud visit the inner sanctums of the world's top gallerists, from David Zwirner's Manhattan townhouse to Axel Vervoordt's 12th-century moated castle, set on 62 acres outside of Antwerp. But there's a tension running throughout in regard to what exactly defines an interior, and how much things like architecture, layout, and furniture even matter when the preening star of the home is a culturally vital, multimillion-dollar art collection.
Some dealers, like Jeffrey Deitch, seem keenly aware that the tenets of collecting might apply to contemporary furniture as well, and that art and objects can work in concert to create a total artistic vision (in Deitch's case, a Spanish revival fun house in Los Angeles, replete with corncob stools and a toucan-shaped Gaetano Pesce sofa). But for many of the book's subjects, it's Berlin gallerist Max Hetzler's words that ring most true: "How we live is all about art, art, art. Of course, we want to have nice furniture, but it has to disappear in a way. No colors. Nothing flashy. We're not at all into very contemporary designs because they are too present. We think it is much more interesting to admire paintings than chairs, however desirable they might be."
For readers, For Art's Sake offers an opportunity to admire both, as well as an invitation into 24 homes, most of which have never been seen before by the public. (Or, in the case of some particularly private dealers, spaces that haven't been seen even by friends or colleagues, choosing as some collectors do to entertain guests in a nearby gallery or second residence.) The book travels far and wide, from São Paulo to the Scottish Highlands, and the level of access is a testament to Atencio Demirdjian's personal connections. Her father gifted her a Bernard Buffet painting of lilies upon her wedding at age 17, kicking off a decades-long collecting habit, and after years as chair of the Latin American Acquisition Committee at the Tate and chair of the Guggenheim's International Director's Council, "I'm a permanent fixture," she says.
Some of the more memorable images in the book include an iron wardrobe by Arte Povera artist Jannis Kounellis, juxtaposed with the intentionally exposed brick of Gavin Brown's Harlem townhouse; a trio of enamel-and-steel bathers by Alex Katz emerging from the pool at Thaddaeus Ropac's 17th-century Austrian schloss; a Jeff Koons Gazing Ball sculpture at the base of Almine Rech's Art Deco staircase in a Brussels villa; and a disconcertingly humanlike Duane Hanson sculpture, dressed for custodial service, in the library of Christophe Van de Weghe's Upper East Side home.
Sean Kelly, the British, New York–based gallerist, explains how he purchased, with his wife, Mary, a plot sited on a rocky hilltop in the Hudson Valley back in 2007. The couple hired the Japanese architect Toshiko Mori to build their 6,500-square-foot home, which Mori turned into something of a work of art itself. Outside, the structure is clad in aluminum panels made from recycled cans that take on the color of the sky, making it almost disappear against the horizon. The inside is just as considered, featuring a layout that constantly chases the light and a brutal, windowless entrance hall that offers a kind of delayed gratification when one finally enters the living area. "There's a concrete wall in front of you when you arrive, and then you go into this entry sequence but still can't see the view," Kelly says. "The funny thing is that it contains works by Joseph Beuys, Juan Muñoz, Jannis Kounellis, and Ian Hamilton Finlay, all of whom are now dead. Mary says it's like entering a mortuary." Touches of humor abound: a Joseph Beuys suit hung outside the laundry room, a pair of amethyst Marina Abramovié shoes positioned as if they might walk through the sliding glass doors at any moment. The house feels like a response to the art on view, and in return, the works are recontextualized by the domestic space they inhabit.
The book also adds depth and dimension to the dealers, who sometimes can be perceived as cardboard figures wheeling and dealing with the superrich in the stark, all-white environments of galleries or fairs. Atencio Demirdjian begins each chapter with a thumbnail sketch of each gallerist's biography, and the details are humanizing. Barbara Gladstone began her formal art career at the age of 40 as a twice-divorced mother of three; Kamel Mennour had a job selling art prints at the mall; Dominique Lévy wanted so badly to work in the circus that she trained as a clown.
At one point, Atencio Demirdjian asks Salon 94 owner Jeanne Greenberg Rohatyn if there is a downside to living with so much art. "How can there be?" she replies. "With each of these works, there is some kind of dialogue going on, whether it's about protest, beauty, or craft. Especially in this political climate, it's important to have art around us." In other words, art ought to act either as a provocation or as a balm—or, in the case of these art-world insiders, as both at once.
Related: Open Studio is a DIY Guide for Contemporary Art Lovers