Oh Say Can You See
For W's December issue, Brooklyn painter Jac Lahav contributed to our "American Dreamin" fashion portfolio (detail at left) by customizing American flags with silk-screened portraits of U.S. icons ranging from Elvis Presley to Grace Kelly....
---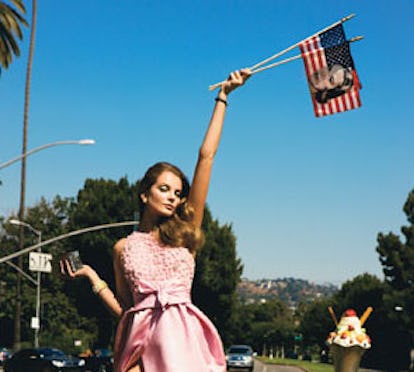 Showing during Fashion Week is also quite fitting for Lahav, 30, since he finds similarities in his techniques and those of a fashion designer: both study lines, textures and colors to convey an idea, he points out. One of his paintings, for example, features Elvis dressed in a Dolce & Gabbana-inspired gown, while another shows Karl Lagerfeld wrapped in an American flag outfit. "The paintings are like a big mash-up of fashion trends plus the glorification of public figures and celebrities, with an emphasis on historical portrait painting," explains Lahav. "In some ways, it's Gustav Klimt meets daytime TV."
Lahav recently exhibited at New York's Jewish Museum in New York and has upcoming museum shows in Oregon and Miami. The Great Americans show is up through February 23 (for more info click here).
Portrait courtesy of Jac Lahav.