The Four Weddings and a Funeral Reboot Casts Jessica Williams as…Your New Hugh Grant?
Jessica Williams has just been cast in the lead role of Hulu's anthology adaptation of the classic British romantic comedy Four Weddings and a Funeral.
---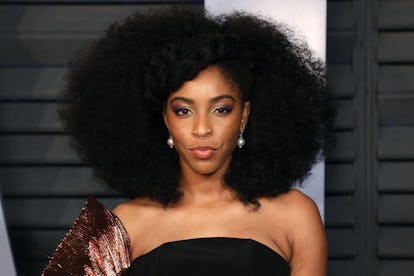 Taylor Hill/Getty Images
Romantic comedies, they're indeed back. And the actress and comedian Jessica Williams is riding the resurgence of rom-coms with the new leading role in the executive producer Mindy Kaling's spin on Four Weddings and a Funeral, an anthology series currently being developed for Hulu.
In the original hit film, from 1994, Hugh Grant plays Charles, a single, awkward, and charmingly curmudgeonly Londoner who keeps getting invited to his friends' weddings, where he continues to meet-cute with Carrie (played by Andie MacDowell), an American visiting the U.K. Over the course of the film, they seem to always cross paths—at four weddings, and, of course, at a funeral as well.
According to The Hollywood Reporter, Kaling's take on Richard Curtis's rom-com classic will make a woman, conveniently named Jess, the protagonist. After her old pal Ainsley invites Jess to her wedding in London, Jess leaves her local politics job in New York and travels across the pond, where she runs into a handful of old friends, including Duffy, her American college classmate who harbors feelings for her and lives in England. (Nikesh Patel has been cast as Kash, the groom-to-be, and The Mindy Project's Rebecca Rittenhouse has been cast as Ainsley.)
But it's not as if Williams's role is a like-for-like gender swap with the part Grant originated. And she's not taking over the MacDowell role, either, so there's little pressure to live up to an iconic character. And no doubt Search Party's John Reynolds, who has been cast as Duffy, will be an unconventional potential love interest.
Kaling has a strong relationship with Hulu, and is very open about her deep love for the romantic comedy genre, so the Four Weddings and a Funeral series order at the streaming giant makes a lot of sense. The series will reportedly not only follow the wedding between Kash and Ainsley, but the dramatic ups and downs of the relationships between other characters and friends (including "political scandals" and "love affairs"), and, if the title still holds true, at least three other weddings and one funeral.
Related: The Incredible Jessica Williams Is an Unconventional New Rom-Com Heroine